The Van Driver's Guide to Winter Driving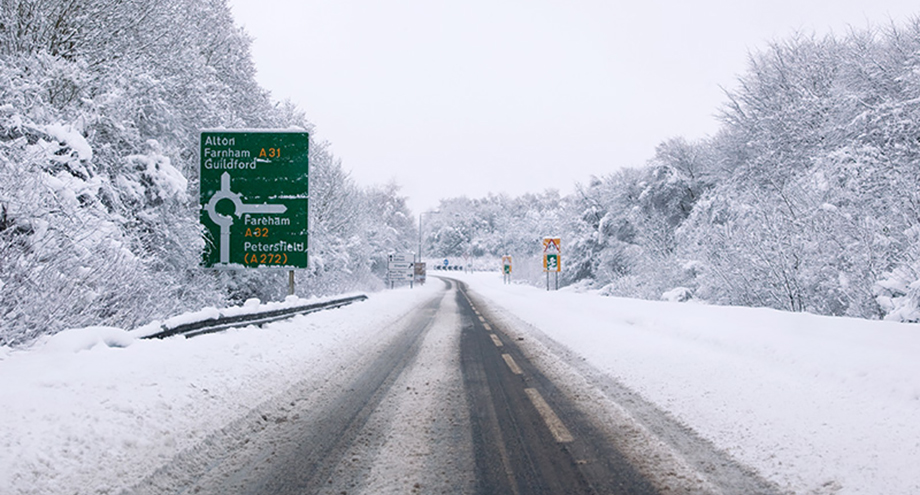 In this article, we go through everything you'll need to know to drive your van safely this winter. All so you can take to the roads with confidence.
Now that the trees are bare and the nights are cold, it's time to make sure you're ready for winter and all that comes with it.
Winter weather can be harsh with changing driving conditions, low visibility and roads covered with snow and ice.
Here are some simple points for you to consider that will help you survive the winter weather without any accidents.
Table of Contents
1. Prepare your van for wintry weather
2. Pay attention to the weather
5. Keeping you moving at Vansdirect
No matter how long you've had a licence, driving a van in the winter can be challenging. Conditions can change unexpectedly wreaking havoc on the roads - requiring extra caution all around.
That's why we've put together a guide to winter driving for van drivers, so that you can avoid getting into an accident. From correctly maintaining your van to preparing for adverse weather, we'll take you through everything you need to know to beat the frost.
Prepare your van for wintry weather
Before the weather changes it's a good idea to get your van checked over. Regular servicing is essential anyway, but a pre-winter service is really important. Make sure that the battery, ignition, lights, brakes, tyres, exhaust, and wipers are okay, and top up all fluids.
Your tyres are especially important. They should be in good condition and have plenty of tread depth remaining (anything under 1.6mm is illegal). Effective, well-maintained tyres can have a big effect on stopping distances on wet and slippery roads.
Don't overlook your windscreen wipers. If they are leaving streaks or failing to fully clean your windscreen then consider changing them. This is because visibility will only get worse during the winter months. You'll thank yourself later!
If you need some new wipers, our friends at Wiper Blades will be more than happy to help. They offer wiper blades from leading brands like BOSCH and MICHELIN to fit a wide range of vehicles at competitive prices.
Pay attention to the weather
Nobody expects to see much of the sun during winter, but when it does decide to show its face it tends to sit very low in the sky. This will affect your visibility - especially on roads like motorways where low-lying sun can cause rapid deceleration in front of you. Be aware and prepared for sudden changes to your driving approach.
Rain, on the other hand, is a common winter occurrence. When the road is wet, it can double stopping distances so it makes logical sense to slow down when it's raining. If your van does happen to aquaplane (a loss of grip when travelling over surface water) take your foot off the accelerator. Braking or sudden steering changes is the worst thing you can do, as you won't have control of either.
Windy conditions require extra care as strong gusts of wind can blow a vehicle off course. Be mindful when travelling on open stretches of road, bridges, or past high-sided vehicles.
It's never a good idea to drive through water, as you could flood your engine. If there's no other option, stick it in first gear and keep the van moving to avoid stalling. Keep your revs high and depress the clutch when required. Always test your brakes after passing through water – in a safe manner of course.
When visibility is low, use dipped headlights so that other motorists can see you. If visibility is below 100m, switch on your fog lights. Remember to turn them off if and when visibility improves.
Take extra care
Make sure to be extra vigilant on the roads as you navigate the tricky weather. Look out for more vulnerable road users like cyclists, bikers, pedestrians, and children. Be sure to slow down your van when driving through busy areas.
The likelihood of hitting an animal also increases during winter, with more foxes, badgers and rabbits running out into the road. So, be careful when driving your van past wooded areas and reduce your speed. Hitting even small animals can cause surprising levels of damage to your van, plus nobody wants to hit one!
You should also make sure you're well-rested before setting out on any journeys. When darkness falls it affects people in different ways. For instance, you might find yourself becoming tired more quickly in the winter period. If you do start to feel drowsy make sure to pull over at a service station and take a break.
Plan your van journey ahead
Planning is key when it comes to safe driving in the winter. Reading or listening to the weather forecasts ahead of your journeys will help you prepare for any tricky driving conditions.
If bad weather is expected, consider whether your journey is really essential. If not, then it can wait till a later time when the weather improves.
In adverse driving conditions, it's always a good idea to tell someone about your journey, where you're going and when you expect to arrive. Allow for extra travelling time if the weather is poor – if it's severe then maybe consider whether the journey is imperative. If not, then it may make more sense to delay your plans if possible.
If you haven't already, you might want to pack an emergency kit to keep in your van. This will come in handy if you end up stranded in the cold and dark. You'll want to include a torch, spare clothes or blankets, snacks, a phone charger, some de-icer and a scraper – anything you might need should you break down.
Keeping a square cut-off of carpet or an old sack in the boot of your car could also be a lifesaver if you get stuck in deep snow and need to avoid a wheelspin.
Before setting out each day, make sure your van is fully de-iced if it's frosty and you can see clearly through all windows. Use a scraper and a good quality de-icer, and do not pour boiling water onto your van windscreen as it could cause damage.
Other things you can do to prepare for winter van journeys include:
Having a fully-charged phone
Making sure you have enough fuel for each journey
Keep your cool when driving your van this winter
If you do happen to break down or get into an accident, there are some things you need to remember to stay safe.
If your van gets stuck in the snow, you'll need to get out and clear the snow away from your wheels. Having a shovel in your van will come in handy here. You can use the piece of carpet to stick under the van wheel to give you more traction, but if that doesn't work you'll need to call for roadside assistance.
For breakdowns or accidents, make sure to stop your van in the safest place possible and wait outside away from the road if you can. Try to stay calm if you've been in an accident, and once you've established nobody is hurt focus on exchanging information with the other driver.
Taking some pictures of the scene will also help with your insurance claim. Refer to your insurer's full advice on what to do when making your claim.
If your van needs any repairs, make sure to book these in at a reputable garage with experienced technicians. At Vansdirect, when you take out a van lease you can also include a maintenance package to give you peace of mind all year round.
Keeping you moving at Vansdirect
Thinking about getting a new van this winter? Explore our van leasing deals now for the latest offers, or head to the clearance section for some fantastic offers.
At Vansdirect, we don't just help you find the perfect van but to keep it moving. That's why we offer services like maintenance, fuel cards, van racking and van insurance to help cover all the bases and get your van ready for business.
If there's anything else you need, you can contact our expert team and we'll be happy to help.
Related Articles