New van market shows increase in April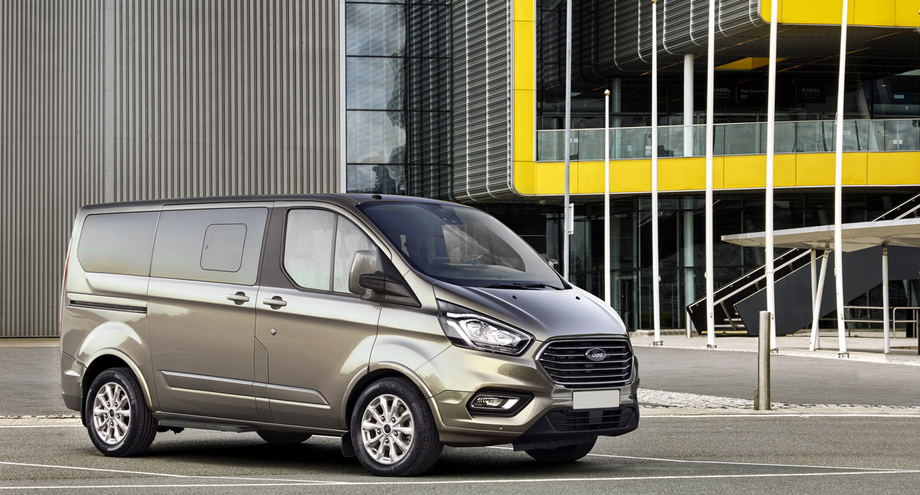 ---
The new van market enjoyed a fruitful April 2018, with an increase in demand of 3.9 percent in comparison with the same period last year, following on from a March where new van registrations declined by 5.6 percent. Vansdirect reveals all!
Statistics released by the Society of Motor Manufacturers and Traders (SMMT) have revealed an increase of 3.9 percent in new van registrations in April 2018 in comparison with April 2017. An impressive 23,501 new van registrations were made last month, in comparison with 22,625 in 2017, as buyers continued to tuck in to new 18-plate vans.
New van registrations
The increase in April follows a decrease of 5.6 percent in March, SMMT Chief Executive Mike Hawes wasn't surprised by the growth and expects the market to continue to fluctuate:
"After last April's double-digit decline, last month's growth isn't surprising. Year-on-year van market performance has fluctuated over recent months, reflecting natural variances in buying cycles and a range of new model introductions. We expect this trend to continue throughout 2018."
It wasn't all good news last month, new pick-ups experienced a significant decline of 13.5 percent last month, following an excellent start to the year and a 6.8 percent increase in demand for March, whereas on the other end of the scale the biggest beneficiaries with new small vans with a 11 percent increase last month. Also enjoying impressive months in April were new medium vans with a 9.2 percent increase and new large vans with a 5.5 percent increase, new large vans remained the highest category with 14,334 registrations last month.
April's best-selling new vans
Despite some changes in the top-ten sellers table last month, the three UK's best-selling new vans remained the same as March 2018, in the form of the Ford Transit Custom, Ford Transit and Volkswagen Transporter respectively. Another impressive month for Ford vans saw the brand having three of the top four selling vans last month, with the Ford Transit Connect moving up one place to fourth in the table. The Ford Ranger completed the Ford vans presence in the top-ten table, cementing seventh place, the same place it occupied in the table in March 2018.
In an excellent month for small vans, the Citroen Berlingo leapfrogged its sister van the Peugeot Partner in the table, the Berlingo moving up three places to fifth and the Partner dropping two places to sixth. The Mercedes Sprinter also enjoyed a slight resurgence last month, moving up two places to eighth, time will tell whether the new Mercedes Sprinter joining the market will lead to a larger resurgence in coming months. Two new top-ten entries in the form of the Peugeot Boxer and Mitsubishi L200 took up the remaining spots in the table, with the Peugeot Boxer in ninth and Mitsubishi L200 in tenth. On the other hand, it was a disappointing month for the Vauxhall Vivaro and Nissan Navara who exited the top ten after taking up sixth and ninth places respectively in the table last month.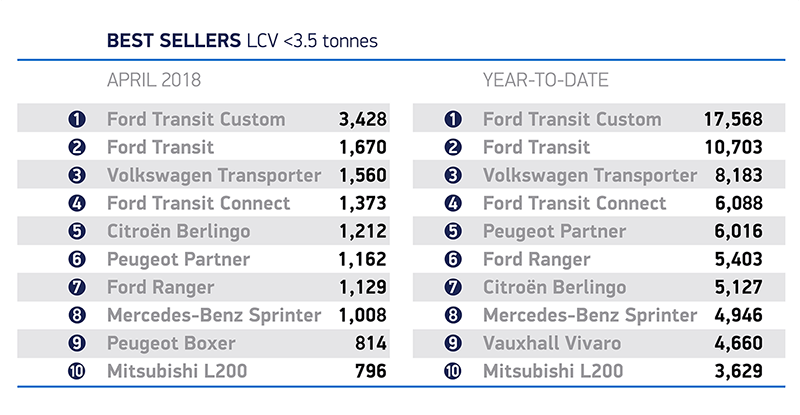 New vans on finance
Get your new vans direct from Vansdirect, we have a massive range of new vans in stock from all of the major manufacturers, including all of the top ten best-selling vans in the UK featured above. We also offer cheap van finance offers on van leasing, contract hire and hire purchase to suit your requirements. Interested? Get the ball rolling by simply filling in a contact form, or calling us on 0800 169 69 95 and we'll start with a free no obligation quote, we also offer cars!