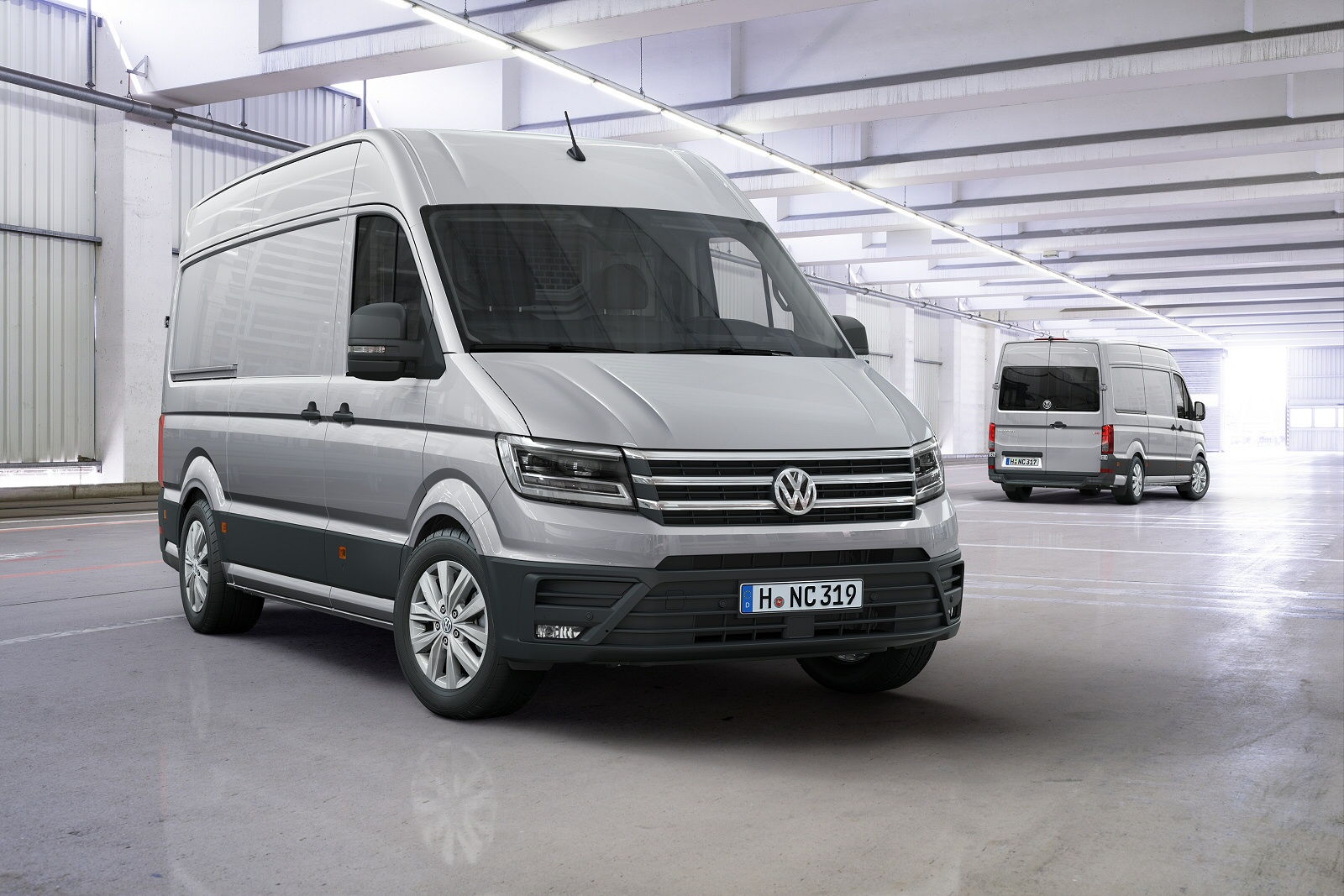 Volkswagen Crafter Van Review and Specs
There are many large vans that claim to be all things to all people but the improved Volkswagen Crafter range comes closer than most.
Ten Second Review of the Volkswagen Crafter
The Volkswagen Crafter, the UK's fourth best selling large van, is the thinking business person's choice in this sector, especially since it was improved with a smarter look, a fresh range of 2.0 TDI diesel engines and enhanced safety and media connectivity.
Now making more sense than ever before on the balance sheet, this is a contender better placed than most to take in its stride whatever your company can throw at it.
Background
A really large van is the kind of thing your business will need for its heaviest, most awkward loads. The kind of vehicle that, as a result, is likely to get the toughest day-to-day treatment. Such a van will also require quite a substantial initial outlay, money you'll want to preserve as far as possible in resale value when the time comes to sell.
For all these reasons, when considering a van of this kind, it's tempting to stretch yourself a little and go with the quality option, even if it costs a little more. In this market, that tends to mean either a Mercedes Sprinter or this contender, the Volkswagen Crafter van. Both these new vans ride on the same fundemental underpinnings but are quite different in their approach.
We're looking here at a revised version of the VW Crafter, a vehicle now manufacturered at a bespoke plant created in Poland for its assembly. The Volkswagen van also offers slightly more economical running costs, which, along with a lower up-front asking price, explains its established appeal in Britain's biggest van sector. It's a position that Volkswagen vans hopes will be strengthened by the enhancements made to this improved version, which now features a smarter look.
The changes are timely, with rivals like Ford's latest generation full-sized Ford Transit van now commanding increasing sales in the large van segment where the VW Crafter competes.
This Volkswagen Crafter though, now has plenty to offer in response, enough, the Wolfsburg brand hopes, to keep its place near the top of its class, building on a large van heritage for the company which stretches all the way back to 1975. Let's put it to the test.
Driving Experience
Once you settle into driving a large van like this, it's a very commanding experience. You sit high up in quite a car-like position thanks to the upright steering wheel, enjoying a supportive seat that's equipped with an armrest to prop a weary elbow on over longer trips.
A pity then, that earlier VW Crafter engines tended to be relatively ponderous. That's not the case anymore thanks to far-reaching changes under the bonnet of this revised version and the adoption of a freshly designed electro-mechanical steering system. Engine changes centre around the installation of a freshly-designed 2.0-litre TDI diesel unit, available to 102, 122 and 140PS outputs, plus there's a potent bi-turbo version putting out 177PS.
All the engines will get you and your load where you need to be with deceptive speed. The smoothness and pulling power of this 2.0-litre unit is something that operators familiar with the old version may well notice in the first half a mile of use, even in the entry-level 102PS variant.
Customers have a choice between front, rear and all-wheel drive (4MOTION), as well as the option of a manual or automatic gearbox. Power arrives low in the rev range so that you don't have to row the thing along with the gear lever so much in town.
On the open road, overtaking's easy too. It's the main reason why this vehicle has so much towing power too, all Volkswagen Crafter vans are able to haul a braked trailer grossing at up to 2,000kgs. Further up the range, the differences with what went before are even greater, the top-flight twin-turbo 177PS BiTDI variant offering around 400Nm of torque.
Design and Build
This Volkswagen Crafter now features a smarter front end intended to bring the design more into line with the stylistic look of company's smaller VW Transporter and VW Caddy van models.
Moving inside is easy, thanks to a low step and a large door opening. And once in the cab, well, it's much as before. Designers at Volkswagen vans had a chance with this enhanced model to brighten up the working environment. They haven't really taken it, but there is a smarter, higher quality feel about the interior these days, thanks to a smart instrument cluster with cool white illumination and darker, practical upholstery that'll be hardwearing.
As you'd expect, two or three people can comfortably travel side by side in the front, but if you're not using the middle seat, you can pull down its centre section and turn it into a table complete with two upholders and a pen-holder - ideal if you've paperwork to complete or if you're stopping somewhere to have a bite of lunch.
The driver's seat is multi-adjustable and the wheel can adjust for reach and rake, so it's easy to get comfortable. Once you are, there's plenty of space for all your odds and ends, with storage spaces aplenty. You get a large bin in each of the doors big enough to store a large road atlas and a 1.5-litre drinks bottle. Then there are large shelves above the windscreen and more shelves (one of which is big enough for an A4-sized clipboard) on top of the fascia.
There are no fewer than five cupholders for that morning trip to McDonalds and a handy dash-mounted clip to deal with stray paperwork. You also get a large glovebox that can be air-conditioned to keep drinks cool. And useful jacket hooks on the B-pillars.
Market and Model
Prices? Well, excluding the dreaded VAT, they lie mainly in the £30,000-£35,000 bracket that you might expect for this class of large van, though in today's cut-throat market, that is slightly more than you'd pay for some mainstream rivals. Specific figures will depend on your specific answer to the rather spooky question of which Volkswagen Crafter.
Essentially, there are four standard model ranges within the VW Crafter line-up - panel van, window van, the choice of chassis cab or double cab and, if none of that satisfies, a series of 'off the shelf' conversions to create things like dropside, tipper and Luton bodies based on the single or doublecab chassis.
With that issue decided, you've then to choose your vehicle weight. Popular is the 'CR35' model, a moniker that designates a 3.5-tonne gross vehicle weight. Alternatively, there are CR30 and CR50 variants offering three or five-tonne weights. Next up, you've to choose your wheelbase: most buyers choose the Medium wheelbase variant, but you can also select 'Short', 'Long' or 'Maxi' variants with an extra 400mm of length. There are also three roof heights - 'normal', 'high' and 'super-high'.
All Crafter models are decently equipped and can now be ordered with more sophisticated infotainment systems and greater degrees of electronic safety. Active driver assistance systems include ESP with trailer stabilisation, ACC Adaptive Cruise Control, a post-collision braking system, a side wind compensation system and a trailer manoeuvring assistant system.
Buyers might also also want a reversing camera, a parking distance monitor and a Rear Traffic Alert system. Optional LED headlights, cornering lights and a Light Assist set-up can ensure a clear view of the road ahead at night, while the Crafter can also now come with online services tailored to the specific needs of customers.
Practicalities and Costs
So, how practical will this Volkswagen Crafter prove to be in everyday use? Well, the twin rear doors can be swung out in the usual way - to 90-degrees or onwards to 180-degrees if you release the stays.
There's a reasonably low loading height which can be as little as 670mm and once you get your goods inside, the space available will of course depend upon your choice of wheelbase - short, medium, long or Maxi. And you'll also need to carefully select your roof height, the choice being between normal, high or super-high, equating to interior roof heights of 1.65m, 1.94m and 2.14m respectively.
There are four load compartment lengths varying between 2,600mm and 4,700mm. Load volumes vary between 7.5 and 17 cubic metres. The load width is 1780mm, narrowing to 1350mm between the wheelboxes. Payload capacity, now increased, will of course depend on your choice of Gross Vehicle Weight - 3.0, 3.5 or 5.0 tonnes, depending on whether you choose a CR30, CR35 or CR50 model.
Across these three variants, payloads (which have been increased thanks to the lighter engine) now vary between 1,044 and 2,693kgs. In other words, if you select your VW Crafter carefully, pretty much everything you're going to want to carry will fit, the largest models able to swallow up to five euro pallets.
A sliding side door is standard with a second on the options list and it's worth pointing out that the height and width aperture of this is big enough for those pallets to be loaded in at the side. To keep your cargo from moving about, there are two load lashing rings on the B-pillar and between six and twelve floor-mounted ones, depending upon the vehicle length. If you forget to use them and everything slides forward, then you'll be glad of the standard full height bulkhead separating the load area from the cab.
Half-height plastic panels are provided on the doors to try and protect the cargo bay but there's really no substitute for a proper ply-lining kit to cover the whole area properly. I'd also want to tick the box for the tailored floor covering.
Running costs of course will depend on the engine and Gross Vehicle Weight you select but whichever Volkswagen Crafter you choose, you'll find the 2.0 TDI Euro6 diesel engine to be extremely frugal, whether you choose it in 102, 122, 140 or 177PS guise. As a guide, you can expect to average somewhere between 32 and 36mpg in this vehicle on the combined cycle, depending upon the variant you're in.
Summary of the Volkswagen Crafter
Is there a better quality large panel van out there than the Volkswagen Crafter? Assuming you prefer the Volkswagen's engine range and pricing structure to that of its Mercedes Sprinter stablemate, then you'd have to say not.
The only issue this vehicle used to have centred upon its running costs, but these are now amongst the most efficient in the class thanks to the adoption of a far cleaner and more frugal set of Euro6 2.0 TDI diesel engines.
Yes, the VW Crafter is priced at a premium compared to rivals but you can see and feel where the extra money goes. Forward-thinking businesses will accept this on the basis that residual values are very strong and the whole vehicle feels - and is - built to last, enabling companies to spread the up-front sticker price over a longer operating period.
In ten years time, we'd wager that this vehicle will still be going strong at a point when most of its rivals will be falling to pieces. Enough said.