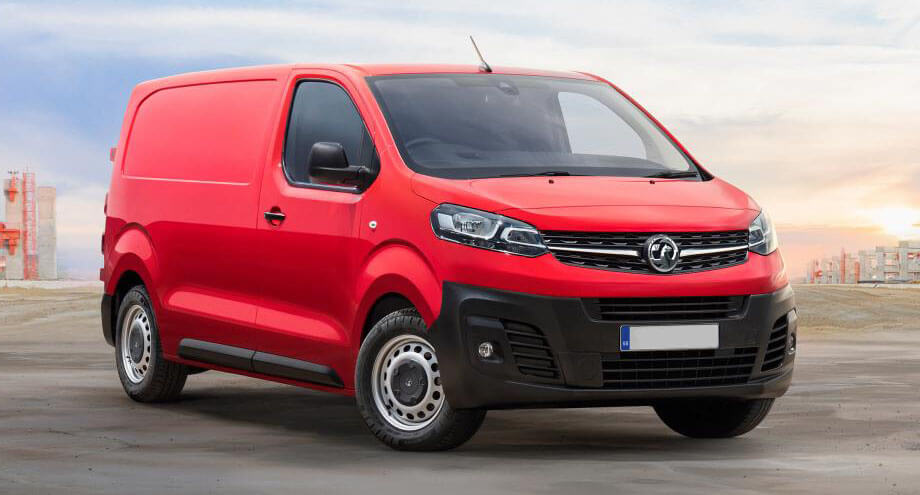 Vauxhall Vivaro Van Review and Specs 2020
The third generation Vauxhall Vivaro van is a more sophisticated proposition. Our team of van experts at Vansdirect takes a closer look!
Ten Second Review
The only van Britain now builds is this one, Vauxhall's Luton-made third generation Vauxhall Vivaro. It's a medium-sized Ford Transit Custom and Volkswagen Transporter LCV rival that aims to build on the huge success of its predecessor with smarter looks, extra efficiency and plenty of technology. Like its PSA Group design stablemates, it's also easier to live with and nicer to drive. It is, in short, a contender that potential buyers in this segment can't ignore.
Background
Buy British. It's a plea that has an appealing ring to it but usually requires a certain level of sacrifice or compromise. Vauxhall vans though, reckons that neither of these things will be needed from owners of this third generation Vivaro van. Now that new Ford Transit vans are no longer built in Blighty, it's the only LCV product the UK screws together and claims class leadership in most of the key areas that'll matter to business folk.
But then so many commercial vehicle products do. This one will certainly need to make good on its glossy brochure promises if it's to face down direct medium-sized van rivals as talented as the Ford Transit Custom, VW Transporter, Mercedes Vito and the shared design we know as either a Renault Traffic, a Nissan NV300 or a Fiat Talento. An even tougher challenge perhaps for Vauxhall vans will be in differentiating this product from its near-identical design stablemates, Peugeot Expert and Citroen Dispatch and Toyota Proace.
Your selection between this vehicle and its PSA Group-designed counterparts may come down to deals and personal preference but if Vauxhall's claims for this MK3 Vivaro model are correct, then you could find yourself choosing this design over other market sector rivals for more concrete reasons.
What is the new Vauxhall Vivaro van like to drive?
This time round, there's a choice of 1.5 or 2.0-litre diesels. The 1.5 comes in 100PS or 120PS outputs but these units are poorer than the old model's 1.6-litre diesel powerplants in terms of their ability to take heavy payloads. Which means that if you habitually carry heavier loads or engage in longer trips, you'll want to ignore it and plump for the 2.0-litre Turbo D option, which comes in 120PS, 150PS or 180PS guises. The 2.0-litre models might end up being more economical too, because their higher capacity and greater torque means that you'll not need to thrash them about so often.
All models use a 6-speed manual gearbox, expect the top 180PS derivative which gets an 8-speed auto as standard. Top-spec variants get camera-driven kit like speed limit recognition, lane departure warning, Side Blind Spot Alert and Driver Attention Alert systems. There's also a clever 'Intelligent Speed adaptation' system that enables you to maintain a constant speed at a cruise.
Build and Design
The main visual change is the shorter bonnet of this MK3 model's more appealing nose. The third generation Vauxhall van design is shorter and narrower than its predecessor and, as before, is offered in two lengths - 'L1' form (39mm shorter than before) or 'L2' (89mm shorter). Previously the longer version had a longer wheelbase. Now, it just features extended bodywork behind the rear axle, which makes the 'L2' 350mm longer than the 'L1'. You don't now get a high-roof option either, but the standard model is a little taller than before.
Inside, there's a lower, more car-like seating position with plenty of seat and wheel adjustment. As usual in this class, a three-person bench seat is fitted and there's a bulkhead flap so that longer items can be pushed through from the cargo area. The middle part of the seat folds down to create a table. The dashboard is almost identical to that you'll find in the Peugeot, Citroen and Toyota versions of this design, which means that most functions are on the central touchscreen, though the climate controls are separated out below.
Market
Vivaro pricing starts at around £22,000 (exc VAT) and this LCV is available in three trim levels: Edition, Sportive and Elite, with a choice of two lengths, 'L1' (4.95m) and 'L2' (5.30m). There's also a passenger-carrying version, the Vivaro Life. And a Doublecab variant (priced from just under £26,000 excluding VAT) that features an innovative hinged steel-mesh bulkhead that articulates forward when the second row seats are folded and not in use.
All models are decently equipped, even base-spec variants including cruise control, a speed limiter and a DAB audio system with Bluetooth. If you can stretch your budget up towards the £25,000 mark (ex VAT), 'Sportive' variants add in niceties like air conditioning, rear parking sensors, a 7-inch Multimedia central touchscreen, metallic paint, front foglamps, auto headlamps and wipers, plus a 'FlexCargo' load-through bulkhead. You'll need top-spec 'Elite' trim if you want stuff like 17-inch alloy wheels, High beam assist, power-folding mirrors and front parking sensors.
Costs and Practicalities of the New Vauxhall Vivaro
The load area is shorter (2,512mm for the 'L1' and 2,862mm for the 'L2'), compared to 2,537mm and 2,937mm for the old Vivaro, and there's less width between the wheel arches, although it's only shrunk by a centimetre to 1.26 metres.
This MK3 Vivaro offers a little extra load area height than its predecessor, with a maximum height of 1,397mm from floor to ceiling. This compensates for a slightly shorter load bay (2,512mm for the 'L1', 2,862mm for the 'L2') and marginally less width between the wheelarches (now 1.26m). Overall, cargo capacity is slightly improved on the previous model. That means a minimum load volume of 5.3 cubic metres for the 'L1', and 6.1 cubic metres for the 'L2'. This expands to 5.8 and 6.6 cubic metres when the through-load facility is used (standard if you avoid base-spec trim), but this only applies to loads that can fit through the hole in the bulkhead.
The possible payloads you can carry with the 1.5-litre engine are fractionally down on those of the old MK2 1.6-litre model. The feeblest 100PS model can only take on 975kg, while the 120PS manages 1,079kg. The 2.0 Turbo D is better, as it can carry up to 1,458kg in 120PS and 150PS guises, or up to 1,418kg in the 180PS auto. This is around 200kg more than the previous Vivaro and shows the benefit of the gutsier 2.0-litre diesel.
As for running costs, well the 1.5 120PS variant returns up to 47mpg on the WLTP combined cycle. The 100PS version isn't far behind at 44.8mpg, while the 2.0 120PS has a best economy reading of 40.3mpg.
Summary of the New Vauxhall Vivaro
In a medium range market where there really isn't that much to choose between the very best panel vans, buying decisions often come down to very small differences. If you've an LCV brand, the more of these you can build into your product, the better placed it will be. And on that basis, this third generation Vivaro is very well placed indeed.
Of course, potential Vivaro customers convinced by Vauxhall's proposition will need to remember that in a rival Peugeot Expert, Citroen Dispatch or Toyota Proace, they could have pretty much exactly the same product with a different badge. It's at that point though that the power of Vauxhall's huge UK dealer network might well sway the decision this Luton brand's way. That and the fact in buying this vehicle, you're supporting its British build. Another small but significant difference you see. But maybe perhaps in this case, a crucial one.
New Vauxhall Vivaro vans for sale
Vansdirect have a range of new Vauxhall Vivaro vans for sale with cheap
van finance
options available including
van leasing
,
contract hire
and
hire purchase
.
Interested? Simply fill in a contact form or call us on 0800 169 69 95 to get the ball rolling today!