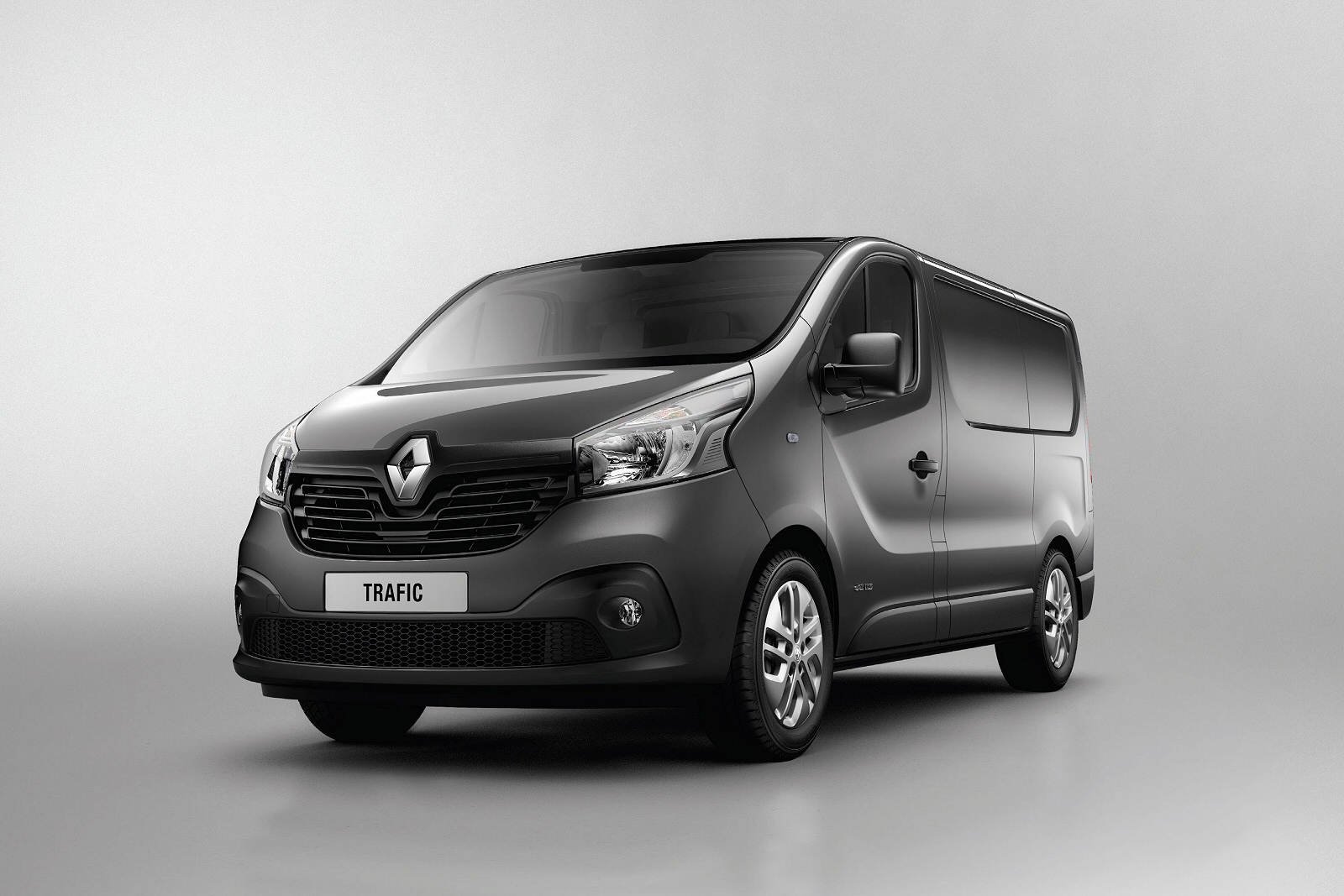 Introduction to the Renault Trafic
The Renault Trafic returns. Many of you might not have realised it needed updating, but this third-generation model is bigger and better finished than before.
There's a choice of two lengths and two roof heights for the Renault Trafic panel vans and the cabins have been designed to function as mobile offices. The powerplants on offer are either a 1.6 turbodiesel or a 1.6 twin turbodiesel, both engines available with two different power outputs.
History
The Renault Trafic van is one of those vehicles that has quietly inveigled itself into an almost invisible ubiquity. They're everywhere, but are such a part of the automotive landscape that they barely register.
Unless, that is, you're looking to run a fleet of vans and then the Renault Trafic registers front and centre of your buying decision and has done since it first appeared in Renault van dealers back in 1981.
That first generation model is still doing sterling service under licence in India as a TATA Winger but was replaced here in 2001 with a second generation model that has, with ongoing revisions, seen service for thirteen years.
There's now a third generation model that will once again wade into the fray against rivals like the Volkswagen Transporter and the Ford Transit Custom, not to mention its Luton-built siblings, the Vauxhall Vivaro and Nissan NV300.
What is the Renault Trafic like to drive?
Renault passenger vehicles have embraced the idea of the downsized turbocharged engine to boost efficiency and now the commercials follow suit. The engines that power the Renault Trafic are both relatively small 1.6-litre turbodiesel units but punch above their weight.
Most buyers will be drawn to the single turbo 1.6-litre unit, available in either dCi 90 or dCi 115 power outputs. In order to match the sort of grunt Mercedes vans can deliver with their Mercedes Vito rival, Renault vans also debuts the Energy dCi 120 and 140 engines.
Powered by two turbochargers working together, these engines combine excellent performance with decent fuel economy. From just 1,500rpm, the Energy dCi 120 cranks out a hefty peak torque of 320Nm, while the dCi 140 variant delivers 340Nm so there's plenty of muscle even if you're loaded to the roof.
Renault claims that these power and torque figures are what you would have previously expected from a 2.0-litre engine in this class and that view is borne out by the figures.
A VW Transporter van, for instance, comes in 84Ps and 102PS power outputs at the entry level, while the Renault Trafic now comes in 90 and 125PS guises, so it's even better than Renault's word.
The driving position, though not as lofty as in some models, nevertheless affords a decent view up the road. You get big door mirrors to help with manoeuvring and tried and tested transmissions with this Renault van.
Design and Build
True, there's only so much a van designer can do with a rectangular box with a wheel at each corner, but there's clearly been a concerted effort to distinguish the Renault Trafic from the workaday LCV norm. As is the vogue with current Renaults, you get an outsized bonnet badge, flanked in this instance by a black trim strip and a pair of huge headlight pods that seem to have started climbing towards the windscreen pillars.
The outside of the Trafic isn't the big story here though. Renault vans have really gone to work on the cabin. Gone are the expanses of uninspiring grey plastics, with higher-end versions getting a chromed console surround, along with a chromed gear lever knob and chrome-finished front speaker trims, plus lidded dashboard stowage and Java upholstery.
Much improved seats offer more shape and higher density foam padding. The front bench seat incorporates lateral strengthening for both the seat cushions and passenger seat backs. Comfort is further enhanced by the inclusion of an armrest built into the door panel.
Compared with the previous generation Trafic II, the driver's seat cushion has been lowered by 36mm, while the seat back is more reclined in order to get closer to the sort of driving position associated with MPVs.
Combined with the height- and reach-adjustable steering wheel, the number of ways the seat can be adjusted (height, fore-aft and seat back angle) enables the driver to find the most comfortable position.
Thanks to a pump system, the height of the driving position can be adjusted through a range of 60mm.
Market and Model
The Trafic is offered in two body lengths and two roof heights and now features a range of up to ten different paint finishes, which makes a change from a choice of silver or white. As well as solid finishes like Glacier White, Laser Red, Mole Grey and Bamboo Green, there's a metallic palette that comprises Copper, Oyster Grey, Mercury, Stone, Panorama Blue and Jet Black.
Prices start at just over £18,000 and there are 'Business', 'Business+' and 'Sport' trim levels across a range of four diesel engines, including the twin-turbo ENERGY dCi 120 and 140 units, plus the older dCi 90 and dCi 115 powerplants.
The entry-level audio/infotainment system features a DIN radio complete with Bluetooth hands-free and a fascia-mounted USB port and AUX-in socket. Another USB port is provided if you choose the optional mobile phone cradle.
The premium audio set-up available combines with the Renault R-Link Evolution multimedia system, incorporating a slot for an SD card to enable mapping management, the reading of audio tracks and display of photos on the seven-inch display.
R & GO is an app for both Android and Apple that allows smart 'phones and tablets to talk to the vehicle, performing 3D navigation, hands-free telephone, multimedia control and display the vehicle's trip computer. Renault has clearly though long and hard about how commercial vehicles are used these days.
Costs and Practicalities
The Renault Trafic panel van is offered in two lengths. The standard L1 configuration measures 4,998mm from stem to stern, with the L2 breaking the tape at 5,398mm. There are also two roof heights to choose from.
Compared to its predecessor, you get an extra 100mm interior load length and cargo capacity ranges between 5.2 and 8.6 cubic metres. Renault vans have also been smart about accommodating even longer loads too, with a flap that extends through the bulkhead and below the front seats to allow up to 2.95m long items.
Need even more length? Then simply open a secondary flap that extends into the front footwell, allowing up to 3.2m long items to be taken on board. Of course, you could always just opt for the longer L2 model with its cavernous 4.15m load length.
The cabin has been designed with everyday practicality in mind with a market-best total stowage capacity of 90-litres. There are 14 bins, trays and cubbies of different forms and sizes.
They range from 0.2 to 54-litres and are specially designed to house the everyday items employed by business users, including water bottles, cans, cups, cell phones, tablets, notebooks, pens, hard hats, boxes, and so on.
There's even a cradle mount for a tablet located above the radio. This suits tablets with screen sizes of between 4.8 and 10.6 inches, so a 9.7 inch iPad or a 10.1 inch Samsung Galaxy Tab 2 will easily fit, as well as smaller units like the Google Nexus 7 and the Kindle Fire.
Fuel economy is also rated as best in class, the entry-level Renault Trafic registering 49.5mpg on the combined cycle.
Summary of the Renault Trafic
The third generation Renault Trafic deals with most of the issues raised by satisfied users of its predecessor.
With far more efficient engines, a more spacious load bay, a hugely practical cab and better quality throughout, this is the vehicle that's suddenly going to have Volkswagen and Mercedes executives wishing they'd ploughed some R&D budget into their wares a bit earlier.
In fact, in some ways, the Trafic looks to have posed some questions that many well-established rivals look completely incapable of answering.
It's a van that shows evidence of a deep attention to detail and a quest by its maker to understand how its products are used. That's refreshing. It's also likely to be rewarded with some very big sales.
But one thing, Renault vans. Don't leave it thirteen years until we get the next one, hey?
Renault Trafic vans for sale
Interested in a new Renault Trafic van? Vansdirect have a wide range of models available and cheap van finance options including van leasing, van contract hire and van hire purchase.
Simply enquire online or call us on 0800 169 69 95 to find out more!