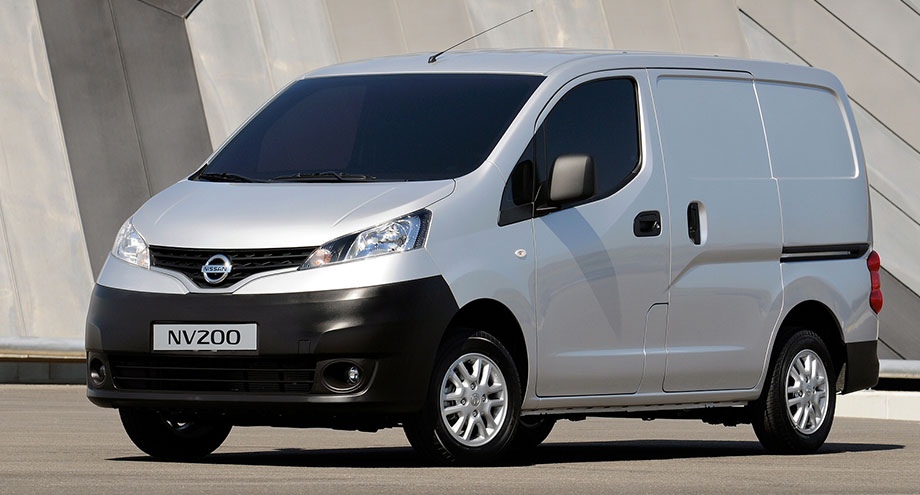 Nissan NV200 Van Review and Specs
Nissan vans have a fresh approach to its compact van market in the shape of its unorthodox Nissan NV200.
Preview of the Nissan NV200
From small beginnings, Nissan vans have grown their presence in the UK new van market dramatically but not without help. Sister company Renault vans provided the commercial vehicle technology, so all Nissan needed to do was slap its own badges onto the Renault van range, make a decent stab at the marketing and promotion side of things, and watch the sales figures balloon. It looked an ideal arrangement but Nissan vans, it seems, developed itchy feet. Having established its brand in the thinking of UK van buyers, the Japanese marque went it alone. The Nissan NV200 is the first Nissan van in a long time that's designed and built in-house, but is it up to the standards we've come to expect?
Ten Second Review of the Nissan NV200
Having piggybacked on the Renault vans range for a few years, Nissan vans designed and built one of its own and the Nissan NV200 compact van shows real promise. The tall shape squeezes maximum capacity out of a small footprint and the 1.5-litre diesel engine delivers strong economy.
Background
The Nissan NV200 was created to replace the Nissan Kubistar, a strong compact van product which basically amounted to a first generation Renault Kangoo with its badges swapped. Renault's second generation Kangoo never got the same dual identity treatment. By the time that model hit the streets, Nissan was well along the road to a little load-lugger of its own. Having been presented with a blank canvas to create a van in its own image, Nissan departed emphatically from the Kubistar and produced a vehicle that's about as unorthodox as modern compact vans get. The Nissan NV200 looks like a miniaturised version of a full size panel van rather than a traditional compact van and boasts the desirable combination of a small footprint and a large payload. Can it deliver the goods?
Driving Experience
Sharing a platform with the Nissan Micra passenger car that debuted in 2003, the Nissan NV200 isn't a big van but there will still be those who have their doubts about its reliance on a 1.5-litre engine. The 1.5 dCi diesel is on the small side but with 86bhp and 200Nm of torque from 2,000rpm it's a muscular little unit that compares well against the entry-level diesel engines offered in rival products. It does start to look a little outgunned against models that can match the prodigious carrying capacity but the Nissan should still have enough verve around town and a 98mph maximum suggests decent open road performance. The tall panel van shape of the Nissan NV200 gives rise to an upright seating position that will help drivers who are forever clambering in and out of their vehicle during the working day.
The dash-mounted gear lever that controls the five-speed gearbox is ideally located and the steering column adjusts for rake, but not for reach. With the front wheels pushed right to the front of the vehicle, the Nissan NV200 gains a very tight 10.6m kerb to kerb turning circle which is better than the majority of the compact van class and even outmanoeuvres some superminis. With good visibility, it promises to be an ideal partner for urban driving.
Design and Build
There are more visually arresting small vans on the market than the Nissan NV200 but once that scaled down panel van design was settled upon, it was always destined to be a vehicle of the plain and practical persuasion. What operators gain in a package that's only 1,695mm wide and 4,400mm from noise to stubby tail, is a very big load bay. Most of the leading compact vans come in two different wheelbases but the Nissan NV200 combines a single short wheelbase with a 750kg payload and a 4.2m3 load volume - that's on a par with its long wheelbase rivals.
The shape of the vehicle means the loadbay is relatively tall but there's enough floor area for two Euro pallets and a low loading lip of 542mm will help when lifting items inside. The Nissan NV200 comes with a pair of sliding side doors as standard along with the usual side-hinged doors at the rear. Also as standard, the driver is protected by a ladder frame behind the seat but higher spec models get a solid steel bulkhead that will also do wonders for refinement. There are six tie-down points in the load bay floor and further versatility is available through the aptly named but optional Versatility Pack. This increases the maximum load length from 2,040mm to 2,800mm by means of a folding passenger seat and an opening mesh bulkhead.
Market and Model
There's a choice of E and SE trim levels for Nissan NV200 buyers to get their heads around. Even the E model has a decent range of features including remote central locking and a good trip computer. The manual wind-down windows are less appealing and many operators will want to upgrade the safety spec from the single driver's airbag on the E model. With the SE, there's electric windows and Nissan's keyless entry-system which will be great for multi-drop drivers. If you want more comprehensive safety kit, however, you'll need the optional Safety Pack with its ESP stability control, passenger airbag and twin side airbags.
Practicalities and Costs
Simple design and solid build are the order of the day inside the Nissan NV200 cab but Nissan vans have put considerable effort into keeping the driving environment user-friendly. There are 13 storage areas, which might be unlucky for some, particularly if the item you're searching for is in the thirteenth place you look. The storage draw under the driver's seat is handy and the glovebox has a secret compartment to house valuables. Build quality is generally very good with the materials apparently hardwearing and the controls operating with a feeling of solidity.
Economy should be an NV200 strong point thanks to its proven 1.5-litre dCi engine. The official combined cycle return for the van is 54.3mpg and emissions of 137g/km will have significant tax advantages. The trip computer can be set to display a gearshift indicator light that tells the driver when to change up to get the most from each tank of fuel.
Summary of the Nissan NV200
Having relied on Renault vans to provide its commercial vehicle products for a long time, Nissan vans appear to have grasped the opportunity to go it alone with both hands. Rather than trotting out a formulaic compact van that matches rivals head-on, the Japanese firm obviously gave some thought to how it could come at the market from a different angle. The Nissan NV200 uses the shape and layout of a larger panel van to deliver a big carrying capacity in a small footprint. The execution looks good and it's easy to see how open-minded operators could be persuaded to give the Nissan NV200 a go. Nissan's first home grown van in a long while isn't the most exciting thing to look at but it adds another dimension to the compact van market. The miniature panel van approach should prove.
Nissan vans for sale
Looking for a new Nissan van? You're in luck! Vansdirect has an impressive range of Nissan vans for sale with cheap van finance options including van leasing, contract hire and hire purchase.
Simply fill in a contact form or call us on 0800 169 69 95 to find out more!