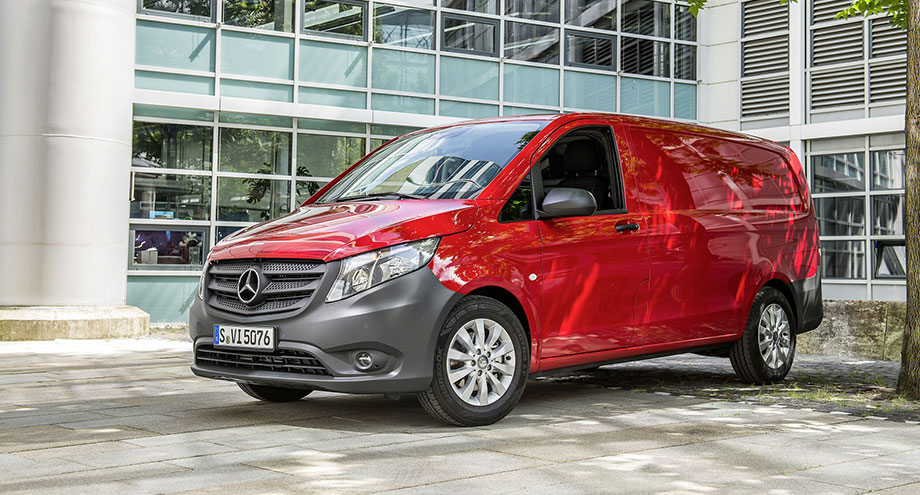 Mercedes Vito Van Review and Specs
If there can be such a thing as a workhorse with a pedigree, Mercedes' revitalised mid-sized Mercedes Vito van is surely it.
Ten Second Review of the Mercedes Vito
The revitalised Mercedes Vito offers a more efficient range of more powerful frugal diesel engines, a fresh face, a smarter cabin and extra equipment. Buyers get a choice of 1.6 or 2.1-litre diesel power and, for the first time in this segment, there's the option of either front or rear-wheel drive. As a result, Stuttgart's medium-sized panel van contender looks better equipped than ever to take the fight to an increasingly impressive array of VW Transporter and Vauxhall Vivaro - sized rivals.
Background
One of the things you learn early on in business is that the cheapest options aren't always the best ones. And that the way you deliver your goods says plenty about them. Both things explain the appeal of the Mercedes-Benz of medium range vans, this model, the Mercedes Vito, which slots in just below the larger Mercedes Sprinter model in the German brand's LCV range.
Well over a million examples have been sold since its original launch in 1996 but in a tougher, more eco-conscious commercial market, this design now needs more than just badge and build quality to stave off competition from less prestigiously badged but arguably more complete rivals. Hence the improved Mercedes Vito model we're looking at here, smarter, more practical, better to drive and crucially, less costly to run. All of which it will need to deliver if it is to be a credible alternative to tough rivals as diverse as the Vauxhall Vivaro / Renault Trafic design, the Peugeot Expert / Fiat Talento / Citroen Dispatch collaboration, the Volkswagen Transporter and of course the ubiquitous Ford Transit van, primarily in Ford Transit Custom form.
All these alternatives claim to match this Vito's all-round excellence for less money but Mercedes reckons that it won't take operators very long behind the wheel to appreciate the difference that the Three-Pointed Star can make.
Driving Experience
The big news with this modernday Mercedes Vito range is the option it offers of front-wheel drive, a format that comes mated to a 1.6-litre diesel engined borrowed from the Renault Trafic. There's the choice of it in either 88bhp '109 CDI' form or in 114bhp '111 CDI' guise.
Beyond that, as before, the powerplant that forms the backbone of the range is a redesigned version of Mercedes' stalwart 2.1-litre four-cylinder common rail diesel borrowed from the larger Sprinter model, an engine which has already gained a good reputation for its combination of performance, economy and refinement and, almost uniquely for a four cylinder LCV diesel, is fitted with balancer shafts to eliminate vibration and improve what were already class-leading levels of refinement.
As with previous Vito models, this 2.1-litre unit comes in three states of tune, the options beginning with the 136bhp '114 BlueTEC' entry level version. Beyond that, there's a 163bhp '116 BlueTEC' model and a 190bhp '119 BlueTEC' flagship diesel variant. The latter model comes only with 7-speed '7G-TRONIC PLUS' automatic transmission, the most sophisticated auto gearbox in the segment. It's an option for '116 BlueTEC' customers. And over bumps and around corners? The ride might be a slightly firmer than you're used to but it's an undeniably supple and well-controlled one you'll quickly adapt to and appreciate. There's also the fact that, a little unusually in this class, this van is rear rather than front driven, meaning more rewarding handling than you might be expecting and a tighter turning circle.
Design and Build
The face of this improved Mercedes Vito has a chunkier, more robust look that takes its cues from the current Mercedes passenger car line up.
Rear twin doors are standard for the van models, which can be opened back to the 180?? position or locked in place at an angle of 90??. A tailgate is standard on the crew van and Tourer models, as well as being a no-cost option for panel van models. Easy access is also achieved to the loadspace via side sliding doors, fitted to both sides of the vehicle as standard, with a wide entry. In addition, a full-height bulkhead is fitted to panel vans as standard.
The wide door opening and well placed step of the Mercedes Vito mean that getting in to the cabin is a simple enough manoeuvre and once seated aloft, you'll find a cab with three-abreast seating that's closer than ever to Mercedes-Benz passenger car standards thanks to the introduction of higher quality fabrics. It helps that the smart steering wheel isn't set at such a bus-like angle as you'll find in some competitors, with further car-like cues found in the way that most of the controls are located on a neatly presented centre console with the re-shaped gearstick protruding from the dash below.
Market and Model
With three lengths, three weight variants, and two turbodiesel engines in five power ratings, this Vito offers a broad range, with prices starting from around £18,000 (ex VAT) for the entry-level 109 CDI panel van Compact variant. In addition to the panel van range, there's Vito crew van variant that combines the advantages of a panel van with those of a crewbus. For even more focus on passenger carrying, a further Tourer model is available in two versions - Vito Tourer PRO and Vito Tourer SELECT, which come with eight seats (including driver) as standard and the potential to optionally specify nine seats in total.
Standard features inside include cruise Control with a Speedtronic variable Speed Limiter, a multifunction steering wheel with trip computer, plus the 'Audio 15' set-up. This system comes with a high-resolution 5.8-inch TFT display, and includes a Bluetoothhands-free system, plus audio streaming, USB and aux-in ports, an iPodinterface and an SD memory card slot.
Standard safety equipment includes Adaptive ESP, Adaptive Brake Lights, Attention Assist, Crosswind Assist, driver and co-driver airbags, Hill-Start Assist, reflection-style headlights with daytime running lights, Rescue Assist QR codes, plus a Tyre Pressure Monitoring System. Thorax and window airbags are standard for the Vito Tourer PRO and SELECT, and optional on the panel and crew van.
Practicalities and Costs
The Mercedes Vito comes in three handy and not so handy lengths: compact, long and extra long. In the cargo bay, there are load-restraining belts and plenty of tie-down points to keep whatever you're carrying from moving around. If despite all this provision, you still forget to tie things down, there are protective panels up to guard against interior scrapes and dents. In conjunction with the 1.6 litre four-cylinder engine, the front-wheel drive panel van's kerb weight for the compact length with standard equipment is just 1,845kg.
At the standard gvw of 2.8 t, the front-wheel drive Vito achieves a very impressive payload of 955kg. However, the payload champion is the rear-wheel drive Vito with its four-cylinder, 2.1-litre engine and a gvw of 3.2 t, offering a maximum payload capacity of 1,255kg. Keeping costs down will be a major priority for potential owners, so it'll be good news for operators that the Vito's new engine line-up has become more economical and cleaner. The brand's BlueTEC package is fitted to all rear-wheel drive models, which can help to achieve up to 47.1 mpg (combined) in the 119 BlueTEC.
Enhancements include alternator management, with the battery charging during coasting or deceleration. Plus improved underbody aerodynamics and the usual benefits conferred by the ECO start/stop function. Euro 5 technology features in the 1.6 litre engine in the two front-wheel drive van and crew van variants, and Euro 6 BlueTEC features on all 2.1 litre rear-wheel drive variants and all Tourer models. The Euro 6 engines use the established Mercedes-Benz BlueTEC system utilising AdBlue to meet the strict emissions requirements due to become law in 2016 for vans.
Summary of the Mercedes Vito
The biggest compliment I could pay the revised Mercedes Vito would be to suggest it to be the least van-like van I've driven to date. Ford Transit -class designs don't usually also have to function as luxury, up-market people carriers as this one does and the difference in build excellence is obvious as soon as you take a seat inside. But nice though it is to have a quality feeling behind the wheel of one of your company's LCVs, that doesn't pay the business bills.
So Mercedes vans have looked at the best that its competitors can offer and borrowed high technology from its luxury car line-up in order to match them. The result is a benchmark among vans that you can buy with head as well as heart and one that can carry heavier loads with more speed, less noise, greater comfort, sharper handling, reduced fuel consumption and cleaner emissions. Medium range Ford Transit -class customers will always have cheaper options of course. Nearly all though, are lacking this van's one most crucial ingredient: Star Quality.