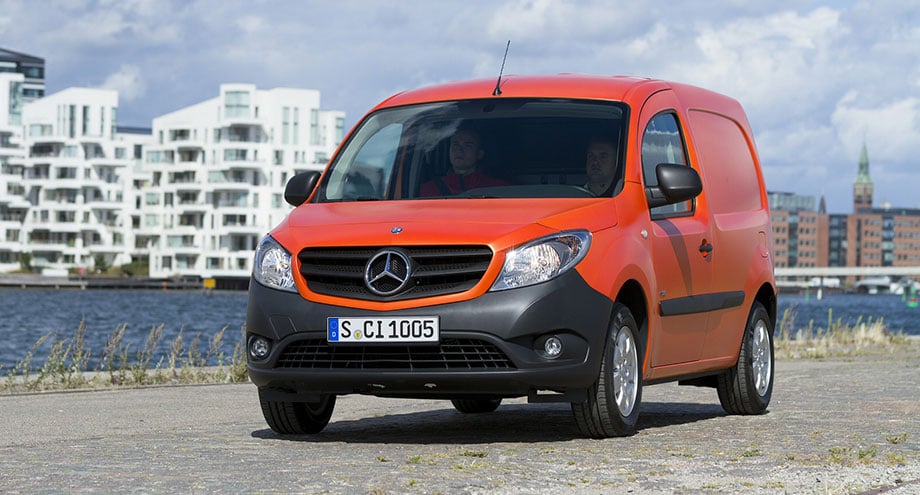 Mercedes Citan Van Review and Specs
The Mercedes Citan is a well-engineered city van that comes in three different lengths with both petrol and diesel engines which offer great economy and emissions. Yes, it's effectively a badge-engineered Renault Kangoo and is made in the same plant, but it will appeal to a different customer.
Background of the Mercedes Citan
If there's one word that sums up the Mercedes vans approach to vehicle development, it's probably thoroughness. These are very considered vehicles, developed with a specific task and customer in mind and are finely honed to that end. You can probably think of endless examples of Mercedes cars that fit that description but, if anything, the company's commercial vehicles are even more impressive. The reason? While many of the cars get an easier ride on the strength of badge equity, the vans and trucks often need to distinguish themselves on an absolutely objective basis. That's the measure of the task facing the Mercedes-Benz Citan city van. It's a hugely significant vehicle for Mercedes.
Small vans make up 45 per cent of the European LCV market and without such a product in their range, the company's growth aspirations have always been capped. Many business want contracts with one manufacturer, and without a city van in the line up, they've gone looking elsewhere. That's not the case any more. But is the Mercedes Citan all that it seems? Developed in conjunction with Renault, is it anything other than a badge-engineered Renault Kangoo van? Let's take a look.
Driving Experience
The chassis on the Mercedes Citan is based on a MacPherson strut front end with rubber mounts on the lower wishbones to ensure good driving characteristics and a high degree of comfort. The rear axle is a space-saving compound-link axle with trailing arms, coil springs and an internal stabiliser. Nothing too radical there; just a benchmark of the class best. The engineering team set out to achieve typical Mercedes driving characteristics through a combination of driving dynamics, safety and comfort. The electric power steering, with a steering column that is adjustable in height, combines both accuracy and efficiency, the power assistance dependent on driving speed. It ensures low effort when manoeuvring and a reassuring feel at higher speeds.
The Mercedes Citan is offered with a broad range of powerplants. Most customers will choose a version of the turbodiesel direct-injection Mercedes-Benz OM607 unit and there are three, which all share a displacement of 1.5-litres. First up is the Citan 108 CDI, with a 75PS power output and 180Nm of torque. Then there's the Citan 109 CDI (90PS and 200Nm) and then the punchy Citan 111 CDI (110PS, 240Nm). Also offered in most markets is the Citan 112, a turbocharged 1.2-litre petrol engine with a 114PS output and 190Nm of torque. Yes, that's right, a 1.2 petrol with more torque than a 1.5 diesel.
Design and Build
The Mercedes Citan is offered in three different body lengths to offer a decent level of flexibility. There's Compact, Long and Extra Long although there's no real difference in roof height. There's also a five seat Citan Dualiner which offers a whole stack of versatility when employees, materials or even both must be transported. This gets a folding rear bench seat, an optional separator grille closing off the load compartment and two glazed sliding doors. It's based on the Extra Long variant and the load compartment behind the folding bench seat is panelled between the C and D-pillar just like a panel van. There's also a Traveliner model offered. It's a five-seater with a folding rear bench seat and is based on the Long variant. The standard version includes a sliding door on the right-hand side or, alternatively, doors on both sides are available as options.
The sidewalls of the Citan Traveliner are completely glazed. The standard version also features a glazed tailgate with a wiper and washer system. The inner side of the tailgate is panelled with hard-wearing plastic. Whichever model you choose, you get the same functional, well-built fascia with a three-clcok instrument binnacle and a simple centre stack with a stubby raised gear lever that's easy to reach. It feels well built without being ostentatious. Built in Renault's factory in Maubege in France, the Citan gets Mercedes-specific upholstery and is fully protected against corrosion, with fully galvanized sheet metal bodywork.
Market and Model
Prices look competitive, with the Mercedes Citan available from just over £13,000 (excluding VAT) for the 108 CDI Compact. Alternatively, there's Mercedes' Agility finance offers that can put you in a 109 CDI Compact Trade Edition for around £50 per week following a deposit of around £600.
If you'd rather buy outright, one of these will set you back just over £13,500. These prices are a little way removed from what you'd pay for Renault's Kangoo, with the 109 CDI Long costing around £1,200 more than a Kangoo. Is it worth it? That's a tough call. Most of the really nice touches are available as option packs which bump the price up still further.
The Drivers' Pack includes electric folding mirrors, centre armrest with stowage compartment, air conditioning and rear reversing aid and adds around £1,222 to the asking price. Alternatively there's a Safety Pack which adds driver and passenger thorax bag, passenger airbag and fog lamps for a smidgeon over £500. There are also Appearance, Cargo and Flexibility Packs available.
Practicalities and Costs
We've seen that the basis for the Mercedes Citan range is the panel van in three lengths from 3.94m (Compact) to 4.32m (Long) to 4.7m (Extra Long). The load compartment measures 1.36m, 1.75m or 2.1m long (Citan Compact, Long, Extra Long).
The corresponding volumes are 2.4 m3, 3.1 m3 or 3.8 m3. Depending on the length and weight variant, the payload is about 500kg (Citan Compact), 650kg (Long) or 800kg (Extra Long). The load compartment can be accessed from the side through one or two sliding doors.
A Cargo Pack is offered with a split cargo retention grill (replacing the standard solid bulkhead), reinforced tyres and folding co-drivers seat for around £450. Then there's a Flexibility Pack available on Citan Dualiner models which includes a stowage compartment in instrument panel, a centre armrest with stowage and a three person bench seat with folding retention grill. This will tack around £800 onto the vehicle's price.
Fuel economy is predictably excellent. The combined consumption of either the Citan108 CDI BlueEfficiency or the Citan109 CDI BlueEfficiency is only 65.7mpg. That's the best in class. Accordingly, as well as boasting the best fuel consumption figures, the Citan also produces the lowest exhaust emissions in comparison to competitors: the Citan 108 CDI and the 109 CDI emit only 112g/km CO2.
Summary of the Mercedes Citan
Is the Mercedes Citan the van that will transform Mercedes-Benz's LCV fortunes? Most probably, yes. It's a fact of the market that Mercedes is doing very well but could do better.
At the time of the Citan's launch, it was the fifth best selling van range in the UK. With the Citan on its books, it's looking at the number two spot, behind Ford vans in the sales charts.
Many operators like dealing with just one commercial vehicle supplier and a lack of a small van has nixed the three-pointed star from many shortlists. This is also a really good van. As, indeed, is the less expensive Renault Kangoo upon which it's based.
With decent practicality, clean styling, genuine flexibility and low running costs, it's anything but a half-hearted run at the market. It might well appeal to small businesses who need to project a classy corporate image. In other words, there's room in the market for both the Mercedes Citan and the Renault Kangoo without a great deal of overlap. That's some smart business right there.