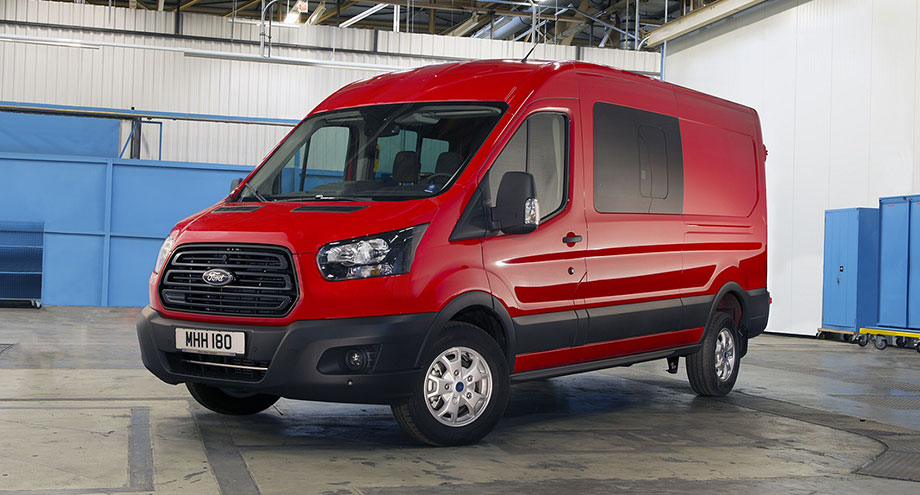 Introduction to the Ford Transit van
The sixth-generation Ford Transit has proved to be a big step forward, but Ford vans have continued their efforts to try and improve it, primarily with the addition of more efficient EcoBlue diesel engine technology. There's also extra safety provision and the option of a slicker 6-speed automatic gearbox. All of which builds on this Turkish-built model's existing virtues of space, durability and driving enjoyment. It looks a strong package.
History
If the Ford Transit was a watch, you know it would be a Timex. That old strapline 'Takes a Licking But Keeps on Ticking' is just as appropriate to Ford's hardy perennial, a vehicle that has carved itself a massive share of the UK commercial vehicle market. This sixth generation version has been well received around the world as a global product - it's even sold in the US. Perhaps its one weakness though, lay with the relatively inefficient 2.2-litre diesel engines provided beneath the bonnet. No longer. New EcoBlue diesel technology gets Ford back on the pace when it comes to efficiency returns in the large van segment - and not before time.
This design is the biggest version of the Transit breed, there to cover off large van rivals like the Mercedes Sprinter and the Renault Master. The Blue Oval brand these days has a separate smaller Ford Transit Custom model to cover off Vauxhall Vivaro, Renault Trafic and VW Transporter competitors in the medium vans market - a product we'll deal with separately. Here though, we'll super-size our Ford Transit van testing.
What is the Ford Transit van like to drive?
Under the bonnet, the big news is the replacement of the old 2.2 TDCi diesel this LCV was supplied with at launch with a new generation 2.0-litre Ford EcoBlue engine. It's offered in 105PS, 130PS and 170PS power ratings, each of which offers increased power and torque compared to before. Improved low-end pulling power - with 20 per cent more torque at 1,250rpm - delivers more flexible and responsive performance in everyday driving. There's also now the option of a smoother, more efficient automatic gearbox, a 6-speed SelectShift auto transmission.
As it was previously, the Transit is available in front-wheel drive, rear-wheel drive and all-wheel drive versions and as ever, this Ford has been engineered to keep coming back after the worst abuse imaginable. Its body construction features high-strength and ultra-high-strength boron steels and in development, has covered the equivalent of nearly 3.4 million miles in testing in Europe and North America, with more than 250,000 miles of that total covered by actual Transit customers. Safety tests have been undertaken to ensure the van would behave in a safe and predictable manner when subjected to the worst kinds of impacts experienced in real-world use, one test involving striking a 150mm kerb at 30mph. Ford vans didn't say how much damage the inevitable Pot Noodle in the cup holder did to the vehicle's interior.
Design and Build
By its definition, a panel van needs to be a big box on wheels, so there's only so much stylists can do to differentiate them externally. Nevertheless, Ford has done quite a good job with this Ford Transit van. The front end doesn't immediately look like a Ford product.
Previous Transit generations have usually tried to crib whatever the current trend in Ford passenger car styling is and adapt it, more or less successfully, to the bluff front end of a commercial vehicle but while that may work with the smaller Ford Transit Courier, Ford Transit Connect and Ford Transit Custom lines, the biggest fully-fledged Ford Transit is a large thing and it looks a bit different.
The huge front grille has echoes of the Aston Martin lookalike front end sported by some Ford cars, but thankfully the stylists haven't tried to force the theme. Inside, the quality looks strong and there's been some budget devoted to actually making the dash look stylish rather than merely functional. The multi-adjustable steering wheel allows a decent driving position and the gear lever is located close at hand. There's a console that's loaded with buttons to control the various stereo and phone controls, helping you to take calls safely on the move. In fact, the biggest compliment you can pay is that it feels resolutely car-like.
Market and Model
Expect pricing to be broadly inline with the outgoing model. The permutations of body styles are huge. As well as the normal van body, Ford will sell you a double cab in van, a Kombi, a chassis cab and a minibus. We'll stick with just the van body here to save getting too complex.
Here, you get a choice of three different wheelbases; L2 (Medium), L3 (Long), and L4 (Long Extended).There are also two roof heights on offer; H2 (Medium Roof) and H3 (High Roof).
Ford offers three different trim levels: base, Trend and ECOnetic. Even the entry-level van gets interior features such as a radio, with AUX, Bluetooth, USB/iPod connectivity and remote controls, a rake and reach-adjustable steering column, a trip computer, courtesy lights with theatre dimming, an eight-way adjustable driver's seat, remote central deadlocking, electric front windows and an overhead stowage console. Upgrade to the Trend and you get features like cruise control, a lockable glove box, some leather for the steering wheel and gear knob and a complete load compartment half-height trim board. Transit customers can now also specify Ford's SYNC 2 voice-activated connectivity system with a new high-resolution 6-inch colour touch screen, featuring advanced voice control of audio, navigation and mobile phones.
As for safety, all models get an upgraded ESC stability control system which includes 'Side Wind Stabilisation', 'Curve Control' and 'Roll Stability Control'. Plus customers can optionally specify Adaptive Cruise Control, Traffic Sign Recogntion and a 'Pre-Collision Assist with Pedestrian Detection' autonomous braking system.
Costs and Practicalities
When Ford vans designed the cargo bay of this MK6 model, it revised the side-wall angles to make them more upright and raised the roof slightly to maximise useful space. Plus the brand made sure that all versions of this van would be around 300mm longer to ensure for a load length that would suit all standard-length pipes, boards, rolls of carpet, and ladders.
A wide, high-grip step is integrated into the rear bumper making it easy to step into the cargo area and more convenient when loading by-hand. Side wall-mounted tie-down points help keep the load floor clear and are both DIN and ISO compliant, as is the full steel bulkhead that's fitted as standard. When you've got this much load space, side doors are vital and because they're often used a lot, the whole mechanism is built to maximise ease of use and durability. A double action release handle makes for smooth opening and closing, a 'positive check' latch secures the door when open and a warning beep sounds if the side door isn't shut or locked correctly.
On to cost of ownership, an area where this model's latest EcoBlue diesel engines really score. Ford claims that fuel efficiency has improved by 13% in comparison to the older 2.2-litre TDCi unit, and it talks of CO2 emissions starting from as little as 157g/km. This engine also delivers extended 2-year/37,000 mile service intervals. There's also a clever Acceleration Control system that helps to control the van's rate of acceleration according to whether it's unladen or part-laden. As a result, you can expect to lower your fuel consumption by up to 15 per cent, depending on your driving style. There's also a shift indicator for fuel-efficient gear changes.
Summary of the Ford Transit van
In years gone by, the Ford Transit vans often relied heavily on its market positioning to maintain its Number One position amongst UK businesses. That's no longer valid - and Ford vans have long known it. Hence the effort that was put into improving this sixth generation version, with a programme of improvements now completed by the addition of the EcoBlue diesel engines that power this revised model. Now that these units are in place, it's hard to see much of a chink in the Ford vans armoury: it's certainly the large van you simply have to consider if you're buying in this segment.
The amount of work that Ford has put in to improve efficiency betrays an almost obsessive attention to detail, zeroing in not only on the things that matter to fleet operators, but also devoting equal attention to what counts for those who will drive this vehicle. Yes, you can buy cheaper vans in this sector, but at what cost? The Ford Transit van formula has been calculated to the nth degree and it works. Don't expect that to change anytime soon.
Ford Transit vans for sale
Looking to get your hands on the new Ford Transit van? Look no further! Vansdirect has a massive range of new Ford Transit vans for sale with a selection of cheap van finance options including van leasing, van contract hire and van hire purchase.
Call us on 0800 169 69 95 or enquire online to get the ball rolling on a brand new van today!