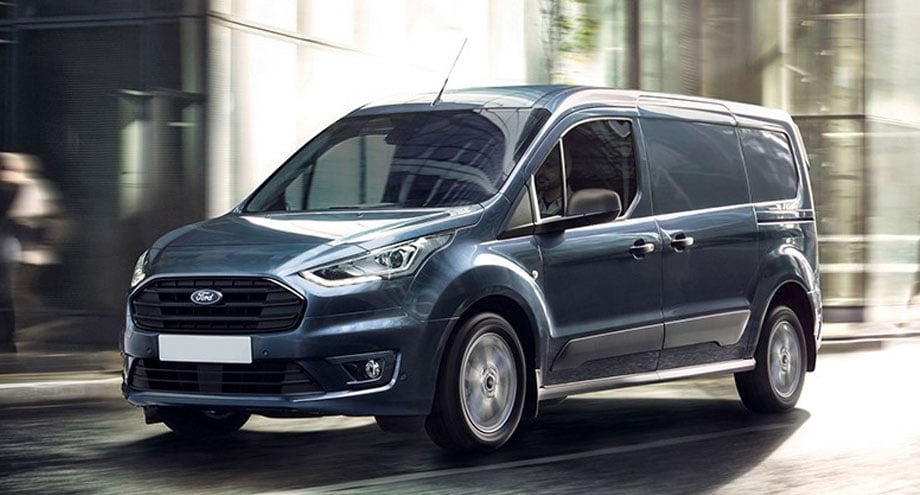 Ford Transit Connect Van Review and Specs
This 'baby' Ford Transit is anything but a lightweight when it comes to meeting the demands of the small and compact van sectors. Vansdirect looks at the revised Ford Transit Connect.
Introduction the Ford Transit Connect
The Ford Transit Connect is a small van - with big ideas. It must suit buyers in both small and compact sectors of the LCV market - and does so thanks to the choice of both short and long wheelbase bodystyles and a versatile loadbay. This revised version gets a smarter look, a classier cabin and a more efficient 1.5-litre EcoBlue diesel engine. Overall, there may be prettier small vans, but there are few more practical ones.
History
It was the Ford Transit Connect that really galvanised the small van sector when it was launched in the UK back in 2003. A whole host of copycat rivals - Citroen's Nemo, Peugeot's Bipper and the Fiat Fiorino - quickly followed. But despite tough competition, this Ford van has continued to find a ready band of buyers. The Blue Oval brand says that's because, unless its competitors, it uses fewer car-derived components in its construction, leading to a less compromised commercial vehicle result.
Originally, this design had to cover both small (think Peugeot Bipper or Citroen Nemo) and compact (think Citroen Berlingo or Renault Kangoo) sectors of the new van market, segments covered by other brands with two separate models. That was a bit of a stretch. These days though, Ford vans too, has separate models to offer, with the little Ford Transit Courier slotting in beneath this Ford Transit Connect to form a four-strong Transit van offering for UK van buyers.
What is the Ford Transit Connect like to drive?
You don't buy any van prioritising ride and handling but with the strong Ford vans reputation in this department when it comes to passenger cars, then it's fair to expect this Ford Transit Connect to dynamically, be one of the class leaders. Which broadly, it is. Like any new van, this one handles better fully loaded, but even in the unladen state, cornering response is predictable and bodyroll well controlled. Once you've dropped off your load, you could even imagine rather enjoying yourself on the way home around the twisty stuff in one of these. To a point.
Of course, to a certain extent, you'll be limited by the modest output of the new 1.5-litre EcoBlue diesel powerplant that most Transit Connect customers go for. There's also an improved 1.0 Ecooost petrol engine option with 100PS. An upgraded six-speed manual transmission is now fitted to all engines as standard and the 1.5-litre EcoBlue engine (offered with 75, 100 or 120PS) can also be specified with an advanced new eight-speed automatic transmission, which has been engineered to deliver smooth, swift gearshifts.
If you're towing, then the top diesel's the variant to choose, offering a braked trailer towing capacity of up to 800kg. Depending on the variant you choose, the turning circle is between 11 and 11.9m. There's plenty of hi-tech here as well. Safety-wise, the Electronic Stability Program (ESP) is standard across the entire range, plus there's Hill Launch Assist to stop you drifting backwards on uphill junctions, Anti Lock Brakes with Hydraulic Brake Assist, Active Yaw Control (that assists with oversteer and understeer), Roll Movement Intervention (to reduce body roll) and, if the worst comes to the worst, Roll Over Mitigation.
Design and Build
From the outside, it's clear that the development team at Ford vans have prioritised function over form in this design. So though the front end is these days sleeker and smarter, the overall look is still very boxy and practical-looking. Styling changes made to this revised model adopt the latest Ford design DNA. An imposing three-bar Transit grille combined with slimmer headlamps - with powerful HID Xenon lamps and LED daytime running lights available on high series models - combine with a more aerodynamic lower fascia and front spoiler to deliver a fresher look.
Inside, where build quality from the Turkish factory remains solid, it's much as before, though there's now a wider use of switchgear and design cues from plush Ford passenger car models like the S-MAX. The upgraded cabin features a revised instrument panel with a new central control area that incorporates a floating, tablet-inspired six-inch colour touchscreen on high series models, featuring Ford's SYNC 3 communications and entertainment system. New trim materials provide a stylish and hard-wearing working environment for long working days in the cab. Getting comfortable at the wheel is easy thanks to a steering wheel adjustable for both reach and rake.
And there's plenty of cabin storage space. Though it's difficult to know where you would put a sandwich box, a flask or a big bottle of water, there are compartments both in front of the gearstick and behind the handbrake, then between them in the centre area between the seats, a holder for coins and tokens and two large cupholders, narrow bins in each door, a lidded glovebox, an optional tray under the front passenger seat and a shelf at the top of the facia capable of holding A4 documents. Oh and a curry hook for your Friday night takeaway. A load-through hatch in the bulkhead and fold-flat passenger seat enable long loads up to 3.0m (L1) and 3.4m (L2) to be safely carried in the vehicle. In addition, a multi-fold dual passenger seat now enables van models to carry up to three people in the cab.
Market and Model
Pricing starts at around £16,000 excluding VAT and there's a premium of around £1,000 to go from the 'L1' short wheelbase bodystyle to the 'L2' long wheelbase version. If you're looking to carry people as well as packages, there's a 'Double Cab-in-Van' option with a fold-out rear bench. Or you could go for a full Kombi version with proper rear seats. Trim levels run from 'Base' (where there's the option of a frugal 'ECOnetic version) to 'Trend' and on to 'Limited' and 'Sport'.
Whichever Ford Transit Connect you choose, equipment levels run to a reach and rake-adjustable steering wheel, see-you-home lights that stay on at night to guide you to your front door, remote central locking that allows you to lock and unlock the cab and load area separately, Hill-Start Assist to stop you drifting backwards on uphill junctions, a full steel bulkhead and a sliding side door. There's also a DAB digital radio, a trip computer and steering wheel stereo controls.
This revised model introduces a comprehensive range of segment-first driver assistance features, including an Intelligent Speed Limiter - that enables automatic adjustment of maximum vehicle speed to remain within legal limits. There's also a Pre-Collision Assist with Pedestrian Detection emergency braking system, Side Wind Stabilisation and Active Park Assist that helps to steer the vehicle into both parallel and perpendicular parking spaces.
Costs and Practicalities
Ford Transit Connect vans come as standard with conventionally hinged side-opening twin rear doors that can be specified to swing through 250-degrees and latched against the vehicle's sides. There is the option of a hatchback-like single top-hinged rear door, but if you go for that, then you're going to have trouble getting a forklift close enough to the back of the vehicle to fully fill the space available. That said, the loading height can be as little as 598mm from the ground. Even bulky stuff should go in OK, even in the short wheelbase lowroof version which has a rear door aperture 1145mm high and 1293mm wide. Beyond that, there's a 2.9m3 space - or 3.6m3 if you specify the fold-flat front passenger seat. There's a loadspace length of 1739mm and a loadspace width of 1490mm, narrowing to 1226mm between the wheelarches, wide enough to take a Europallet. Oh and 1193mm of loadspace height. If you're planning to make use of all that capacity, then you'll want to know that the payload capacity can be as high as 1,000kgs.
But, you know what it's like, there are always going to be occasions when all that won't be quite enough. And if one of those occurs, then you may wish you'd opted for the long wheelbase high roof model, a variant that's 25cm longer overall. Here, the rear door aperture height rises to 1316mm, while the total loadspace volume rises to 3.7m3 - or 4.4m if you specify the fold-flat front passenger seat. That's thanks to a loadspace height increase to 1364mm and a load length increase to 1986mm - which means that you could accommodate pipes of up to 3m long. Smaller loads of course can be loaded in through the sliding side door. One of these is standard, with a second on the options list. In the short wheelbase model, the sliding side door offers an aperture 606mm wide and 1040mm high, but on the longer long wheelbase variant, the width rises to 809mm and the height to 1181mm.
To minimise overall cost of ownership, service intervals have been extended on both diesel and petrol variants, with manual diesel vehicles now offering best-in-class variable intervals of up to two years/25,000 miles. The longer service intervals contribute to scheduled maintenance and non-scheduled repair costs that are significantly lower than the primary competition, according to Ford analysis.
The latest version of the 1.0-litre EcoBoost engine incorporates significant changes to the cylinder head, fuel injection and emission-control systems to provide further improvements in fuel-efficiency. New technologies also include cylinder deactivation, which enables the engine to run on two cylinders at low loads, to reduce pumping losses and improve frugality.
Summary of the Ford Transit Connect
The improved Ford Transit Connect remains a practical, no-nonsense, well-rounded package that still does a very effective job for Ford vans in appealing to business customers in both the small and not so small panel van sectors. The practicalities still stack up well against obvious rivals in both segments who clearly looked very carefully at what this model has to offer but in many respects, failed to improve upon it.
It was just as well though, that the changes wrought upon this improved model were introduced. The introduction of a greener, more refined 1.5-litre EcoBlue diesel is welcome, as is the availability of an improved version of Ford's clever 1.0-litre EcoBoost petrol unit. With electric power in its future, this Ford Transit Connect will continue as an alternative that all small and compact van buyers need to consider. Tough, practical and ready for anything. Just as any Ford Transit van should be.
Ford Transit Connect vans for sale
Looking for new Ford Transit Connect lease deals? Vansdirect has a selection of models available alongside cheap van finance options including van leasing, van contract hire and van hire purchase.
Simply fill in a contact form or call us on 0800 169 69 95 to find out more!