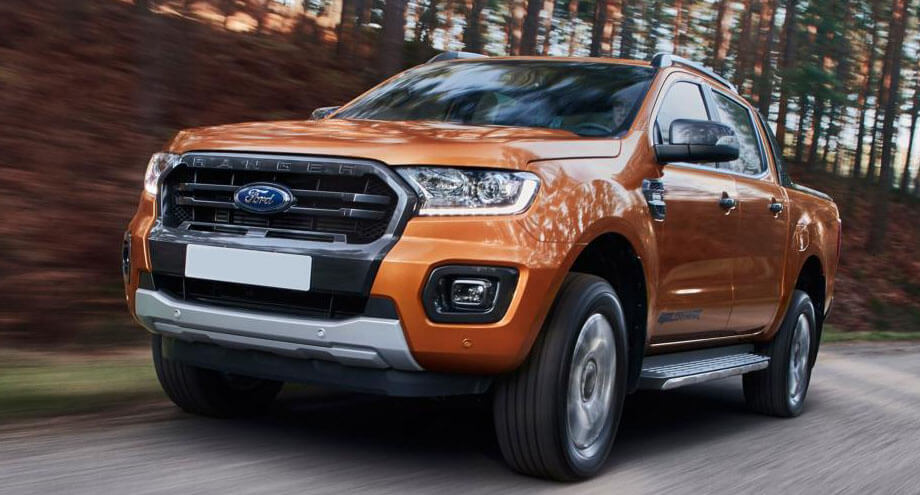 Ford Ranger pickup Van Review and Specs
The much improved Ford Ranger pickup is far more efficient, as well as being smarter and very media-savvy. Plus it's still tough and decent to drive for a vehicle of this kind. Our team of new van experts at Vansdirect take a closer look at the iconic pickup.
Introduction to the Ford Ranger
The Ford Ranger really has gone large in its appeal as a competitive proposition against tough rivals in the pick-up segment. The idea is to tempt everyone from builders to surf-boarding, mountain-biking families with what is now a very complete product indeed.
Background
It took Ford vans a long time to create a pickup tailored to the needs of European customers but the brand finally managed it with the third generation Ford Ranger model it launched in 2012.
With this line-up, the marque at last had a product to properly compete with the tough Japanese triumvirate that rule this market segment this side of the Atlantic, the Mitsubishi L200, Toyota Hilux and Nissan Navara.
All three are good vehicles but very obviously commercial in feel. This Ford Ranger claims to offer something more, if not a road car with a pick-up deck, then the closest thing to that we've yet seen, with a design versatile enough for export to over 180 countries.
Since this vehicle's original launch though, pick-up buyers have become more demanding, especially in terms of the efficiency they expect and the technology they want.
What is the Ford Ranger like to drive?
There aren't many pickups for sale developed first and foremost to prioritise driving dynamics, but this is one of them.
So what's it like? Well, really, it depends upon your expectations. Does it ride and handle like a Discovery? Well of course it doesn't. A Discovery isn't built to take a 1.3-tonne payload. But does it set handling standards for the pick-up segment? Very definitely yes, more agile, stable, precise and comfortable than any vehicle of its kind we've seen to date.
There's decent steering feel for a pick-up too, despite the introduction of electrical assistance for the helm of this revised model.
Under the bonnet, most models will be sold with the 160PS 2.2-litre four cylinder TDCi turbo diesel that Ford uses in its passenger car line-up.
For really effortless towing though, you'll need the flagship Ford Ranger engine, a purpose-designed 3.2-litre five cylinder TDCi diesel with 200PS on tap and 470NM of torque, most of which you can access from as low in the rev range as 1,750rpm.
Of course, if you're a typical Ford Ranger owner, you'll want to be putting its all-terrain capability to the test on a pretty regular basis.
Which is why, though there's a two-wheel drive entry-level model for those that want it, most of the range is built around 4WD variants. As usual with vehicles of this type, this one runs in 2WD unless you rotate this controller to its '4H' '4x4 High' setting, something that can be done on the move.
That'll be fine for slippery tarmac and grassy fields, but for anything more serious than that, you'll want to switch further into the '4L' '4x4 Low range' mode that'll give you a seriously go-anywhere set of off road ratios.
Design and Build
Almost the only global market in which you won't find this Ford Ranger is that of the US. Apparently, it's not big enough. Seems pretty large to us, nearly five and a half metres long and with a bulk quite intimidating enough to frighten away fast lane dawdlers.
This revised version gets a smarter look with a more aggressive front end featuring a bold traezoidal front grille.
And inside? Well, if you go for the four-door Double Cab, there's plenty of space in the back: two six-footers can certainly sit one behind the other with ease.
Under the rear seat, you've hidden storage bins to keep tools and valuables away from prying eyes. Or, if the rear bench isn't in use, you can fold down the backrest for packages you may not want to consign to the rear loadbay.
And up-front? Well, you climb up high to perch behind the wheel of any pick-up and this Ford Ranger is no exception, with an airy, commanding cab offering great all-round visibility and class-leading front seat headroom.
The instrument cluster with its central LED display was apparently inspired by the design of a G-Shock watch, precision workings protected by a robust casing. And plusher models get an eight-inch infotainment touchscreen on the dash, via which owners can use the latest 'SYNC 2' media connectivity system that Ford now offers in this vehicle.
Market and Model
There are three Ford Ranger bodystyles - 'Regular cab', 'Super cab' (which has occasional rear seats) and 'Double Cab' with proper rear seats.
The 'Regular' bodystyle is only available with base 'XL' trim, while the 'Super' option only comes with the mid-range 'XLT' and 'Limited' trim levels. At the top of the line-up is the high-spec 'Wildtrak' variant, offered only in Double Cab form and only available with the 3.2-litre TDCi engine.
A single 2WD model is offered at the foot of the range (a 'Super' cab variant) but otherwise, 4WD is fitted to all derivatives. Prices start at around the £18,500, excluding the VAT that most business buyers will be able to claim back. For the Double Cab bodystyle most customers will want, you'll need to be budgeting in the £20,000 to £25,000 bracket excl. VAT.
For a top 3.2-litre Ford Ranger Wildtrak variant, you'll be looking at paying £26,000 to £27,000 excl. VAT. Still, you get a pretty unique pick-up in return, with colour-coded bodywork, a unique sports hoop, machined 18-inch alloy wheels and special graphics. Inside, there are plush eight-way power-adjustable seats in an orange-trimmed interior that includes an eight-inch infotainment touchscreen.
Across the range, this improved Ranger line-up benefits from fresh technological additions and options. Things like Ford's clever 'SYNC 2' media connectivity, plus safety items like a Lane Keeping Aid and Adaptive Cruise Control.
Costs and Practicalities
Potential business owners may well be approaching this Ford Ranger thinking that sleek looks, a smarter more spacious cabin and class-leading driving dynamics are all very well but that they'd trade all of them for the practicality out back that this vehicle will need to earn its keep.
They don't have to, for thanks to big dimensions and a high beltline, the load-lugging stats of this Ford van are as good, if not better, than any other vehicle in its segment.
The 'Regular Cab' and 'Super Cab' models offer, respectively, 1.82 and 1.45 cubic metres, while the Double Cab version is also more than competitive with 1.21 cubic metres.
And running costs? Well the switch to electric power steering and a single 160PS 2.2-litre TDCi diesel for mainstream versions of this Ranger has done wonders for running costs, these now improved by 17%. So whereas the previous pre-facelifted four cylinder Ranger model only managed 36.2mpg on the combined cyce and 206g/km of CO2, this 160PS 2.2 TDCi model manages 43.5mpg and 171g/km. Much more like it.
Running costs for the Ford Ranger are helped by the 4WD/2WD system that allows off road users, once back on tarmac, to switch to two wheel drive - obviously the more fuel efficient option. The 3.2-litre engine with four-wheel drive and manual transmission delivers 28.3mpg on the combined cycle and slightly better (28.7mpg) if you opt for the automatic 'box.
Pick-ups like this are never going to offer a slippery shape but even so, Ford have engineered a large car able to carry five adults and serious amounts of luggage, equipment or other heavy loads, that is relatively aerodynamic.
Summary of the Ford Ranger
You can't deny that this revised Ford Ranger is a thoroughly engineered product. But is it the first Ford pick-up to truly approach market leadership? We think it might be.
It's safe, spacious, clever, able to carry large loads and, in four cylinder guise, finally has an engine efficient enough to match or beat the competition.
Whether the need is for active family weekends, or simply to carry workmates with their kit and tools, this rugged do-almost-anything automotive swiss army knife seems to have it covered.
From the back streets of Bangkok to the logging trails of Liberia, you'll find Ford Ranger pick-ups earning their keep, but the key thing here isn't really this product's ruggedness: this Ford was always tough to break.
It's the driving dynamics on offer. Maybe these aren't as car-like as the Blue Oval would like us to think, but they're very good for a vehicle of this kind, aided by technology that'll see Japanese competitors having to play catch-up. When it all comes down to it, the right tool can make child's play of men's work.
And if you're looking for one of the best all-round contenders in the pick-up sector right now, then this is the right tool. Job done.
Ford Ranger pickups for sale
Interested in a new Ford Ranger? Vansdirect has a wide range of Ford Ranger lease deals with a selection of van finance options available including van leasing, van contract hire and van hire purchase.
Simply fill in a contact form or call us on 0800 169 69 95 to find out more!