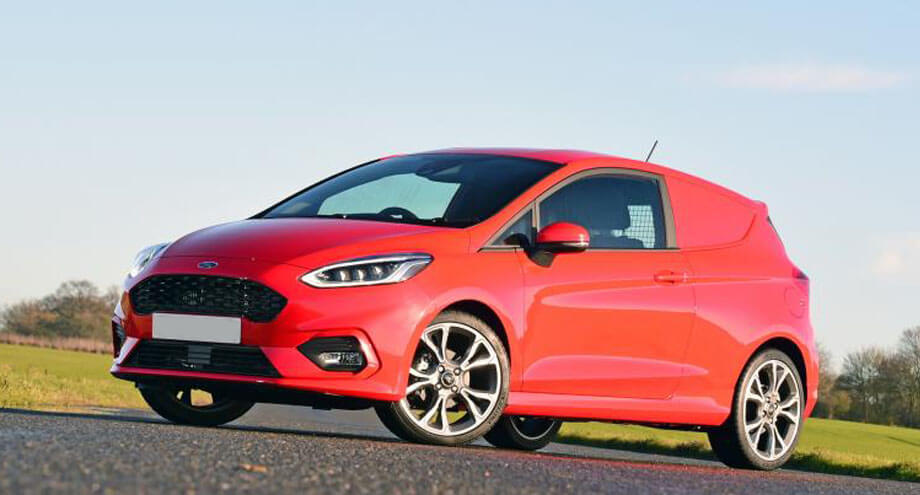 Ford Fiesta Van Review and Specs 2020
The new-era Ford Fiesta Van looks to be made of the right stuff, our team of van experts at Vansdirect takes a closer look at the smallest van in the thriving Ford vans range.
Introduction to
the Ford Fiesta van
The much improved Ford Fiesta Van gets off to a great start in life in being based on the brand's seventh generation Ford Fiesta supermini. The carrying capacity isn't huge but its driving experience, design and build quality set new standards for the small vans market.
History
By far and away the simplest route to creating a class leading small car-derived van is to start with a class leading small car. Which in the seventh generation Ford Fiesta is exactly what Ford have. Having done the hard work in creating this supermini, the boys at the Blue Oval weren't above tearing out the back seats to bring us the Ford Fiesta van.
This variant competes in the supermini-derived van market where Ford has traditionally taken 25% of sales and goes head to head with the van version of one of the key small models its passenger car sibling must battle.
So the Ford Fiesta van follows the same basic recipe as the well established Vauxhall Corsavan in that it sacrifices its rear seats and windows in favour of a flat load bay in which businesses with minimal load carrying requirements can stow their wares.
What is the Ford Fiesta van like to drive?
On the road, if you're familiar with the previous generation Ford van, your experience should be that this model has a more solid feel.
There's more of an emphasis on petrol power this time round with a choice of two petrol engines - 1.1-litre 3-cylinder with 85PS, and 1.0-litre EcoBoost with 125PS. If you must have a diesel, here's a 1.5-litre TDCi unit in a choice of 85PS and 120PS outputs
Variations on the Ford Fiesta Van theme may come and go but before driving this small van, there's one thing you almost always know for certain: that it'll be a great steer. This new generation model is 15% stiffer and both front and rear track measurements are wider.
The engineers tell us that the chassis now offers 10% more cornering grip, supported by Electronic Torque Vectoring Control, which enhances the driving experience by applying a small amount of braking to inside wheels to assist traction and stability when cornering.
Braking distances at 62mph are reduced by more than 8%. There are freshly developed five and six-speed manual gearboxes. And rear disc brakes feature on models with engines developing more than 100PS.
Design and Build
Once upon a time, the small van market was completely made up of supermini-derived models like this one but in recent times, most buyers have been drawn towards purpose-designed small vans that aren't constricted by passenger car styling and so can offer much larger carrying capacities without taking up any more road space.
The Ford Transit Courier model is a good example of this approach and if you really need carrying capacity, models like that one are indeed a better bet - but then, if you really need that, should you really be considering a very small van in the first place?
If having considered that, you conclude that your needs are less cubic capacity-orientated, then this Ford Fiesta van might prove to be a very effective choice.
The styling of this commercial Ford Fiesta may win it many admirers and operators looking for a compact van that will cut a dash on the city streets will like the wedge-shaped front end as well as the curvy rear.
The cabin is similarly avant-garde in its design, with a clever choice of quality materials. It also incorporates the latest interior technologies, including Ford's SYNC 3 communications and entertainment system.
Market and Model
Prices are much as with the previous model, which means a starting point of around £15,000, though that will reduce to more like £12,000 once the reclaimable VAT element is taken into account.
For customers wanting a bit more sporting style for their business, the Ford Fiesta Van is available as a Sport model, with unique front and rear design treatment, colour-coded rocker panels and up to 18-inch alloy wheels.
The sporting theme continues inside the cabin, with revised seats and trim materials, plus a unique design for the steering wheel, pedals and gear lever. An Adjustable Speed Limiter and a Lane Keeping System are fitted to this variant as standard.
For this latest generation model, Ford vans have incorporated its 'SYNC 3' communications and entertainment system. It's available as an option and is compatible with the 'Apple CarPlay' and 'Android Auto' smartphone-mirroring systems.
Safety kit includes Ford's PreCollision Assist with Pedestrian Detection emergency braking system, Adaptive Cruise Control and Blind Spot Information System. Plus there's Active Park Assist with Perpendicular Parking and Cross Traffic Alert to support easy and safe parking, along with Traffic Sign Recognition and Adjustable Speed Limiter to help avoid speeding fines.
Costs and Practicalities
In terms of practicality, as we've said, you won't be buying a supermini-derived small van if interior space is everything. That point made, it's also worth saying that this Ford does at least enable its owner to make good use of the space that is on offer.
Inside the three-door body, there is a practical load compartment capable of carrying approximately 1.0 cubic metre of cargo with a load length of almost 1.3 metres and gross payload of around 500kg. The load space features a composite and mesh full bulkhead, durable sidewall trim and a tough rubber floor covering with four tie-down hooks.
A 12-year anti-perforation guarantee goes a long way to reassure buyers of the faith that Ford vans have in their product's capacity not to fall foul of Mr rust and if all goes to plan, the 1-year breakdown cover will be surplus to requirements.
When it comes to insurance, the Fiesta van performs admirably: its 1E grouping is about as low as you can go.
As for running costs, well to prioritise these, you need the 1.5 TDCi diesel which in 85PS guise returns 78.5mpg on the combined cycle and 94g/km of CO2. For the base 1.1-litre petrol variant, the figures are 64.2mpg and 101g/km.
Summary
of the Ford Fiesta van
Ford vans know exactly how to build a class-leading supermini-derived van - but then, with a passenger car product as good as the Fiesta to base it on, you'd think that the van version's designers had very little to do to complete an excellent product.
Perhaps the best part about this commercial vehicle is that it doesn't look like one. All the style that marks out the Ford Fiesta car has been transferred over intact - and that should make it a good advert for the kind of small businesses (florists, gardeners and so on) likely to want a vehicle of this kind. Imagining your company logo on the doors? Then you'll know what to do....
Ford Fiesta vans for sale
Interested in a new Ford Fiesta van? Vansdirect are here to help! With a selection of models available and cheap
van finance
options including
van leasing
,
contract hire
and
hire purchase
.
Simply fill in a contact form or call us on 0800 169 69 95 to find out more!