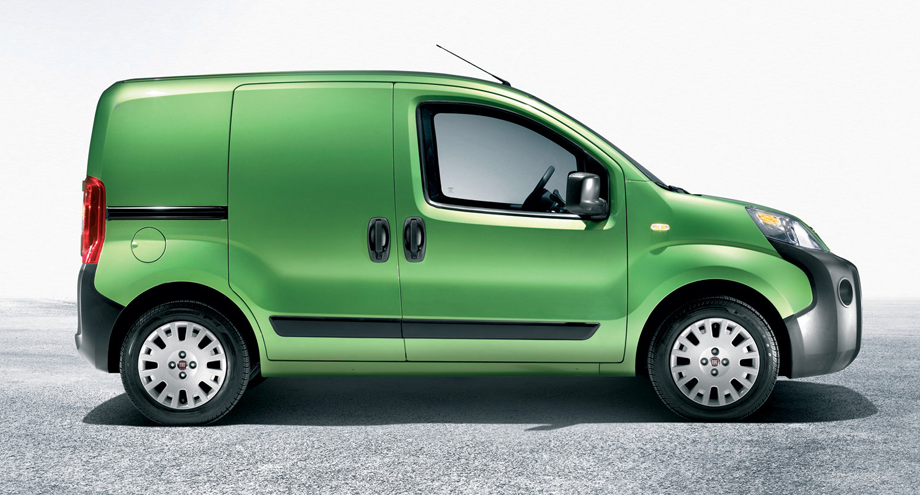 Fiat Talento Van Review and Specs
Fiat vans aim to offer a much stronger option to buyers in the medium van segment with this more sophisticated and spacious Fiat Talento van.
Ten Second Review of the Fiat Talento
If your business is trying to decide between an affordable compact-sized van and a spacious larger one, the Fiat Talento could prove to be the perfect compromise between the two. It's as spacious as most users will ever need, yet affordable, both to buy and to run. Ford Transit Custom and Vauxhall Vivaro -class buyers need to consider it.
Background
Fiat van sales have been growing steadily over the last decade thanks to a vast investment in new product which now sees its Professional van line-up offer businesses everything from a 2.5m3 Fiat Fiorino van to a 17m3 Fiat Ducato. The Ford Transit Custom -sized Fiat Talento model we're looking at here lies somewhere in the middle of this little lot and claims to offer all the benefits of a very large van with the affordable running costs of quite a small one.
This new van is better placed than its Fiat Scudo predecessor to compete with a whole army of mid-sized rivals. Not only the Ford Transit Custom but also tough competitors like the Volkswagen Transporter, Vauxhall Vivaro, Renault Trafic and Mercedes Vito. Taking on this lot isn't something you'd want to do single-handed, so the Italian brand has chosen to share this design with both Citroen and Peugeot, whose Dispatch and Expert models are pretty much identical but have different engines. With this Fiat, you get clever design, proven powerplants and low running costs in a package that certainly works on paper. Whether it'll cut the mustard day-in-day-out though is what we're here to find out.
Driving Experience
Vans have been becoming more and more car-like in recent years - and this one is no exception. The driving position, though not as high-set as you'd find in the marque's larger Fiat Ducato model, is nonetheless commanding. And it's comfortable on the move, coping admirably with the atrocious surfaces offered up by poorer sections of the British road network. That relaxed approach also extends to the electric power steering, which at speed, could offer a bit more feel. You appreciate its lightness around town though, where this van is impressively manoeuvrable for its size. If you're used to very big vans, you will have to adjust to this one's lower stance. This, combined with the big front overhang, can initially make parking a bit tricky, though rearward vision is helped hugely by the huge door mirrors with their separate wide-angle reflectors.
Under the bonnet, the Fiat Talento gets a range of efficient 1.6-litre turbo and twin-turbo diesel engines, all equipped with a six-speed manual gearbox as standard. There's a choice of two engine design themes - single-turbo MultiJet units or more efficient but pricier twin-turbo Ecojet powerplants. The MultiJet models come with 95 or 120bhp. The Ecojet options come in 95, 125 and 145bhp forms.
Design and Build
From a design standpoint, the Fiat Talento is compact and well-proportioned. The forward- stretching windscreen connects neatly to the short bonnet and the overall effect creates something a lot better looking than the old Fiat Scudo model. The grille is designed to wrap around the headlights and the squared-off rear end allows for ample inner space and a high load capacity, while giving the Fiat Talento a broader stance.
Inside, the Fiat Talento features comfortable ergonomically shaped seats and a useful 90-litres of in-cabin storage space that's delivered in a variety of shapes and sizes (including compartments hidden under the seat base and behind the seat back of the passenger seats). We like the additional blind spot-mitigating ViewPlus interior mirror, the innovative fold-down central seat with detachable clipboard holder and the available smartphone/tablet holder.
An advantage this Fiat Talento offers over the smaller Fiat Doblo Cargo model is the standard fitment of a properly sized middle third seat. To free up space for this and make it easier for the driver to slide over to the passenger side of the cab, the gearstick has been mounted on a protruding moulding in the centre of the dash. It still rather gets in the way if you're trying to slide across the cab and limits the middle person's legroom. Still, the third seat is useful to have - and quite adequate for mates on short journeys or kids you might have to drop off on the way to work.
Market and Model
Fiat Professional's pricing for this Fiat Talento model is, as you might expect, not too different from that of the old Fiat Scudo range. Excluding VAT, the figures start at just under £20,000 for the entry-level 1.6-litre MultiJet 95hp SWB standard roof van. There's a premium of around £400 to upgrade to the pokier 125bhp Ecojet engine, while around another £1,000 gets you the faster 145bhp Ecojet unit. If you want the long wheelbase bodystyle, the engine options start with the 120bhp Multijet unit, priced from around £21,500. Crew van and Combi versions based on the LWB chassis are also available, plus a platform cab option if you want it.
Standard equipment across the range includes remote central locking, electric front windows, electrically operated and heated door mirrors, a full bulkhead, a height adjustable driver's seat with lumbar support and an arm rest, a dual passenger seat and a full-size spare wheel. There's also a powerful audio system with Bluetooth and DAB, plus USB and Aux-in ports and steering-wheel remote controls. The SX version adds air conditioning, a 'Mobile Office' package that helps you to work on the move, a 'ViewPlus' rear view camera, rear parking sensors, upgraded "Living Brown" interior trim and enhanced exterior detailing. SX versions of the Fiat Talento van and crew van are priced at £1,000 more than the standard model.
Practicalities & Costs
In all, there are nine Fiat Talento body styles to choose from - the standard and high-roof vans in short and long-wheelbase versions, short and long-wheelbase people carriers and crew vans and a long-wheel base platform cab. Innovative features include the 'CargoPlus' storage area under the passenger seats which allows professionals to carry objects up to 3.75m in length (4.15 for LWB versions) by sliding them into a special bulkhead opening. The rear doors can open up to a wide angle of 255-degrees, allowing easy access and usage of the loading bay. The sliding side door has an aperture of 1,030mm and a load edge just 100mm above the ground. The load volume is rated at 5.2m?? in short wheelbase models, 6m?? in long wheelbase versions and a generous 8.6m?? in the long wheelbase high-roof derivative. This means that the Talento, even in the short wheelbase trim level, is capable of carrying three Euro pallets and, depending on the version, a payload of up to 1,249 kg with a GVW of up to 3,060kg.
On to running costs. Thanks to Selective Catalytic Reduction technology and the use of an AdBlue additive, the Talento's various 1.6-litre diesel engines are considerably more efficient than those in the previous Fiat Scudo model. The old MultiJet units don't do too badly in terms of running costs - the base 95bhp variant manages 43.5mpg and 170g/km of CO2 - but things have moved on and Fiat's Ecojet technology shows just how far. With Ecojet, you get the brand's Start&Stop system and that helps the 125bhp Ecojet model deliver 47.9mpg and 155g/km. The high performance 145bhp Ecojet unit manages 46.3mpg and 160g/km.
Summary of the Fiat Talento
There's no doubt that this Fiat Talento has what it takes to offer an attractive alternative to the Ford Transit Custom, Vauxhall Vivaro, Volkswagen Transporter and Renault Trafic models of this world, but whether you'd want one over its Citroen vans and Peugeot vans design stablemates will depend as usual much upon the deal that you're offered and the proximity and convenience of your local franchise. Which is where Fiat vans reckons it has an advantage.
An increasing part of the company's dealer network is open 24 hours a day for service and repair work to minimise business downtime and even those that aren't, usually feature flexible and extended opening hours. If you're running a business on tight margins, that's the kind of support you're going to need. Added to the excellence of this Fiat Talento, it could just make for a very attractive business proposition indeed.
Fiat vans for sale
Looking for a new Fiat van? Vansdirect has a massive range of new Fiat vans for sale with cheap van finance options including van leasing, contract hire and hire purchase.
Interested? Simply fill in a contact form or call us on 0800 169 69 95 to find out more!