Which VW Van Should I Buy? The Complete Guide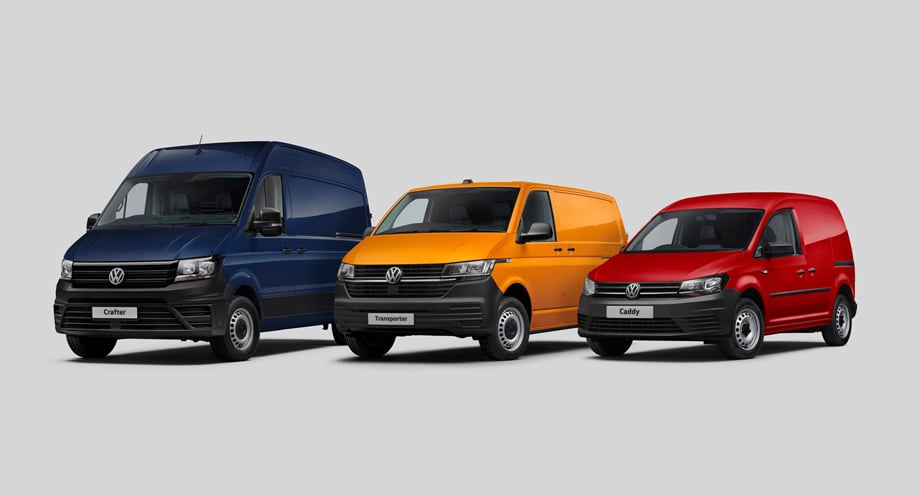 Which VW van should I buy?
German marque Volkswagen has been making vehicles since 1937, and has a rich history of turning out world-class models offering excellent reliability.
Its vans set the benchmark for durability, and typically need very little maintenance, thanks to a consistently high standard of quality engineering. So, assuming you check all the usual things like tyres, coolant and engine oil, your VW van should give you years if not decades of dependable service.
If you're wondering what VW van should I buy, of course like anything else it depends what you need it to do. Here, we look at the three models we stock at Vansdirect - the Caddy, Transporter and Crafter, to help you make an informed decision.
VW Transporter
The Transporter is the most popular model in the brand's commercial vehicle line-up, and consistently the UK's second-bestselling medium-sized van. That's hardly surprising when you consider you get to choose from a wide range of different versions, these vans retain their value well and offer a comfortable drive with ample safety kit and strong engines.
The latest incarnation is the T6.1, a late-2019 update of the sixth-generation model launched in 2015. (An electric version was introduced to the range near the end of 2020.)
There are plans for a new generation of Transporter, to be completed with Ford but unlikely to be unveiled pre- 2022.
The T6 has two body lengths, a couple of roof heights and four gross vehicle weights up to a 3.2-tonne maximum. Payloads can be as high as 1,300kg. Most models are powered by a 2.0-litre TDI turbodiesel engine.
So the Transporter is a great option in terms of practicality and choice, as well as presenting a smart image for your business brand. It may not be cheap, but given that it holds its value well, it offers long-term affordability.
If you're looking for a good all-round medium-sized van, the Transporter, a genuine icon of the commercial vehicle world, is an excellent choice.
VW Caddy
The Caddy, a small van designed to work city routes, is also enduringly popular. Now in its fifth generation, it comes in a trio of trim levels and with some of the cleanest engines of any VW vans. (These include the recently improved 2.0-litre TDI units and the Caddy 5's 1.5-litre petrol version.)
The Caddy 5 is also slightly wider than previously, with a maximum 780kg payload and a short or long wheelbase. Plus there are four-wheel-drive and automatic variants. It drives like a car, which is not surprising when you consider it's based on the VW Golf.
It's an excellent choice if you want a small, good-looking and highly reliable van that's a great drive and retains its value well. However, versatility is somewhat hampered by the relatively limited space and payload capacity.
VW Crafter
This award-winning model is the biggest van in the VW commercial vehicle line-up, with a trio of load lengths and roof heights, and load volumes of up to 18.4 cubic metres. Versatile and available in numerous configurations, it's an exceptionally comfortable, easy drive so ideal if you make longer trips, not least thanks to the many advanced functions of its power-assisted steering. (But at the same time, it's agile enough to handle urban hops.)
Again, it's not cheap, and payload may not be the best at 986kg max, but its sheer quality means you enjoy serious value for money.
Many in the industry expect a 2021 facelift, while the second generation of this model first went on sale in the UK in 2017. This fundamentally changed the Crafter's structure, and launched new 2.0-litre TDI turbodiesel engines.
The Crafter comes with single and double-cab chassis platforms and as a panel van, and has a maximum 5.0-tonne weight.
How we can help
At Vansdirect, we have a string of great finance deals on all these VW vans, making them great value, whether you prefer a van leasing, contract hire or hire purchase arrangement. Talk to us today about what your fleet needs, and to learn more about our outstanding line-up of VW vehicles.