Volkswagen vans expand New Crafter van range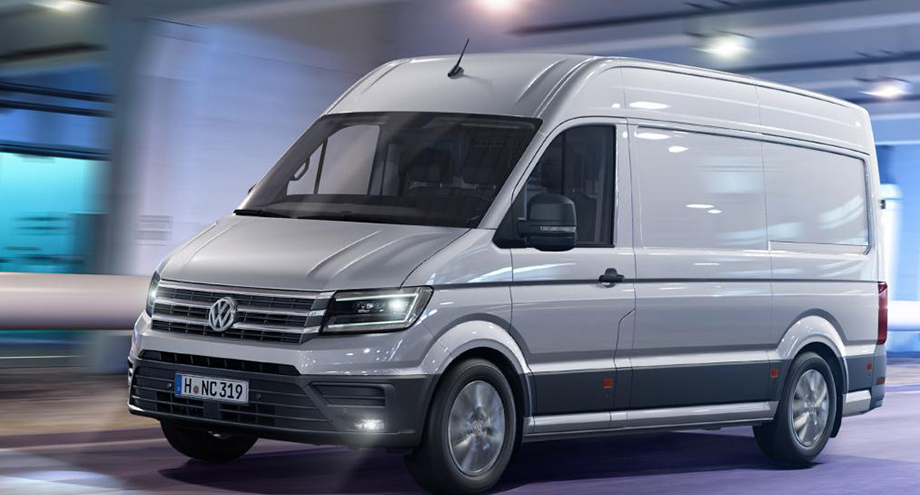 ---
Volkswagen vans have started offer automatic, rear-wheel drive and all-wheel drive 4Motion versions of the new Volkswagen Crafter, joining the front-wheel drive version launched earlier this year!
New Volkswagen Crafter
The CR35 (3.5 tonne) Crafter eight-speed automatic FWD powered by the Euro 6 compliant 2.0-litre diesel engine with a 177ps output has recently become available as both a panel van and chassis cab, with the 140ps automatic version set to join the range in early 2018. The 4Motion and chassis cab CR35 Crafters have also become available with a manual gearbox, however automatic versions will not be available until late 2018.
Rear-Wheel drive CR35 Volkswagen Crafter vans will be available from the second quarter of 2018, powered by the 2.0-litre Euro 6 complaint 177ps diesel engine and fitted with a manual gearbox, these will not be offered with an automatic transmission. Automatic versions of rear-wheel drive Volkswagen Crafter vans will only be available on dual rear wheel vans in excess of 3.5 tonnes.
Volkswagen vans have revealed that the battery-powered Crafter they revealed at the 2016 Hanover Commercial Vehicle Show, will be available as a Medium-wheelbase High-roof panel van only, from late 2018.
Who are the different Volkswagen Crafter vans aimed at?
Product marketing manager for the Volkswagen Crafter, Mark Leonhardt believes that the different versions of the Crafter appeal to different audiences: He stated that the Front-wheel drive automatic Crafter would be an attractive proposition for frequent-drop delivery drivers, including supermarkets because of the ease of driving and driver assistance features, allowing the driver to 'focus on the traffic.' He also pointed out that the load floor is 100mm lower at 570mm than the Rear-wheel drive model, making it easier for the drivers to load and unload cargo from the cargo area.
Leonhardt also believes that Rear-wheel drive Crafter vans would be the choice of customers who need to tow heavier loads. RWD CR35 Volkswagen Crafter vans can tow a staggering 3.5-tonnes, whereas the 4Motion and FWD can manage 3.0-tonnes. However FWD Crafter vans have a 100kg superior payload to RWD Crafter vans due to the weight of the drive system.
All new Volkswagen Crafter vans are fitted with Autonomous Emergency Braking as standard, which Thatcham Research has labelled: "Probably the most significant development in vehicle safety since the seat belt." Data released last week by the Department for Transport (DfT) has shown the significant effects of this technology and as a result vehicles fitted with Autonomous Emergency Braking have an average insurance premium reduction of ten percent in comparison with those who don't.
New Volkswagen Crafter on finance
At Vansdirect we have a wide range of new vans in stock from all of the major manufacturers, including the Volkswagen vans range and the New Volkswagen Crafter from as little as £202pm! All of our new vans are available with flexible van finance options including: van leasing, contract hire and hire purchase. Interested in a new van? Call us today on 0845 021 0444 or enquire online for a free no obligation quote!