Vansdirect Pledges Further Support Of EXCELR8 BTCC Team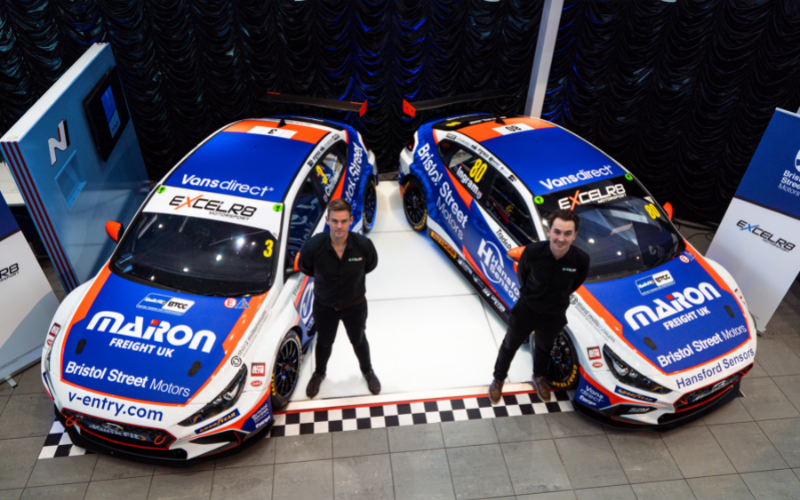 Vansdirect, the Newport-based national online retailer, has increased its support of the EXCELR8 Motorsport team for the 2022 Kwik Fit British Touring Car Championship (BTCC) programme.
The award-winning online van retailer has previously supported individual EXCELR8 drivers, but this year is expanding its backing to the whole team for the 2022 season.
The four-strong team, including experienced race winners Tom Ingram and Tom Chilton, will feature Vansdirect branding on its cars, race suits and helmets as a result of the partnership.
For the second year in a row, EXCELR8 will field four Hyundai i30 Fastback N models. in Britain's premier race series, as it bids to fight for championship honours in the first season of the BTCC's new and exciting hybrid era.
Tom Ingram will be entering his second season with the EXCELR8 team, on the back of a strong 2021 campaign, which saw him win three times, en-route to fourth in the championship standings.
Firmly established as one of the BTCC's leading lights, Ingram has taken 19 wins and an impressive 50 podiums since making his debut back in 2014. He goes into the new campaign looking to add an overall championship title to the Independents' crown he secured in both 2017 and 2018.
New team-mate Chilton will be competing in his Hyundai for the first time this season, having joined the team over the winter. Chilton brings a wealth of experience, having started more than 400 BTCC races since his debut as a 17-year-old back in 2002.
Like Ingram, Chilton is a former Independents' champion and multiple BTCC winner, with 14 victories to his name. He has also taken to the top step of the podium in the FIA World Touring Car Championship, where he clinched Independents' Trophy honours in 2017.
As well as backing the models the team will take to the grid, Bristol Street Motors, part of the wider Vertu Motors group Vansdirect belongs to, will supply EXCELR8 Motorsport with a number of support vehicles for use during the season, including a pool car and two cars for the use of the drivers.
The support vehicles will include the road-going version of the Hyundai i30 Fastback N Line as well as the TUCSON Hybrid N Line S, and the all-new and all-electric Hyundai IONIQ 5.
Ingram and Chilton will also receive new IONIQ 5 models to use throughout the year, enabling them to be greener both on and off track throughout 2022.
Paul Cox, Sales Director for Vansdirect, said: "We're incredibly pleased to announce we're supporting Tom Ingram and Tom Chilton, who are both leading names in the sport, in addition to the other excellent drivers who are part of the EXCELR8 team, as they all make their mark in 2022.
"This partnership will further raise the profile of Vansdirect, as well as backing an allied sport, where commercial vehicles play a large part in the supporting logistics. We eagerly await the start of the season and the action to begin!"
Justina Williams, Team Owner at EXCELR8 Motorsport, said: "We're very happy to not only extend our relationship with Vansdirect for the 2022 season, but to also expand it to a greater level than has been the case in recent years.
"We have built a strong relationship with Vansdirect, which pledged its support last year. It is a reflection of the calibre of this association that Vansdirect is expanding its patronage this year.
"I am anticipating that this collaboration, with leading commercial vehicle retailer Vansdirect, will herald plenty of racetrack success."
Tom Ingram said: "I'm really excited about the forthcoming season, and it is fantastic that an award-winning brand like Vansdirect, once again is helping to champion our sport and the EXCELR8 team."
"The cars, including Vansdirect branding, are due to look great on the grid, and with everything we learned last year, I'm looking forward to a strong season at the wheel."
Tom Chilton said: "Everyone knows that motorsport relies on sponsorship, and it's fantastic to have an award-winning brand like Vansdirect involved in our BTCC programme.
"I'm excited about the opportunity to join EXCELR8 Motorsport and to work with Vansdirect this season, and in the same way they are champions in their field, hopefully myself and Tom can fight for a championship on track during the year ahead."