Peugeot Boxer and Citroen Relay large van updates announced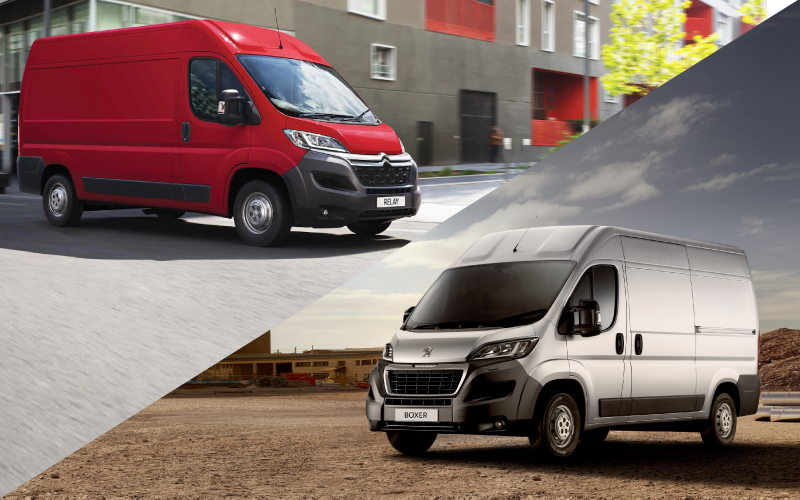 ---
The Peugeot Boxer and Citroen Relay large van ranges have both been updated with the addition of new Euro 6.2 diesel engines and new trim levels. Our team of van experts at Vansdirect take a closer look!
New Peugeot Boxer and Citroen Relay vans
The Peugeot Boxer and Citroen Relay sister vans from PSA have both received updates to their large van ranges.
With the aim of making workdays more convenient, the newly updated Peugeot Boxer and Citroen relay vans bring a focus for convenience and everyday practicality.
Updates include the addition of new 2.2-litre diesel engines, which are compliant with Euro 6.2 emissions standards. These deliver outputs of 120ps, 140ps and 165ps depending on which one you choose.
The new engines offer power increases of 10ps, 10ps and 5ps respectively over the outgoing 2.0-litre diesel engines. All engines come with stop-start as standard to aid fuel efficiency and six-speed manual transmission.
The models have also been given electrified versions with the Peugeot E-Boxer and Citroen e-Relay, offering you greater choice and the chance to lower your emissions and running costs.
New Citroen Relay trim levels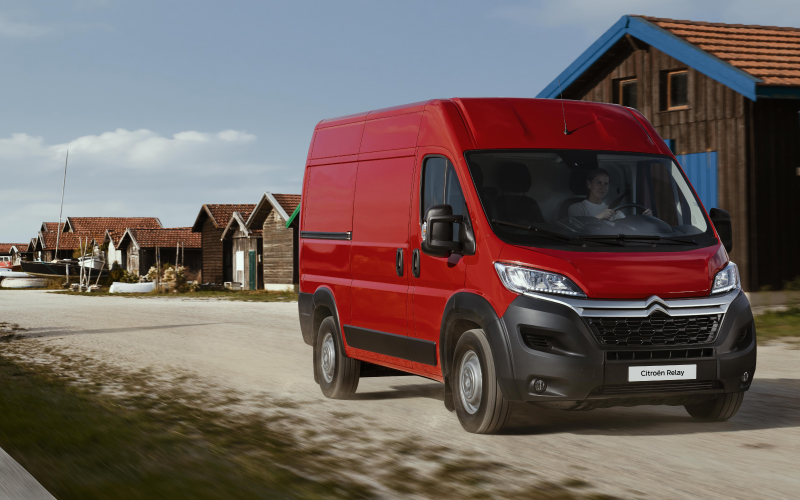 The new Citroen Relay van is available with two new trim levels, 'Worker' and 'Driver'. How to know which one is right for you?
The Worker trim level is ideal for those who work in demanding conditions, including transporting equipment, colleagues or both to restricted worksites.
Making sure safety is a priority, Worker models add a lifted suspension setup, underbody protection panels, front and rear mudflaps, all-season tyres and hill descent control to the mix, for comfort and convenience.
The Driver trim on the other hand, is designed for those who make longer journeys in their vans and adds a range of driver convenience and comfort features.
These include satellite navigation, air conditioning, reversing camera, USB charging socket, automatic headlamps, Lane Departure Warning System and automatic windscreen wipers.
Driver models sit at the top of the new Citroen Relay range, though even with base-level Citroen Relay models, you receive generous standard equipment. Features include ABS, ESP, driver's airbag, hill-start assist and a full steel bulkhead.
Mid-range Citroen Relay Enterprise vans add to this spec with features such as: Rear Park Assist, height-adjustable driver's seat with lumbar support and a 5" infotainment system with MP3 audio and satellite navigation.
Other equipment upgrades for the Citroen Relay van range include a Rear Traffic Alert System which can detect vehicles up to 50 metres either side of the van when reversing, a standard fitment telematics system and a Blind Spot Monitoring system to offer support for trailers between 3-metres and 9-metres in length.
The new Citroen E-Relay features a 90kW (120hp) engine with 260m torque with two different battery options. The first provides 73 miles (WLTP) electric range, available on the L2 version with a 37kWh battery, and the second provides 154 miles (WLTP) electric range available with L2, L3, and L4 versions with a 75kWh battery.
With automatic transmission, the Citroen E-Relay makes driving easier and more enjoyable with a simple 3-speed transmission (Drive, Neutral, and Reverse) to help you get where you need to go.
Looking for a Citroen Relay van for sale? Browse our deals now.
New Peugeot Boxer trim levels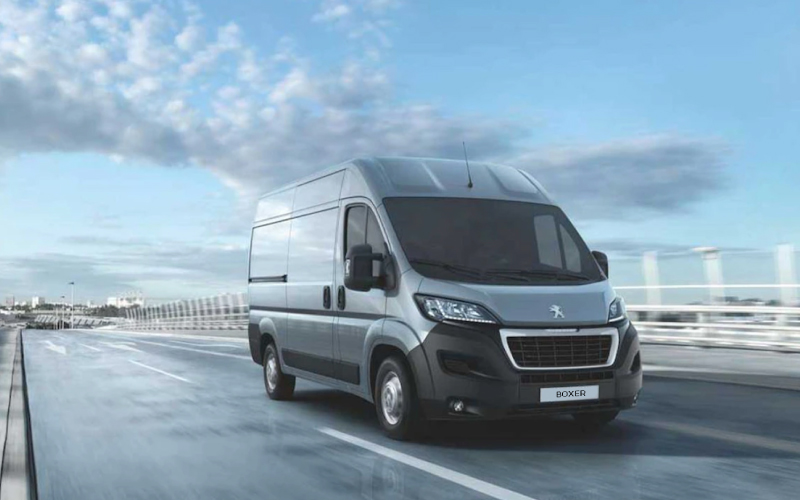 The updates to the Peugeot Boxer large van range are almost identical to those found on the Citroen Relay van range.
The Peugeot Boxer has been given two new trim levels, named 'Grip' and 'Asphalt'. Similar to the Citroen Relay, the Peugeot Boxer Grip is designed to carry heavy loads over challenging terrains.
With practical, forward-thinking technology, the Peugeot Boxer does this with ease. Thanks to features such as the Grip control system with Hill Ascent and Descent control, all-season tyres, front and rear mud flaps, underbody protection panels and reinforced suspension.
The Asphalt trim level is designed for professionals who spend a lot of time in their vans, adding a range of safety and comfort equipment. This trim offers several features including: satellite navigation, air conditioning, USB charging socket, colour reversing camera, smartphone holder, Lane Departure Warning System and rear parking sensors.
Other safety equipment available in the new Peugeot Boxer van includes Blind Spot Monitoring, Rear Traffic Alert and Trailer Merge Assist.
Elsewhere in the Peugeot Boxer range, the 'Peugeot Connect' telematics software now comes and standard across the range.
This system can monitor the fuel consumption of the Peugeot Boxer, as well as keep tabs on its maintenance schedule, offer economical driving tips and track the van's location in case of theft.
The new Peugeot E-Boxer offers to make your workdays more convenient and environmentally friendly, with a 100% electric powertrain. With up to 154 miles (WLTP) range, the Peugeot X-Boxer offers a smoother driving experience, greater savings and ease of use, including fast, easy charging.
With a payload of up to 690kg depending on the version, you will still have plenty of room to carry goods, and can enjoy reduced maintenance with fewer moving parts than traditional internal combustion engine (ICE) vans.
Searching for Peugeot Boxer vans for sale? View our latest offers.
New large vans for sale
If you're looking for a Citroen Relay or Peugeot Boxer for sale, we've caught you at the perfect time.
We have a range of Citroen Relay and Peugeot Boxer vans for sale at Vansdirect, available at fantastic prices and some with immediate delivery.
All of our new large vans for sale are available with cheap van finance options including van leasing, contract hire and hire purchase
Simply enquire online or call us on 0800 169 69 95 for a friendly chat regarding all your new van needs.