Nissan NV250 Review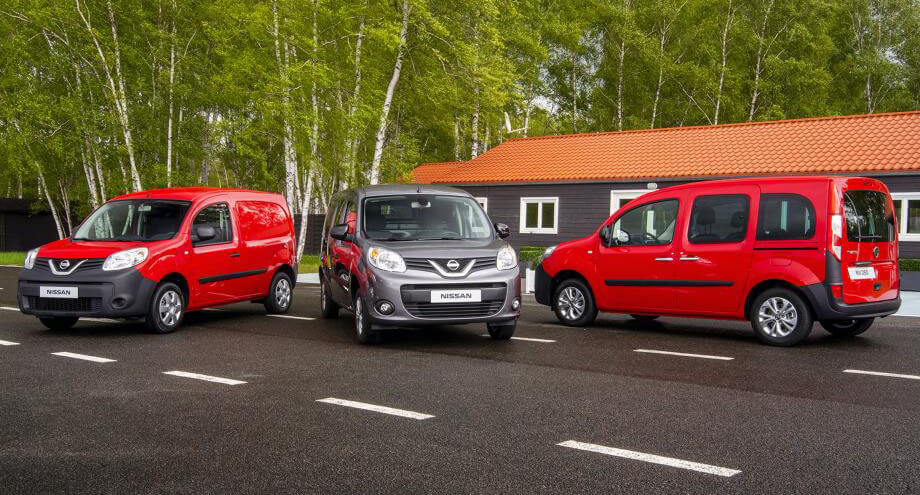 The new Nissan NV250 is a comfortable and cost-effective light commercial vehicle. Clever design means it's compact enough to negotiate city traffic, yet it still has room for a generous cargo and payload allowance.
You'll have the option to choose from two body lengths (L1 and L2), two body types (Van or Crew Van - note that the Crew Van is only available in the L2 option) and an array of extras and accessories which will allow you to customise your vehicle to fit your specific business needs.
Plus, the Nissan NV250 comes with a 5-Year / 100,000-mile (whichever comes first) Manufacturer Warranty, which gives you ultimate peace of mind after purchase.
Read on to find out whether the NV250 could be the vehicle you need to help drive your business forward.
Available Models and Load Space
Despite its compact size, the Nissan NV250 has plenty of space to store your tools, equipment and goods. The L1 model is 4,282mm long, with a load length of 2,502mm when the front passenger seat is fully folded. It also has a payload of up to 650kg, a cargo volume up to 2.3m3 and is available with two front seats.
The L2 model is slightly longer, measuring 4,666mm, with a load length of 2,886mm when the front passenger seat is fully folded. It has a payload of up to 800kg and a cargo volume of up to 4.6m3. The L2 Van is also available with two seats; however, the L2 Crew Van offers the best of both worlds if you need to transport people as well as goods, with the ability to seat four people - two in the front and two in the back. Simple folding seats mean you'll be able to switch the vehicle from a people carrier to a goods carrier in one swift move.
Access to the cargo area is gained either through the asymmetric split rear doors, the single sliding side door on the L1 model, or the pair of sliding side doors on the L2 model. The rear doors open to 90 degrees; however, this can be increased to 180 degrees if required through the release of a catch inside.
Once inside, you'll be greeted with a large multipurpose space which allows maximum flexibility. With the passenger seat folded down and the bulkhead pivoted (swivelling bulkhead available as an optional extra), a clear flat floor will allow items up to 2,998mm long to be placed inside the van. Plus, with up to eight load lashing points, cargo can be secured at ease.
Interior - cabin
With two ergonomically designed seats and an array of storage options in the front (including a 10l tray under the drivers' seat, an A4-sized compartment in the dashboard and an overhead shelf) this mobile office is not only comfortable, but has room for your laptop, paperwork and tools - all at arm's length.
The dashboard design is extremely user-friendly, with an aviation-style handbrake designed to minimise strain on the wrist, as well as a dash-mounted gear stick. The upright driving position also facilitates access into and out of the vehicle.
Plus, the NV250 is packed full of functional Nissan technologies, designed with your safety and connectivity in mind. These include Trip Summary, eco-scoring, eco-navigation, Android Auto, multiple-phone connection and voice recognition.
Engine and performance
The Nissan NV250 shares its engine range with the reliable and long-standing favourite in the small van segment - the Renault Kangoo. This means the NV250 Van is powered by a 1.5dCi diesel engine with three outputs - 80bhp, 95bhp or 115bhp - the NV250 Crew Van drops the least powerful of these engine options.
Available with additional safety features such as Hill Start Assist to prevent rolling back when starting on an incline, Electronic Stability Program (ESP) to aid road grip whatever the weather and road conditions, and airbags to protect drivers and passengers in the event of a collision.
Additional Kit and Options
There are a range of additional parts on offer to help get the most from your van, depending on what role you need it to play. Add the following to your configuration:
Steel transverse roof bars
Wood side interior protection
Front mudguards
Rubber mats
Fixed towbar
Towbar flange
Steel roof rack
Rear parking system
Available in eight body colours with a solid or metallic finish, two 15-inch wheel options and two interior trim choices, you really can make the vehicle your own.
If you're looking for a reliable, cost-efficient city van with flexible cargo space and a connected front cabin, then look no further than the Nissan NV250.
How Vans Direct can help
Here at Vans Direct, we're happy to discuss your particular requirements and help you find the model which suits your needs best.
With fantastic finance options available, from leasing and contract hire to hire purchase, we offer you great flexibility too.
Get in touch today - our friendly team of experts are more than happy to help.