New van registrations show steady increase in July!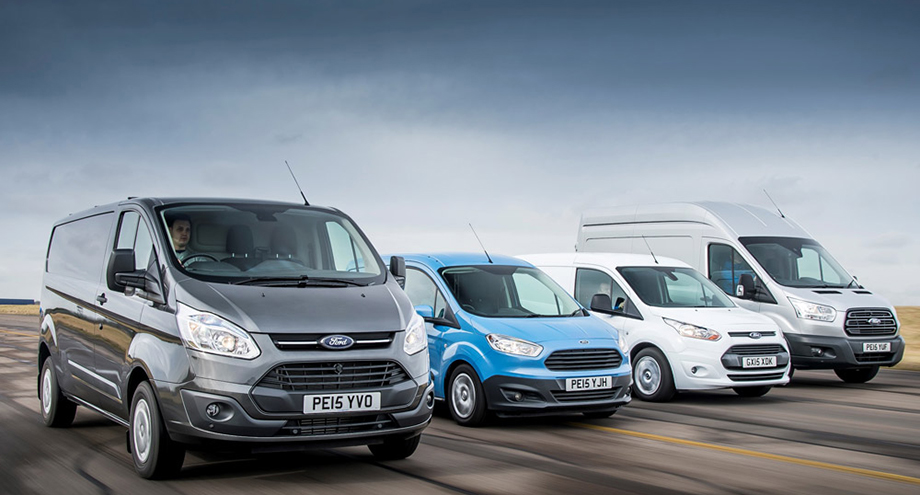 ---
New van registrations enjoyed an increase in demand in July, for the second consecutive month in a row.
Statistics released by the Society of Motor Manufacturers and Traders (SMMT) discovered an increase of 1.1 percent in new van registrations in July 2017 in comparison with July 2016. A total of 24,766 new van registrations were made last month, in comparison with 24,506 in July 2016.
New van registrations
The increase in July follows an increase of 1.8 percent in June 2017 and is the second successive month of growth following four months of declines. SMMT Chief Executive Mike Hawes has responded to these figures, commenting:
"Although the market is experiencing a moderate decline, the volumes of new vans being registered in the UK are still at incredibly high levels and in line with our expectations for 2017. While it is positive to see stable demand in July, as this follows a period of significant growth we anticipate that the market will continue to moderate, reaching more sustainable levels over the next months."
With the increase shown in July 2017, it is perhaps surprising that medium vans were the only category to show an increase in registrations in comparison with July 2016, with a significant increase of 41.4 percent in new van registrations. Large vans however remained the biggest seller with 14,831 units, despite a decrease of 2.8 percent in new van sales in comparison with July 2016. Small vans also experienced a decrease in new van sales in July, with a drop of 12.5 percent. Registrations of new pick-up vans fell for the first time in 16 months in July 2017; experiencing a decline of 9.5 percent, however pick-up sales are still considerably ahead of figures from 2016 by 14.8 percent with an impressive 29,920 units.
July's best-selling new vans
The order of the top 10 best-seller chart has witnesses some alterations, however there were no new entries into the top 10 this month. However the top-selling new van remained the same, with the new Ford Transit Custom selling over 1000 more units than any other new van. Ford really asserted its dominance across the new van segments during the month of July; not only did the Ford Transit move back up to second in the table (from third), the Ford Transit Connect also moved up to third in the table (from fifth), meaning Ford had the 3 best-selling new vans last month!
The Peugeot Partner continued its surge up the table in July from sixth place to fourth, as a result the Vauxhall Vivaro dropped one place into fifth. In sixth place, the Mercedes Sprinter dropped a significant four places from June 2017, whereas the big-hitting Volkswagen Transporter improved one place from last month to seventh in the table. The Peugeot Boxer improved one place to eighth in the table. In ninth place, Citroen's only entry into the top 10, the Citroen Berlingo dropped two places from June 2017. In tenth place, the consistent Renault Trafic was unmoved from last month.
A somewhat disappointing month for pick-up vans, we fully expect a resurgence in August 2017!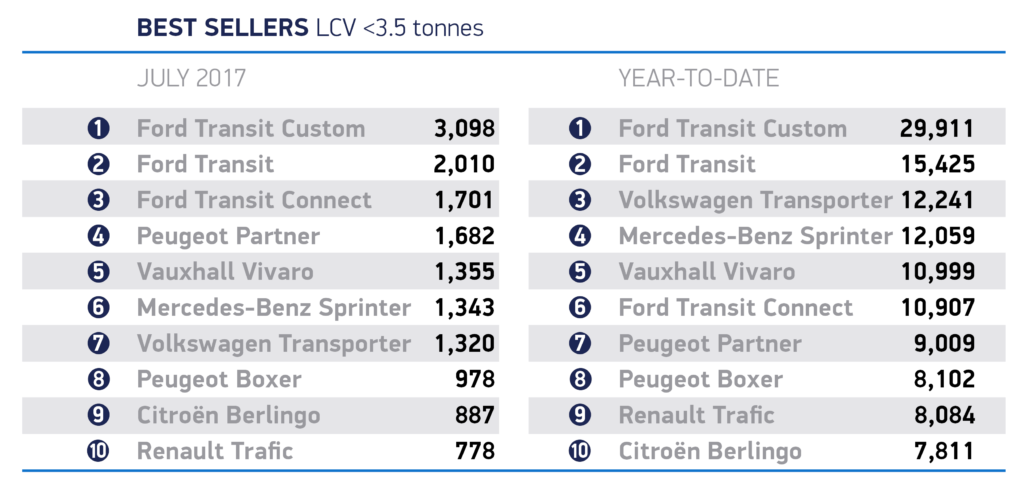 New van finance
At Vansdirect we offer an extensive range of cheap new van deals on everything from small vans to conversion vans. Choose from flexible van finance options, including: van leasing, contract hire and hire purchase. Call us NOW on 0845 021 0444 or enquire online for a response ASAP!