New van battle: Renault Trafic v Toyota Proace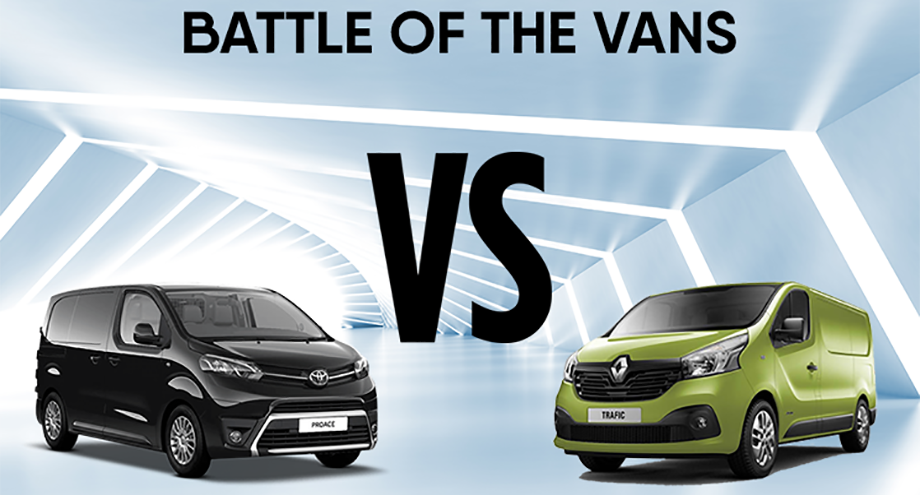 ---
The medium van segment is incredibly competitive, with the UK's best-selling Ford Transit Custom amongst a whole host of big-hitters in this category. Two of the most attractive new van options are the Renault Trafic and the Toyota Proace, which should you choose?
Renault Trafic Introduction
Designed and built for professionals, the Renault Trafic offers a practical and flexible answer for every request. Available in 3 different trim levels, two lengths and two heights and with a choice of 4 different engines, the Renault Trafic is as versatile as it is reliable.
Toyota Proace Introduction
Also designed as a mobile office with useful loading components, the Toyota Proace is an excellent choice for you and your business. Available in 2 different trim levels, in three different lengths with a choice of 3 different engines, the Toyota Proace has a variety of options for you and your business.
New van battle - Vital Statistics
Enough of the polite introductions, let's find out what we really want to know about these vans. Vansdirect investigates the dimensions, weights, fuel economy and power of both of these new vans.
Payload: Trafic vs Proace
Worried about payload? The biggest payload in either of these two new vans is 1400kg, which you'll get from a medium and long Toyota Proace. However in the L1H1 version of both vans, the Renault Trafic has a payload of 1077kg in comparison to the Toyota Proace at 1000kg, with a higher payload on the most standard of both models. We make that 1-0 to the Renault Trafic.
Trafic 1 Proace 0
Load Length: Trafic Vs Proace
Now let's look at dimensions of both vans: Again looking at the smallest versions of each van, the highest Load length is that of the Toyota Proace with a load length of 3324mm compared to 2537mm. Armed with L2 and L3 versions, this increases to a staggering 4026mm on the longest version of the Proace. The Toyota Proace has equalised, making it 1-1
Trafic 1 Proace 1
Load Width: Trafic Vs Proace
We've looked at length, now let's look at the width of both new medium vans. The highest load width between wheel arches is 1662mm found on the Renault Trafic, compared with 1628mm on the Toyota Proace. 2-1 to the Renault Trafic
Trafic 2 Proace 1
Load Height: Trafic Vs Proace
Length and Width have been investigated, let's now look at load height: With a loadspace height of 1387mm on the H1 Renault Trafic's and 1397mm on all Toyota Proace's there is little to choose between our competitors here. However if you were to require that extra load height; the Renault Trafic is available as a H2 van increasing the load height to 1898mm, with this option not being available on the Proace, we make it 3-1 to the Trafic.
Trafic 3 Proace 1
Fuel Economy: Trafic Vs Proace
Now it's time to talk engines, by firstly looking at how economical both medium vans are to drive. The highest fuel economy figure on any of the engines on show from both vans is 54.3mpg on the 115ps Toyota Proace engine, in comparison the best that the Renault Trafic can do in this instance is 47.9mpg on its 125ps engine. The Proace claws it back to 3-2.
Trafic 3 Proace 2
Emissions: Trafic Vs Proace
So the Proace offers a better fuel economy, but is it more economically efficient as well? The answer again is yes, the most-efficient Renault Trafic emits 155g/km (125ps) whereas the most efficient Toyota Proace emits only 139g/km (120ps). The Proace makes it all square.
Trafic 3 Proace 3
Power: Trafic Vs Proace
The last category in regards to engines is power: A difficult category to judge perhaps, with both our vans having the ability to deliver 340Nm of torque. However the Renault Trafic has more powerful options in terms of engines with the Trafic offering a 145ps option. The Trafic gets its bumper in front with 1 category remaining
Trafic 4 Proace 3
Trim Specifications: Trafic Vs Proace
Our final category is Trim Specifications: The Toyota Proace is available in base and comfort models: Comfort models offer air conditioning, front fog lights and extra storage under passenger's bench seat as standard, to just name a few. However the Renault Trafic is available in Business, Business+ and Sport models: The highest spec of the Renault Trafic (sport) includes Renault MediaNav 7" touch screen and navigation system, automatic headlights and wipers and has a far higher specification available as standard than the Proace. The Trafic cements the result: 5-3
Trafic 5 Proace 3
At Vansdirect we currently have top spec Renault Trafic Sport models available from ONLY £169pm, with a FREE rear view camera while stocks last! Call us on 0845 021 0444 or enquire online and we'll be in touch.