New van battle: Peugeot Boxer v Vauxhall Movano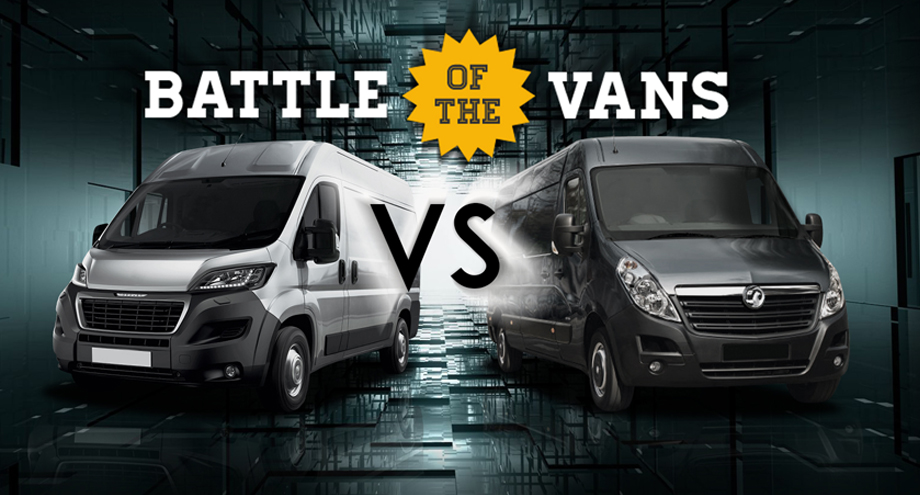 ---
Large vans are the real workhorses of the new van market, with the ability to carry the heaviest and most awkward of cargo. Vansdirect pits these two big-hitting large vans against each other, which should you choose?
New large vans introduction
Both strong, robust and durable, there is no job too tough for these two large vans. Both available in four lengths and three heights, the level of choice available with both of these new vans is almost endless.
New van battle - vital statistics
The polite introductions have been completely, now it's time to get into the nitty gritty. Vansdirect investigates everything you need to know about these vans in terms of payloads, dimensions and economy . Don't go anywhere!
Part and parcel with large vans is heavy cargo, which of these large vans can carry the heaviest payload? The maximum payload that a Peugeot Boxer van can accommodate is 1,575kg on 335 L2H2 130ps models, whereas the Vauxhall Movano can accommodate payloads up to 1,638kg on 3500 FWD L1 H1 models. Close, but 1-0 to the Movano!
Payload: Boxer 0 Movano 1
We've found out the weight that both of these large vans can carry, but what about the volume? In terms of 3.5t models of both, the Movano can carry up to an impressive 14.1 cubic metres of cargo volume, whereas the Boxer can accommodate up to 17.0 cubic metres. 1-1.
Load volume: Boxer 1 Movano 1
Now on to engines and firstly, power! The Boxer can deliver 400Nm of torque on most powerful 180ps models, whereas the Movano can only achieve 360Nm on its most powerful 163ps option, 2-1 to the Boxer!
Power: Boxer 2 Movano 1
Sticking with engines, let's take a look at the emissions for both of these large vans. The Boxer is guilty of releasing up to 159 g/km of toxins, whereas the Movano can release up to 249 g/km of toxins, the Boxer opens up a lead, 3-1!
Emissions: Boxer 3 Movano 1
Again stocking with engines, which of these two large vans is the most economical? The most economical engine of the Peugeot Boxer can achieve up to 47.1 miles to the gallon, whereas most economical Movano models can achieve up to 41 miles to the gallon courtesy of ecoFLEX technology. Impressive, but another point for the Boxer, 4-1!
Fuel economy: Boxer 4 Movano 1
One category to go and the Peugeot Boxer has opened up an unassailable lead, despite the best efforts of the Vauxhall Movano! The final category is Trim Specifications. The Vauxhall Movano is will equipped with a wide range of technology including: Bluetooth, digital radio, engine deadlock immobiliser, USB, Aux and full-height steel bulkhead. The Peugeot Boxer may have slightly less in terms of features on base models, however the Boxer is available with a Professional trim adding features including: air con, alarm, cruise control, rear parking aid, CD player and touchscreen with nav. The icing on the cake for the Boxer, 5-1!
Trim specifications: Final Score - Boxer 5 Movano 1
Peugeot Boxer van finance
Interested in a new large van? Why not choose the Peugeot BoxerAt Vansdirect we currently have top spec Peugeot Boxer Professional models in stock from ONLY £185pm. Or why not check out our large vans range hereAt Vansdirect all of our new vans are available with a choice of flexible van finance options to suit your needs. Choose from van leasing, contract hire and hire purchase van finance options for your new van. Call us today on 0845 021 0444 or enquire online for a no obligation quote on any of our new vans!