New Mercedes Sprinter crowned WhatVan? Large Van of the Year 2019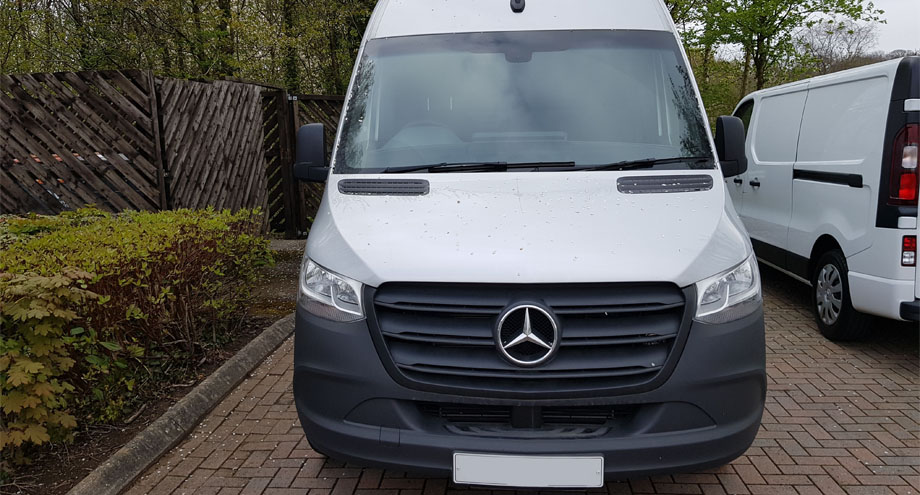 ---
The new Mercedes Sprinter van which joined the market in 2018 has already gained a whole host of plaudits, the latest being the WhatVan? Large Van of the Year 2019 award! Vansdirect takes a look at what separates the new Mercedes vans from the competition!
Mercedes Sprinter
The new Mercedes Sprinter van has taken the large vans segment by storm following its introduction into the market midway through 201, which WhatVan? Focusing on the 'innovation' as the primary reason being handing the Sprinter this prestigious award. Mercedes vans wanted to enter uncharted territories with the new van, both with the design of the van and how it is bought and run.
New Mercedes Sprinter front-wheel drive
A large development for the new Sprinter van is the introduction of a front-wheel drive model to the range, previous models had been rear or all-wheel drive only. These are an excellent addition to the new van line-up which will give buyers choice in abundance, with new fewer than 1,700 variants comprising of eight body types.
Nine-speed automatic transmission
Mercedes vans have introduced a new nine-speed automatic transmission, available alongside a six-speed manual transmission, both of which are impressive in their own right. Engine options are a 2.1-litre diesel engine with 114ps, 143ps or 177ps, or a 3.0-litre diesel engine with 190ps. The driving experience of the new Sprinter van is incredibly impressive, with a composed ride and car-like maneuverability. Steering accurate and responsive, whilst visibility of the road ahead is also ideal.
Advanced Mercedes vans safety features
The new Mercedes Sprinter van comes loaded with a host of advanced safety features as standard, including: Active Brake Assist, Attention Assist, Crosswind Assist, Headlight Assistant and hill-start assist.
Sophistication and comfort
The new Sprinter van may be an excellent large workhorse, however it is so much more than that. The cabin of the new van raises the bar for comfort and sophistication in the segment, with a car-like environment and the incredibly advanced new MBUX (Mercedes-Benz User Experience) Infotainment set-up.
The MBUX is so advanced, that the Mercedes Sprinter van is only the second of the brand's vehicles to get the system after the Mercedes-Benz A-Class family car. A 7-inch touchscreen is standard across the range, however a larger 10.25-inch unit is optional, as is satellite navigation. The brand say that the sat nav is self-learning, so learns the driver's routines and automatically presents their favourite features.
Comfortable and supportive seats designed to be easy to hop in and out for delivery drivers also feature, whilst soft plastic finishing is the highest quality you will find in the class.
Mercedes vans - A provider of transport and mobility solutions
The van itself is incredibly impressive with all of the features above and so much more, whilst the brand were determined to go ever further and implementing a philosophy that means going from a manufacturer to "a provider of transport and mobility solutions." At the heart of the philosophy is their adVANce strategy which focuses on improving connectivity between van drivers and van fleet managers.
This strategy is centred around Pro Connect, a telematics fleet management system which allows assignments to be managed online, whilst information about any van in question including location, fuel level or maintenance requirements can be retrieved almost in real time. Pro Connect comprises of a host of different packages to remotely manage your fleet, these features add to an already thoroughly impressive large van and it's not difficult to see why WhatVan? Opted for the Sprinter van for this year's award.
VW Crafter - Highly Commended
Last year's winner of the award and overall Van of the Year 2018 winner, the VW Crafter is a fantastic runner up and offers an excellent all-round package. The Crafter offers a fantastic level of choice, including: front, rear and all-wheel drive models and three different wheelbases and roof heights. The Crafter features a massive range of standard safety features whilst also offering load volumes between 9.9 and 18.3 cubic metres.
Who would you have given the award to? Let us know on Facebook or Twitter!
Mercedes vans for sale
Looking for a new Mercedes Sprinter van? You're in luck! Vansdirect has a MASSIVE range of new cheap vans for sale, including the new Mercedes Sprinter van, with cheap van finance options including van leasing and contract hire. Interested? Simply fill in a contact form or call us on 0800 169 69 95 to get the ball rolling today!