Mercedes Sprinter Luton van - perfect for all your delivery needs!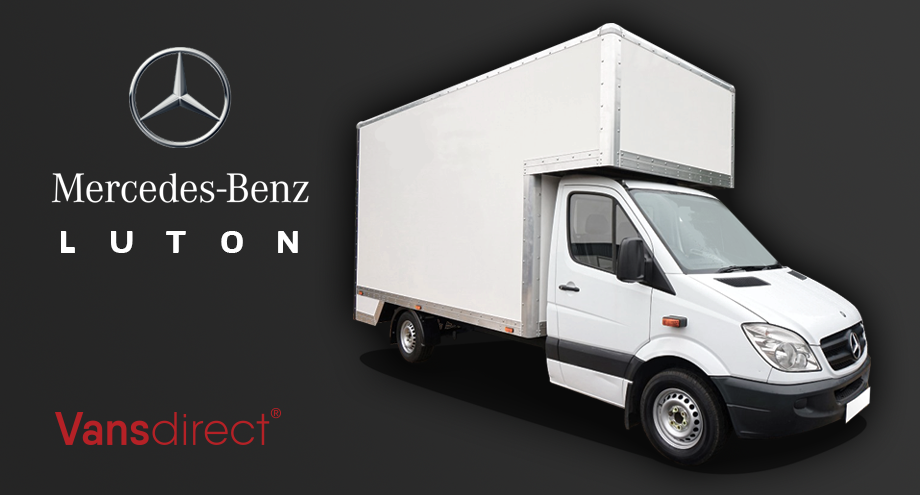 ---
We've all heard of the iconic Mercedes Sprinter van and are surely all aware of its reputation for quality and huge load volumes in the large van segment. But what sets apart the Mercedes Sprinter Luton van from its competition in the delivery sector?
Mercedes Sprinter Luton van
With the comfort and safety of a Mercedes Sprinter panel van, with a box like body to enhance load carrying capabilities. The absence of wheel arches make the Sprinter Luton van perfect for the toughest and heaviest of delivery jobs; the Sprinter Luton is also perfect for home removals, with space in the load area for 40 boxes of belongings, two and three seat sofa chairs, two double beds, a dining table and chairs, numerous wardrobes, chests of drawers and so much more. While the shape of the load area also helps to ensure the safety of vital cargo.
Tail lift
All well and good being able to cater for huge load volumes, but what use is that if you're unable to load the van with all the cargo required? The addition of a free tail lift to Vansdirect models of the Mercedes Sprinter Luton van ensure that loading and unloading of the heaviest and most awkward of cargo can be achieved with consummate ease.
Dimensions
Like the Mercedes Sprinter panel van, the LWB version has an impressive load length up to 4.3 metres long, however as a result of the uniform box like body, load width is increased from 1.78 metres to 1.9 metres, whereas load height also increases as a result of the Luton body extending above the cab area of the van, increasing from 1.84 metres to 2.1 metres.
Features
Winners of WhatVan's safety award 2017, Mercedes are specialists in delivering high quality and safe vans, the Mercedes Sprinter Luton van is no exception to this. Far more than just a workhorse, the Sprinter Luton has a wide variety of standard features, including: Ergonomic design, crosswind assist, driver's airbag, load-securing rings, cruise control with speed limiter and a whole host more!
New Mercedes Sprinter Luton van finance
The Mercedes Sprinter Luton van is currently available with a FREE tail-lift from only £295pm, with FREE UK wide delivery in just 5 days! Interested in the more traditional panel vanWe also have a range of MWB and LWB models available with flexible van finance options from £235pm. Whatever your requirements, Vansdirect has a new Mercedes Sprinter van for you! Call us today on 0845 021 0444 or enquire online to find out more about any of our range of new vans.