MAN's new van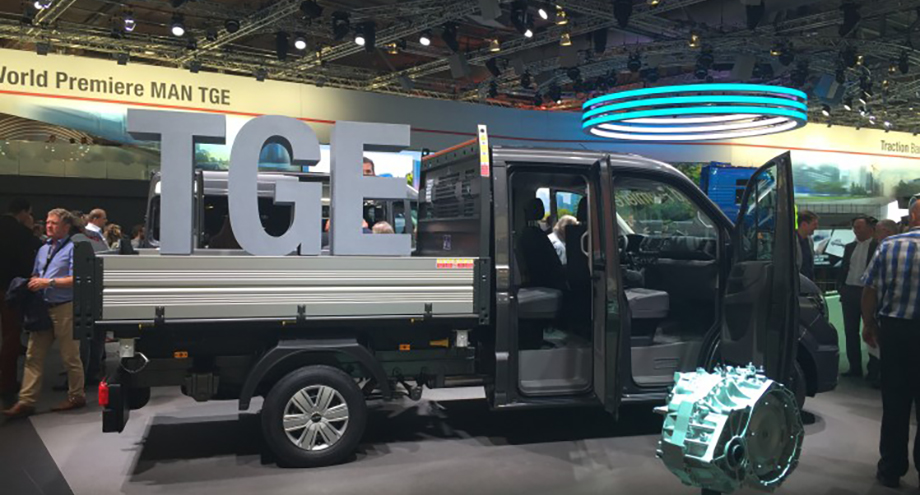 ---
Truck manufacturer MAN revealed its first ever light commercial vehicle in a world premiere at the 66th IAA Commercial Vehicle Show in Hannover, Germany.
The new panel van is based on the brand-new Volkswagen Crafter and called the TGE. Volkswagen's new large van has just won the International Van of the Year award for 2017, so it seems that MAN made a shrewd choice in choosing to partner up with the German manufacturer.
Scheduled for release in September 2017, the MAN TGE will be available in three wheelbases, three roof heights and as a single or double chassis cab - the latter of which was on show in Hannover. A single 2.0-litre diesel engine with power outputs ranging from 102PS to 180PS will power the new van. Just like the Crafter, an electric model will be added to the range in a couple of years' time. MAN will offer a choice of front, rear or four-wheel drive as well as manual or automatic transmissions.
New van for MAN
The TGE will provide MAN with a means of targeting existing truck customers who also operate vans from other manufacturers in their fleet. Stuart Beeton, Head of vans at MAN, said: "It's positioned like an extension of the truck range" and emphasised MAN's truck-specific culture would enable them to provide a service unique to the LCV market such as out of hours service to eliminate downtime. Beeton also pointed out that MAN has 67 UK dealerships and each would have a member of staff dedicated to the TGE.
MAN's LCV project manager, Andrew Taylor, added: "We have more expertise than selling bog standard panel vans. A key strength would lie in the brand's expertise in conversions gained from our usual HGV operations", going on to say that MAN will be offering a 'Vans to Go' scheme for tippers, dropsides and Luton vans in an initiative similar to their current "Trucks to Go" programme.
It's anticipated that FWD and 4WD versions will be the most popular in the 3-4.0-tonne segment while RWD models would thrive in the 2.5 to 5.5-tonne range. Simon Elliott, UK managing director at MAN, explained that Volkswagen needed to "flex the volume potential" by working with a partner within the Volkswagen Group. It chose MAN as it already makes a 7.5-tonne truck and could make an easier transition to 3-3.5-tonnes than Scania, which starts at 15-tonnes.
He reiterated colleague Beeton's sentiments that MAN would target SMEs and mid-sized businesses operating a mix of vans and trucks. "MAN knows what it takes to keep commercial vehicle customers on the road and happy. We're not focusing on huge fleets of vans because we want to protect residual values. We don't want half a million miles on the clock and no value."
New vans on finance
Get free and impartial independent advice from the experts at Vansdirect. Call us on 0845 021 0444 or enquire online. You can also visit our Facebook page!