London ULEZ - All you need to know about the Ultra Low Emission Zone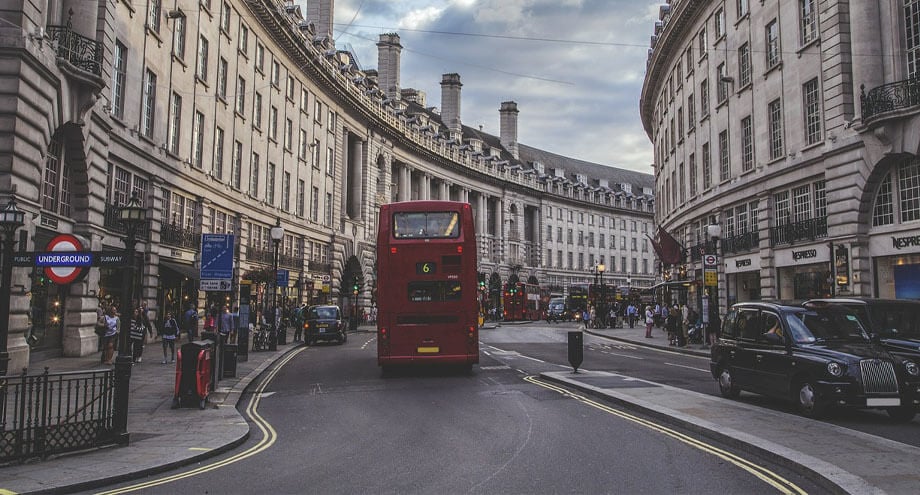 ---
The London ULEZ £12.50 daily charge comes into effect on 8th April 2019, Vansdirect reveals all you need to know about the charge as well as the zone map and the vehicles affected.
London Ultra Low Emission Zone
The London Ultra Low Emission Zone (ULEZ) will come into effect on 8th April 2019 and will have an impact on an estimated 2.5 million vehicles driving in London each year. Geographically, the ULEZ will cover the same area as the London Congestion Charge Zone, but will soon be expanding to cover the majority of London. Owners of affected vehicles will have to pay a daily charge to drive into the zone, which unlike the Congestion Charge Zone, will be operating 24 hours a day, 365 days a year.
What is ULEZ and why is it being introduced?
The ULEZ is being introduced in the capital to reduce emissions of nitrous oxides and particulates in the city, with the purpose of improving overall air quality in the city. The zone is an area of London where the most polluting vehicles will have to pay a charge in order to use the roads within the zone. The ULEZ will replace the existing T-Charge with it comes into effect in April. From its introduction it will cover the same area as the Congestion Charge Zone, however from October 26th 2021 it will expand to cover all areas inside the South and North Circular roads.
The charge of £12.50 (depending on vehicle) must be paid on top of the £11.50 congestion charge and will be in effect 24 hours a day, 365 days a year. This means that driving in the zone between 7am and 6pm on weekdays could cost you £24 a day!
Which vehicles are affected by the ULEZ?
Generally speaking, the zone affects diesel vehicles which are pre-Euro 6 models, these tend to be models built before 2016 and pre-Euro 4 petrol vehicles, however some petrol models meeting Euro 4 emissions standards were available from 2001 onwards. As well as non-Euro 6 diesel vans and cars, non-Euro 3 motorbikes will also be targeted. Historic vehicles built before 1979 will be exempt from the ULEZ providing they have been awarded historic vehicle tax status.
To determine the emissions standards of your vehicle you can use the Transport for London (TfL) vehicle checker tool. Drivers who are affected and forget to pay the charge will receive a fine of £160, this will be halved to £80 if paid within 14 days.
Euro VI buses, lorries and coaches, which are vehicles essentially made before 2013 or 2014 will also be affected by the ULEZ charge. They will need to pay £100 to enter to zone, with failure to pay resulting in a £1000 fine, halved to £500 if paid within 14 days.
How do you pay the ULEZ charge?
There are various ways of paying the charge, if you regularly drive into the zone in a vehicle that isn't exempt from charges then you can register for the Auto Pay system for a one-off fee of £10, this covers the congestion charge but will be expanded to also cover the ULEZ. You can also make individual payments on the TFL website or through the TFL phone app, you can also pay the ULEZ over the phone by calling 0343 222 2222.
ULEZ map
The map below shows the current ULEZ zone, mirroring the current Congestion Charge zone in orange and the expanded zone due to be implemented from 26th October 2021 in yellow.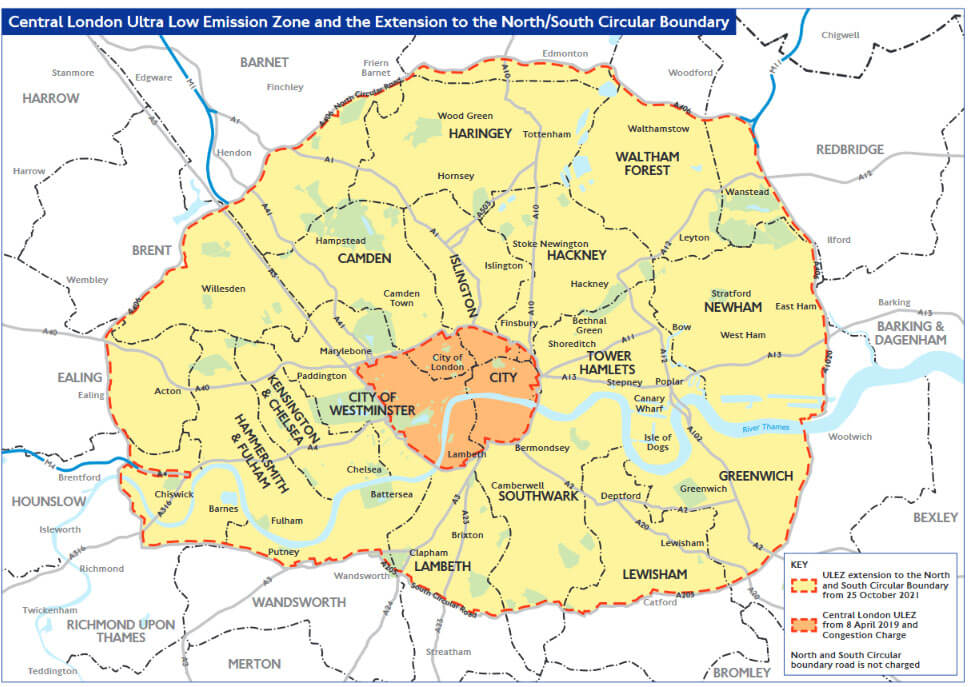 What will be the result of the ULEZ?
The latest TfL estimates suggest that between 2.4 and 2.5 million unique vehicles will pay the daily charge on an annual basis, but claims that the majority of these will be 'infrequent' visitors who will only enter the zone about once a year. In addition to this, City Hall have predicted that 100,000 Londoners will no longer live in areas will illegal air quality limits from 2021, with all areas of London predicted to see an overall decreased in pollution. TfL believe that the zone will be particularly beneficial to the young, older people and those who have respiratory problems, as well as residents of high pollution areas.
New Euro 6 vans on finance
Become exempt from the ULEZ charge with a new Euro 6 van on finance from Vansdirect, we have a huge range of brand new vans in stock and cheap van finance options including van leasing, contract hire and hire purchase. Interested? Simply fill in a contact form or call us on 0800 169 69 95 to get the ball rolling on a brand new van today!