Isuzu D-Max goes stealth with new pick-up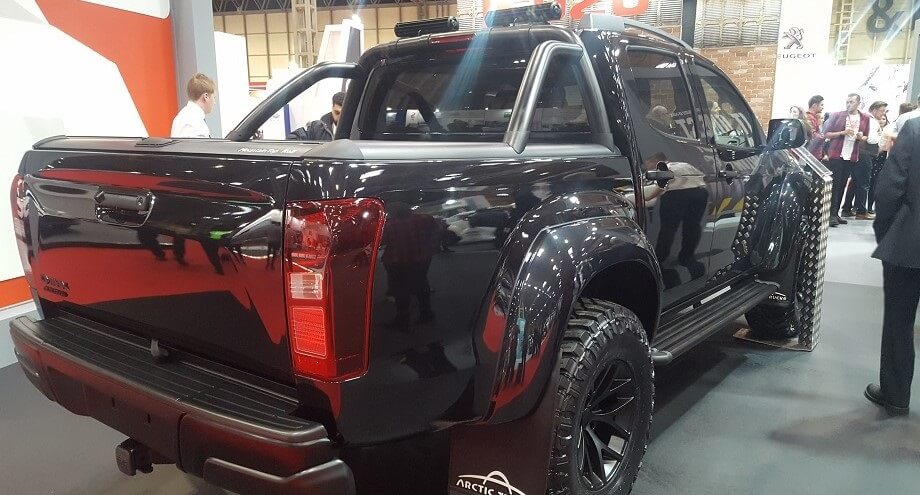 ---
Isuzu have revealed an eye catching new pick-up at the CV Show 2018, the Isuzu D-Max Artic Trucks Stealth is loaded with unique features to the pick-up. Only 10 models will be available, with a unique numbered badge in the cabin outlining the exclusivity!
Isuzu D-Max Stealth
Stealth by name, but certainly not by nature, the new limited edition pick-up from Isuzu and Arctic Trucks does everything bar blend into the background. The new Isuzu D-Max Arctic Trucks Stealth stands out with the combination of 35-inch tyres, a lifted suspension and bodywork which bulges out.
What special features does the Isuzu D-Max Stealth have?
The entirety of the new pick-up is finished in black, including the Cosmic Black bodywork and de-chromed detailing, perhaps justifying its name on the darkest of nights. Exclusive to the Stealth pick-up is an exterior de-chrome pack, with features including:
Black side steps
Black roof bars
Black radiator grille
Standard Isuzu decal on the tailgate removed
Black trim on the rear bumper
Black door handles
Black front fog light surrounds
Black Isuzu badge on the front and rear D-Max Arctic Trucks badges
Black rear bumper trim
In addition to the de-chrome pack, the newest addition to the Isuzu D-Max range also gets a black mountain top roller cover and a black rear sports bar. The exterior enhancements don't stop there, the D-Max Stealth also gets sets of lazer lights on the front bumper and on the sports bar, whilst the new pick-up can also be lit up by LED headlights and front fog lights.
Are they just exterior enhancements?
The answer simply is no! The Isuzu D-Max Arctic Trucks Stealth pick-up also gains enhancements in terms of cabin features, which include: 9-inch touchscreen display with Arctic Trucks logo, nine-speaker hifi with subwoofer and a HDMI port. The interior also gets a fancy black leather interior to finish off the plethora of new pick-up features.
New pick-ups on finance
Looking for a new pick-up? You're in luck! Vansdirect has a MASSIVE range of brand new pick-ups available, ranging from the Mitsubishi L200 to the new Mercedes X-Class! All of our new vans and pick-ups are available with flexible van finance options ranging from van leasing and contract hire to hire purchase, with a range of options to suit everyone's requirements. Get your new pick-up vans direct from Vansdirect, enquire online or Call us on 0800 121 6339 to start the ball rolling with a free no obligation quotation, we also offer cars!