The Six Best Electric Vans on The Market in 2021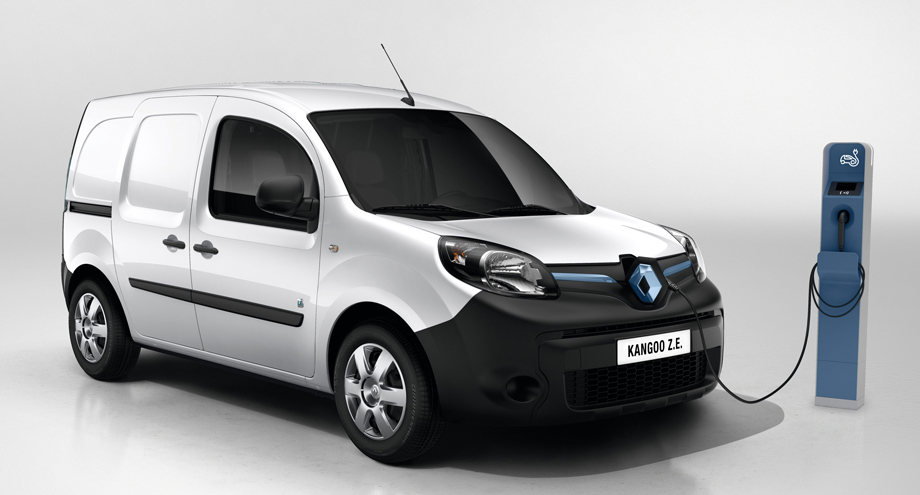 ---
Electric vans are increasingly popular, and make an excellent choice for shorter trips and last-mile deliveries (i.e. the last leg of a journey moving goods to a final destination). Here's our guide to six of the best models on the current market.
Best electric vans for sale
As the demand for clean air zones increases in many major European cities, so the number of new electric vans and other vehicles to choose from grows. Options cover sizes from small to medium and large, catering for just about everyone's needs.
Whether you're after just one electric van or a fleet, take a look at our pick of the top half-dozen:
6. Nissan e-NV200
Based on the original electric car, the Nissan e-NV200 is a reliable workhorse of a small van that could be ideal for your business. It has a 40kW battery, and claims a range of 174 miles, which will vary according to factors like ambient temperature and payload. Nissan says it can cost as little as 2p a mile to run this model, depending on your energy tariff.
Charge it fully in eight hours, four at a high-capacity charging point, or get 80% charge in as little as 30 minutes with a rapid charger. This vehicle has 4.2 cubic metres of load volume, alongside a 770kg maximum payload.
5. Renault Master Z.E.
This is the biggest electric van on this list, and the Z.E. uses the newest lithium-ion tech to maintain the range's competitiveness. With a real-world range of around 74 miles, charging time from a standard mains socket is 17 hours, six from a 7.4kQW wallbox charger.
The six available versions of this model include four panel vans with two roof heights and the same number of platform cabs, making it the market's most versatile electric van. Depending on the spec you go for, the Z.E. can handle a payload of up to 1.1 tonnes. It also comes with a range of telematics and fleet management systems.
See: Vansdirect gets hands-on with the Renault Master Z.E.
4. Renault Kangoo Z.E.
The Renault brand has a strong focus on electrification of its vans, and a second model from the marque makes our list. The Kangoo Z.E. is the ideal choice for busy urban streets, and the newest version comes with a 33kW battery, giving it an impressive 170-mile range.
A full charge takes six hours from a 23A socket, while a rapid charger takes the battery from empty to 80% full in a mere hour.
Effective climate control keeps the cabin comfortable whatever the weather.
Choose from three body styles: standard, maxi and crew, all with a 640kg payload. You get 3 cubic metres of load capacity as standard, 4.6 on the maxi models.
See: Vansdirect gets hands-on with the Renault Kangoo Z.E.
3. Peugeot Partner electric
This van is another great option for nipping around town, with Peugeot vans claiming a range of 106 miles from a single charge. But what the Partner loses to the Kangoo in terms of range, it makes up for in capacity, with a 695kg payload.
Like its standard counterpart, this electric model has two wheelbase lengths (L1 and L2). L1 versions have a load capacity of 3.3 cubic metres, the L2 offers slightly more at 3.7 metres.
You can also opt for a split folding passenger seat for longer load lengths.
2. Mercedes-Benz eVito
Refined and quiet, the Mercedes Benz E Vito has this marque's usual aura of quality. It's the first full-production electric van the brand has put on sale in the UK. Range is a relatively modest 93 miles, but it's another great van for short urban hops, especially if you can charge it up overnight. Based on the mid-sized Vito van, battery capacity is 35 kWh, time for a full charge is six hours.
There are a couple of trims, two body lengths with a cargo volume of up to 6.6 cubic metres and payload up to 898kg. You'll find just one roof height. Best of all, it's a really easy van to drive.
1. Mercedes-Benz eSprinter
The Mercedes-Benz eSprinter is the electrified counterpart of an award-winning best-in-class diesel model. A genuinely user-friendly vehicle that's a smooth and comfortable drive, again it's a good choice for short, low-speed trips in built-up areas. And it's popular with delivery firms like Amazon.
With one version available and a single battery size (a shade over 55kWh), again driving range is comparatively limited at up to 96 miles. So it may not be the best for full-load or motorway-based journeys. A full charge from a standard wallbox is eight hours, although you can top up and bring it up 80% charged in two hours, 30 minutes with an 80kW rapid-charge.
Payload also isn't the highest at 774kg, while total load area is 11 cubic metres, although you have more than two metres of height and three of loading length, so volume isn't a problem, just weight.
Electrifying deals from Vansdirect
At Vansdirect we offer an extensive line-up of vehicles, including a large number of high-quality electric models. All our new vans come with great-value finance options including van leasing, contract hire and hire purchase.
If you run a fleet, get in touch. Fill in the contact form or give us a call today.