Electric Vans To Lease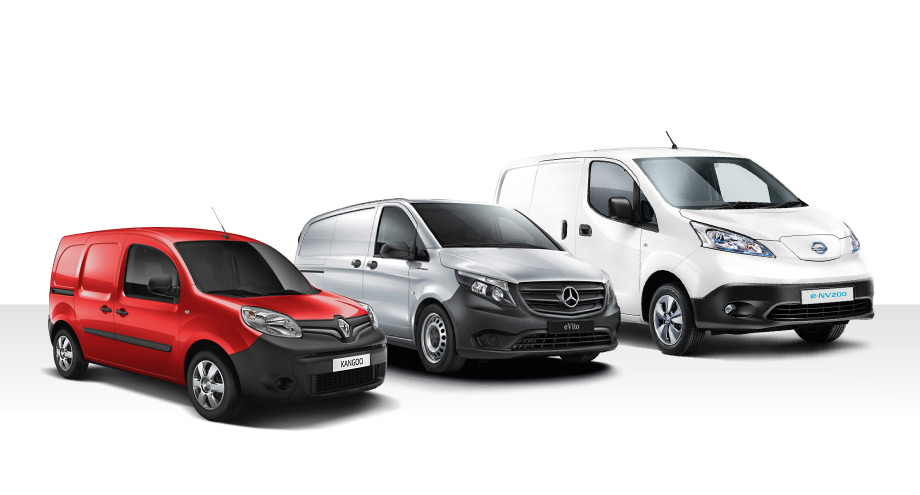 In this guide, you'll find everything you need to know about leasing an electric van.
However, if you're not sure whether an electric van is the right fit for your business in general, you can learn more about electric vans here.
Leasing an electric van (or several electric vans) can come with many benefits to your business - for one thing, with lower running costs and Government incentives, electric vans can make a real difference to how much you're spending to keep your business moving. Take a look at these commonly asked questions related to leasing electric vans
What are the benefits of leasing an electric van vs a traditionally fuelled van?
Electric commercial vans offer many benefits over petrol and diesel alternatives, such as lower fuel costs, lower maintenance costs and lower taxation to name but a few. You can read our full list of benefits in our Guide To Electric Vans.
Many businesses also choose to lease an electric van to help promote their company's sustainability strategy and environmental credentials. With a growing number of new electric commercial vans coming on to the market each year, plus the additional cost savings now available from driving low-emission vans in urban areas (low-emission zones), leasing an electric van is likely to be a great decision for your business.
Why do businesses lease an electric van rather than buy outright?
Despite the long list of benefits to owning an electric van, in addition to the consequential ongoing financial savings, the fact remains that electric commercial vans do generally come with a larger price tag compared to diesel and petrol alternatives.
That's where a lease agreement comes in. You'll be able to reduce the initial investment required for your electric van, compared to alternative funding methods. Based on contract terms chosen by you, you can spread the lease cost into affordable monthly rentals. All-in-all, you'll be able to reap the rewards of electric van ownership without forking out a substantial lump sum in one go.
What are the most popular electric vans to lease?
There are a wide range of electric commercial vans on the market that are available to lease. Popular models include the Mercedes-Benz eVito, Renault Kangoo ZEand the Renault Master ZE.
Where do I charge my electric lease van?
When leasing an electric van for your business, you'll need to consider where it will be charged. You may need to have an overnight or off-duty charging facility installed at your depot or work site. If you do decide to get a charge-point installed, it's worth noting that there's Government grants available to put towards the cost of purchasing and installing workplace chargers.
If you plan to take your lease van home at night, then a domestic home charging solution may be the easiest and simplest way to keep your electric van juiced up.
And if you want to keep the money-saving ball rolling with your electric van, it might be worth checking if there's any free charging points in and around your area many local councils are adding them to popular public car parks - there could be one near you. You can view a comprehensive list of all chargers on Zap Map.
Are electric vans exempt from the Ultra-Low Emission Zone charges?
Whether you work in London or just visit from time to time, leasing an electric van could provide significant cost benefits going forward.
Vans that produce zero harmful emissions are exempt from the daily ULEZ charges that soon rack up a hefty bill. The daily ULEZ charge is currently £12.50 and up to £100 for vans over 3.5 tonnes in weight.
Although it's currently only active in and around London, many other towns and cities have proposed ideas to clamp down on toxic emissions. The UK Government has outlined plans to allow local authorities to introduce their own clean air zones. Zero emission-capable vans that meet your area's criteria are also eligible for a 100% discount on congestion charges too.
What should I consider before choosing a finance option for an electric van?
Understanding all the options for financing your business lease can be a bit tricky, especially if it's the first time you've ever taken out an agreement. There's a few different choices to consider, with pros and cons to each. Simply put:
- New Van Contract Hire allows you to add your ideal electric van into your fleet through hire, rather than buying it outright.
-New Van Hire Purchase is a simple and flexible way for you to acquire an electric van you want immediately and to take ownership of it once the value has been fully repaid.
- New Van Finance Leasing gives you instant access to your chosen electric van at an affordable monthly cost. You'll never have full ownership, but you will have exclusive use of the van.
If you'd like more information on your finance options, click here to read our Guide To Finance Options. This handy guide is there to help you navigate what's what, so you can make an informed choice that meets your business needs.
How Vansdirect can help you with Electric van leasing
Here at Vansdirect, we'll aim to help you find the best electric van for your business needs - whether that be assisting your search for the perfect electric van or informing your choice of payment option.
With our range of fantastic finance options available, from leasing and contract hire to hire purchase, we offer you great flexibility. If you have any further questions regarding leasing an electric van, please don't hesitate to get in touch. Speak to us today - our friendly team of experts are more than happy to help.