Eggs-traordinary new van bargains!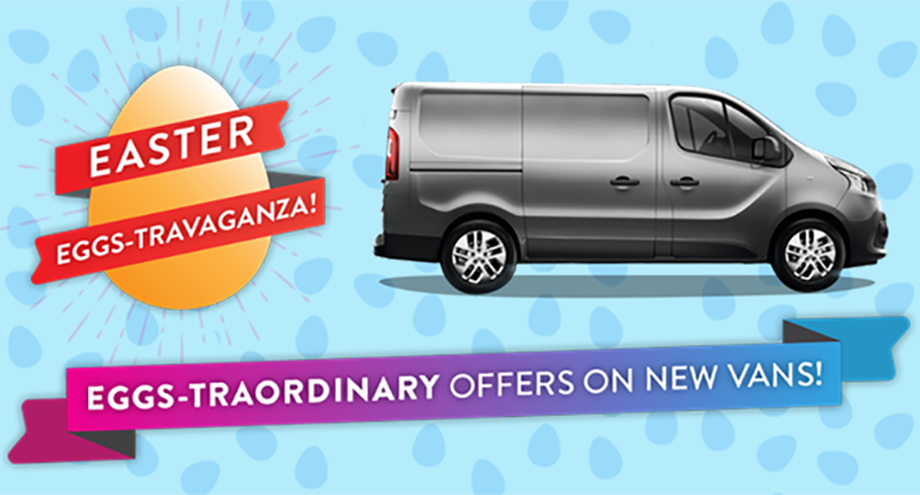 ---
Easter is here once again, and to celebrate we have some great deals on brand new vans! Whether you need a small, medium or large van - we have the solution to your needs.
New van bargains
Citroen Berlingo
The Citroen Berlingo may be classed as a small van, but it's a lot bigger than it looks! With 4.1 cubic metres of usable loadspace, thanks to its flexible EXTENSO bulkhead, the Berlingo can accommodate up to two Europallets. This capacity is complemented by a payload of up to 625kg for this short wheelbase model.
Enterprise models are very well-equipped, with standard features including cruise control with speed limiter, foldable passenger bench seat, smartnav 7 inch touchscreen and vehicle tracking, digital radio, air conditioning, rear parking sensors and USB/Aux/Bluetooth connectivity.
If you're looking for a small new van, the Berlingo is an excellent choice.
Vauxhall Vivaro
As one of the only vans built in Britain, the Vivaro is inevitable very popular on these shores. Last year, it sold 22,791 units in the UK and has already passed the 5,000 mark in 2017. In fact, it performs better than the van on which it is based in the Renault Trafic.
Top-end Sportive models include many useful features like a load-through bulkhead which allows for loading of items up to 4150mm in length (L2 models). The Vivaro can also accommodate 8' x 4' sheets - even in short wheelbase models - and carry up to 1274kg.
It's not lacking in convenience or luxury either. Sportive models features a body-coloured exterior with two-coat metallic paint, air conditioning, dual passenger bench seat, cruise control, rear parking sensors, digital radio and front fog lights. The Vauxhall Vivaro makes an excellent new van for many kinds of trades and businesses.
Ford Transit Custom
There's not much we can say about this next van that hasn't already been said. You guessed it - it's the all-conquering Ford Transit Custom. The Custom continues to break and set new records with its sales figures, which none of its rivals can claim to hold a candle to. This van sells twice as many units as its nearest competitor and more than many different vans combined.
With three powerful and efficient engine options and trim specs that leave no stone unturned - Ford's flagship van (can you really still say that it's the original Transit?) continues to improve. It's more efficient, more flexible and more powerful than previous models and jam-packed with safety-focussed technology like side wind stabilisation, trailer sway control and hill start assist.
In terms of features it's the Limited model that is best-equipped, including front fog lights, front and rear parking sensors, automatic headlights and wipers, a body coloured exterior, 16 inch alloy wheels, air conditioning, cruise control, a load-through bulkhead and digital radio as standard. When it comes to buying a new van, you can't go wrong with a Transit Custom.
Mercedes Sprinter
With a reputation for quality, the Mercedes Sprinter is widely regarded as one of the best large vans available. This Long wheelbase model offers a loading length up to 4300mm, complemented by a massive load volume of 14 cubic metres.
The Sprinter's cabin is quiet and refined, and standard features include a number of useful driving aids like crosswind assist, cruise control, a dual passenger bench seat with additional storage. Entertainment is provided by the 'Audio 10' radio which includes a telephone keypad, Bluetooth/USB/Aux connectivity and even an SD memory card slot.
Renault Trafic
The Renault Trafic is the original version of what is now a range of four virtually identical vans. The first - the Vauxhall Vivaro - was produced alongside the Trafic, but recently two more vans in the Nissan NV300 and Fiat Talento have followed suit and are based on the Trafic, too.
Offered with one of three trim specs, Business, Business+ and Sport, the Trafic is arguably the best van of the three. We currently have short wheelbase Sport models in stock, which come with a 7 inch touchscreen and navigation, alloy wheels, cruise control, a load-through bulkhead, air conditioning and digital radio.
Buy one from VansDirect and we'll even throw in a rear view camera, while stock lasts.
New van bargains
Interested in one of these new vans - or any other in our range? With flexible van finance options and free UK delivery, why go anywhere else? Give us a call today on 0845 021 0444 or enquire online and we'll get right back to you!