Crew Vans - A van for everyone's needs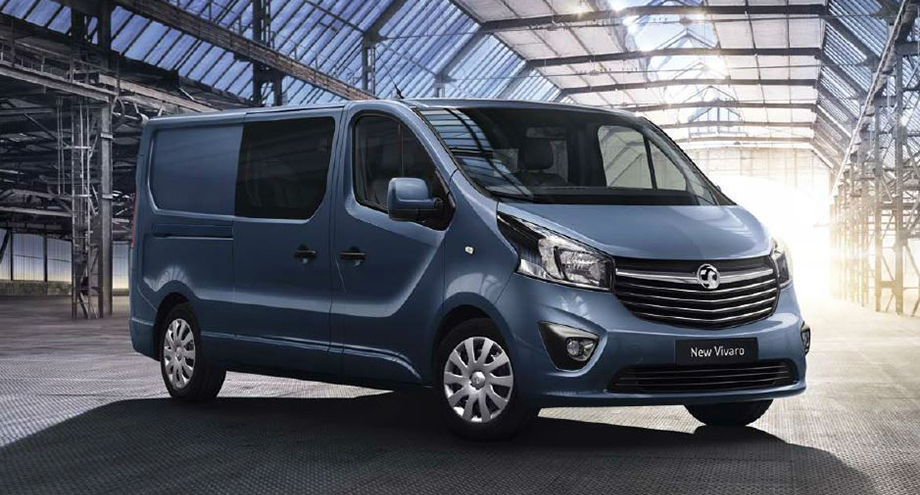 ---
Require a van with the ability to carry cargo and passengers? With seating for up to 6 and a practical loadspace? Vansdirect searches for the best crew vans on the market, so you don't have to.
Ford Transit Custom crew vans
Professional, versatile and efficient, the DCiV variant of the UK's most popular Van sets the bar in the crew van market. Available in SWB and LWB derivatives: The Ford Transit Custom DCiV has an impressive loadspace volume of 3.5m3 on SWB derivatives and 4.4m3 on LWB, despite the additional row of seats. The Ford Transit Custom DCiV is available with 105ps, 130ps and the extremely powerful 170ps engine, (still offering an impressive 44.1 mpg) while payloads range from 776kg to 1328kg.
The Ford Transit Custom DCiV is available in 4 different trim levels: The standard Base model is fitted as standard with features such as Remote central door locking, electric operated windows and a Radio with Bluetooth.
The Trend Model adds extra luxury and convenience, with cruise control, automatic headlights and rain-sensing front wipers being just 3 of the plethora of additional features fitted as standard.
DCiV limited models add air conditioning, a driver side loading door for more convenient entry and exit of the vehicle and Rear privacy glass which reduces glare for the driver and gives back seat passengers extra privacy.
The Ford Transit Custom DCiV Sport, the highest specification available, including features as standard such as: Rear-view camera and sport van styling kit.
Transport your cargo and passengers economically to the job location, with as much luxury as you desire. The Ford Transit Custom DCiV caters for a variety of different requirements, while guaranteeing quality and comfort for the crew and safe transportation of significant sizes and weights of cargo. When searching for crew vans, the Ford Transit Custom DCiV will not take you far wrong.
Vauxhall Vivaro crew vans
Engineered to last, Vauxhall Vivaro crew vans can carry up to 6 people and their vital tools. Easy access to and from the van is guaranteed, courtesy of twin-sliding side doors. Also available in SWB (L1) and LWB (L2) derivatives, the Vauxhall Vivaro Doublecab has a loadspace volume of 3.2m3 on L1 derivatives and 4.0m3 on L2.
What you would perhaps expect with the notable loadspace of the Vauxhall Vivaro Doublecab is that comfort of driver and passengers may be compromised, this certainly isn't the case! An individually-contoured rear seat with a raked seat back, in conjunction with substantial legroom guarantees that the crew travels in complete comfort. A mobile office in the cab also ensures that you can keep working whatever your location is, making it a perfect choice for a busy crew.
The Vauxhall Vivaro Doublecab is available with a choice of 95ps, 120ps, 125ps and 145ps engines, which offer a fuel economy of 42.1mpg. This economy while more than satisfactory, can be improved further with the use of Ecomode which directs the most efficient time for the driver to change gear. The Vauxhall Vivaro Doublecab also has other efficient features including Start/Stop technology, which not also improves the fuel economy of the vehicle but reduces the environmental impact.
The Vauxhall Vivaro Doublecab is available in 2 different trim levels. In addition to the features already mentioned, the standard base model also includes: Remote control central deadlocking, driver's active safety head-restraint and a variety of different capabilities to adjust seatbelts to increase comfort and safety.
Looking for extra luxury? The Sportive model offers cruise control, electronic climate control and a comfort pack, ensuring that even on the most unpleasant of days that the driver and crew can travel and transport their cargo to the job location with as much comfort and ease as possible.
Efficient, convenient, comfortable and with significant loadspace: This makes the Vauxhall Vivaro doublecab an excellent selection of crew van.
Get a new crew van on finance
At VansDirect we stock a wide range of crew vans. If you're looking for a new van, take a look at our fantastic range - not forgetting our unbeatable finance options! Call NOW on 0800 169 69 95 or submit your details online for a quote tailored to your exact requirements!