When it comes to large vans, is bigger, better?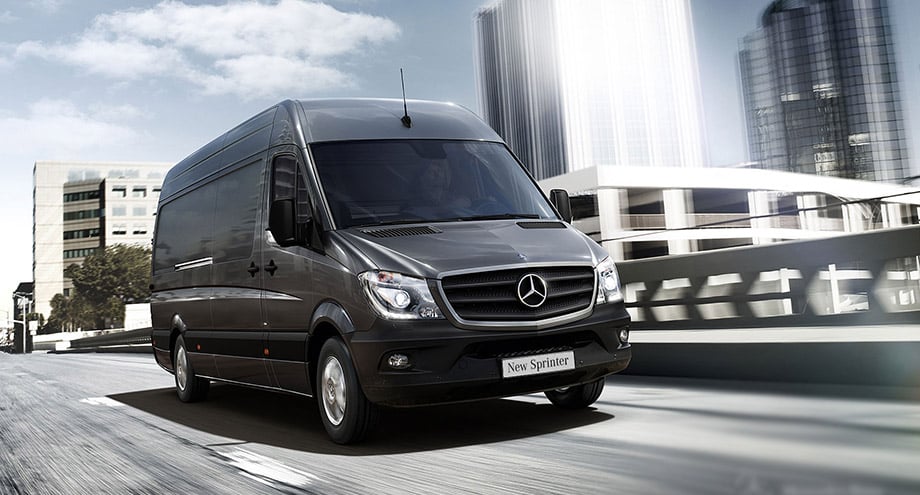 ---
Large vans are currently driving the van market, and have been for some time - along with pickups. This increased demand is a result of the popularity of home deliveries and the subsequent need for delivery drivers and couriers, who need large vans to carry the mountains of parcels they have to deliver.
There are a number of large vans to choose from, and while it's possible to put a minimum figure on most of the dimensions for this segment - sometimes you need to know exactly what you can and can't carry in your new large van.
Here are the dimensions of the large vans in our range, along with a handy little table that breaks down the data. We'll also include a list of the biggest maximum figures for each category.
| Vehicle | Max load volume (m3) | Max load length (mm) | Max load height (mm) | Max load width (mm) | Width between wheel arches (mm) | Max Payload (kg) | Max Towing (kg, braked) |
| --- | --- | --- | --- | --- | --- | --- | --- |
| Ford Transit | 15.1 | 4217 | 2125 | 1784 | 1392 | 1371 | 3500 |
| Peugeot Boxer | 17.0 | 4070 | 2172 | 1870 | 1422 | 1575 | 2500 |
| Mercedes Sprinter | 17.0 | 4700 | 2140 | 1780 | 1350 | 1403 | 2000 |
| NEW Volkswagen Crafter | 18.4 | 4855 | 2196 | tbc | tbc | 1346 | 2000 |
| Renault Master | 17.0 | 4383 | 2144 | 1765 | 1380 | 1610 | 3000 |
| Iveco Daily | 19.6 | 5125 | 2100 | 1800 | 1320 | 1500 | 3500 |
Large van dimensions
Ford Transit
The Ford Transit is available in three lengths (L2, L3, L4) and two heights (H2, H3). You may be wondering what happened to the L1 option - that's well-covered by the very popular Ford Transit Custom medium van. The Ford Transit range starts at L2 with a load volume range of 9.5 to 15.1 cubic metres, which is the smallest max volume of all the vans in this list.
As the Custom picks up the slack with smaller models, the shortest load length of any Ford Transit van is just shy of 3 metres. The longest 'Jumbo' model can accommodate loads of up to 4.2metres in length. The Transit offers headroom ranging from 1786 to 2125mm while all models have 1392mm between the wheel arches and a maximum load width of 1784mm. Capable of carrying up to 1371kg, the Ford Transit is one of the only large vans with a 3.5-ton towing capacity (depending on model).
Peugeot Boxer
With four lengths and three heights, the Peugeot Boxer is nothing if not versatile. It beats the Transit for maximum load volume - the biggest models offer 17 cubic metres. As the range covers everything from L1 - L4, the smallest available Boxers offer just 2.6metres of usable load length. Choose an L4 model and this extends all the way to 4070mm. Some difference.
The Peugeot Boxer has the best width between the wheel arches of all large vans, with 1422mm available - although the maximum load width is 1870mm, which is a class-best figure. Every Peugeot Boxer is able to carry a minimum of a tonne, while L2H2 models can carry a massive 1575kg! The Boxer's maximum towing capacity is 2500kg, depending on your model.
Mercedes Sprinter
Synonymous with quality, the Mercedes Sprinter is an excellent large van. It may lack the additional features of some of its rivals - but it offers some of the biggest capacities for large vans. For example, a maximum load length of 4700mm is better than the Transit, Boxer and Renault Master.
The Mercedes Sprinter is available in four lengths (short, medium, long and extra-long) and three heights which translates to a maximum load volume of 17 cubic metres. Headroom can stretch to 2140mm - most large vans offer similar max headroom figures. Payloads range from 778 to 1403kg and the Sprinter's maximum towing capacity is 2000kg, depending on your model.
NEW Volkswagen Crafter
Due to the fact that it's one of the newest large vans on the market, information on the new Volkswagen Crafter is still a little thin on the ground. However, we have the figures that matter - and this new van is going to shake up the large van segment.
The new Crafter's usable load volume STARTS at 9.9 cubic metres and goes all the way up to 18.4 cubic metres. Similar to the Transit - the Crafter's smallest length is L2 (or 'medium'), so one would assume that the Transporter will pick up anything smaller than that. It can accommodate loads of up to 4855mm in length and provide up to 2196mm of headroom - a class best - with a maximum payload of 1346kg. The Volkswagen Crafter can tow up to 2-tonnes with a braked trailer.
Renault Master
The Renault Master is available in three lengths and three heights for a load volume range of 8 to 17 cubic metres. It can accommodate load of up to 4.3metres in length at its longest, however its maximum load width of 1765mm is over 100mm short of the Peugeot Boxer.
Where the Renault Master excels is with its load carrying capabilities - over four-and-a-half tonnes! Broken down, this translates to a maximum payload of 1610kg - a best-in-class figure - and a maximum braked trailer towing capacity of 3-tonnes.
Iveco Daily
Last but not least, it's the Iveco Daily! Available in FIVE lengths and three heights, the Daily offers the biggest load volume of the large vans segment with an utterly cavernous 19.6 cubic metres. The class-bests don't stop there; the Daily offers usable load lengths of up to 5125mm and is the only large van other than the Ford Transit capable of towing 3.5-tonnes.
On the other side of the coin, a width between wheel arches figure of 1320mm is the worst in the segment, as is headroom (2100mm). There are twin-wheel models available which further decrease the width between the wheel arches - to just 1030mm.
Large vans' best figures
Load volume - Iveco Daily, 19.6 cubic metres
Maximum load length - Iveco Daily, 5125mm
Maximum load height - NEW Volkswagen Crafter, 2196mm
Maximum load width - Peugeot Boxer, 1870mm
Width between wheel arches - Peugeot Boxer, 1422mm
Maximum payload - Renault Master, 1610kg
Maximum braked trailer capacity - Iveco Daily/Ford Transit, 3500kg
Large vans on finance
Need a big van? Are you a courier with a mountain of parcels to deliver, or a fitter with long, awkward items to transport? Give us a call NOW on 0845 021 0444 or enquire online for an unbeatable deal on a brand new van!