Vansdirect sponsored Louis Foster's record-breaking debut campaign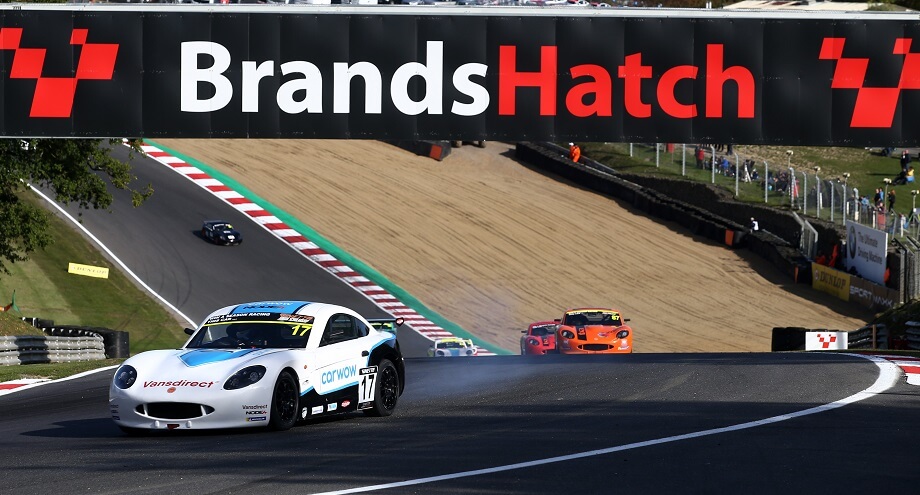 ---
Credit: Jakob Ebery
Vansdirect sponsored Louis Foster brought the curtain down on a record-breaking rookie campaign in the Ginetta Junior Championship with another race victory to secure second in the overall standings.
Rookie crown already sewn up
The 15-year-old Lord Wandsworth College student from Odiham made the trip to the famous Brands Hatch Grand Prix circuit as one of three drivers still in contention for the overall crown, having already successfully secured the rookie crown.
Having qualified in fourth on the grid at the wheel of his Elite Motorsport-run car, Louis battled back from losing a place on the opening lap to finish the race where he had started, his chance of moving forwards to the podium being hampered by a safety car period that restricted the number of racing laps.
Race two
Fourth on the grid for the second race, Louis held his position through the early laps before a stunning move on the seventh lap saw him get ahead of both James Hedley and title rival Luke Browning on the run through Dingle Dell and into Sheene Curve.
Immediately closing on leader Adam Smalley, Louis was unable to launch a bid for the lead when the safety car was deployed and would stay on track until the finish.
Season victory number nine!
With an outside chance of taking the title from Smalley going into race three, Louis was aware that his best chance of success was to bring his car home in first spot and he duly delivered a ninth victory of the campaign after coming out on top of a race-long duel for honours with Browning.
It means Louis ends the season with a season-high nine overall wins, a record breaking tally of rookie wins, an impressive 19 overall podiums and the highest tally of points before dropped scores are taken into account.
A big thanks to everyone
"Whilst on one hand it's a shame we couldn't take the overall title this weekend, I'm delighted with how my season has panned out," he said. "To have performed as well as I have done in my rookie season has been fantastic, and I'm proud of the records that I have set on track this year.
"In terms of the races, I think I let the pressure get to me a little bit in the opening race of the weekend but from there, I just tried to take a more relaxed approach. The second race we were really strong and I'm sure that without the safety car, we would have been able to get the win.
"I knew going into race three that we needed luck on our side to overhaul Adam and I knew we had to go for the win but also need Adam to finish lower down the order. I battled hard with Luke to get into the lead, but had to try and back the pack up so that Adam would come under attack from the guys behind. It was a risky strategy but one that I had to take.
"Whilst it didn't come off, it was great to end the campaign with the highest number of race wins in my rookie season. I have to say thank you to the team and to all my sponsors for their support throughout the season. It's been a brilliant year."
For further reaction visit www.louisfosterracing.com
New vans on finance from Vansdirect
Vansdirect have been incredibly proud to sponsor the incredibly impressive Louis Foster throughout his record-breaking Ginetta Junior Championship campaign! Take your business to the top of the grid with a new van on finance from Vansdirect, with all makes and models available and a host of cheap van finance options which include van leasing, contract hire and hire purchase. Call us on 0800 169 69 95 or enquire online and we'll get back to you asap, we also offer cars!