The Peugeot Expert - Expert by name, Expert by nature?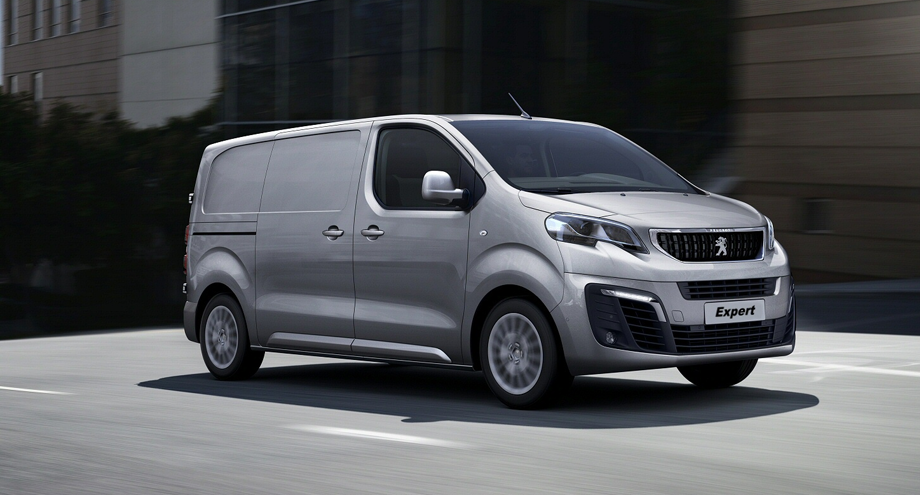 ---
The Peugeot Expert is a medium van with a difference. When you choose an Peugeot Expert as your business' van, you benefit from a vehicle that's been designed by professionals for professionals.
So what's different about it? Thanks to its low profile (and pneumatic suspension - more on that later) the Peugeot Expert can access awkward car parks with a 1.9m height restriction. It's also one of the more accessible vans on the market, offering two sliding side doors as standard along with the lowest load sill height on the market.
Peugeot Expert dimensions
Despite being a medium van the Peugeot Expert still provides a minimum loading length of 2.25m. Choose the longer wheelbase version and this goes up to 2.58m. The aperture of the sliding side doors is wide enough to take a Europallet while the rear doors can be opened to 180 degrees. Stowing rings are housed on each side of the load area, to protect you, your passenger and crucially, your load.
Back to the pneumatic suspension. An optional feature, the pneumatic suspension offers some clear benefits. The first - mentioned above - means that the Expert can access height restricted areas that it usually cannot. Secondly, regardless of vehicle load, the ride height remains constant - providing a more secure ride. Finally, a button in the load area allows you to lower the load sill, giving the Peugeot Expert the lowest loading height on the market.
Peugeot vans have created a functional cabin, designed to be as ergonomically comfortable as possible. As standard comes a dual front passenger seat complete with a work surface - excellent for doing paperwork on the fly. Whilst stationary, of course! To help you find the right driving position, the driver's seat features lumbar adjustment.
Peugeot Expert van features
Other convenient features include an overhead storage unit, cup holders and a lockable and illuminated glove box for extra security. In addition, you'll find storage spaces on top of the fascia panel, under the steering column, in each of the front doors and under the passenger seat. Just don't forget where you put your lunch!
In terms of security, the remote control of the Peugeot Expert allows you to lock or unlock the cabin and load area doors independently. On top of this, the doors will lock automatically as soon as the vehicle reaches a speed of 6mph.
Also available are Peugeot Accessories. These accessories are specifically designed for the Peugeot Expert, meaning that fitment and functionality are exactly as intended. Coming at an additional cost, the innovative and problem-solving solutions include a roof rack (max load 170kg), a load roller for the roof rack, towbars, a storage tunnel and ply lining.
Other additional options for the cabin area include air conditioning, cruise control with speed limiter, RT3 satellite navigation system, Bluetooth handsfree kit, CD changer, rear parking sensors and automatic wipers and headlights. It's worth taking a look at the 'Professional' trim level as many of these cabin options are included as standard.
Vital Statistics
Gross Vehicle Weight (GVW): 2.661 T to 2.946 T
Dimensions: 2 heights (1.94m/2.27m with standard suspension or 1.9m/2.2m with pneumatic suspension) 2 lengths (4.8m and 5.13m)
Loadspace: 5,6 or 7 cubic metres
Payload: 988kg to 1200kg
New Peugeot Expert vans for sale
Interested in the Peugeot Expert? We have a number of van leasing deals available, with contract hire and hire purchase also available. Call us on 0800 169 69 95 or enquire online to get the ball rolling today!