New van market in the UK grows in June!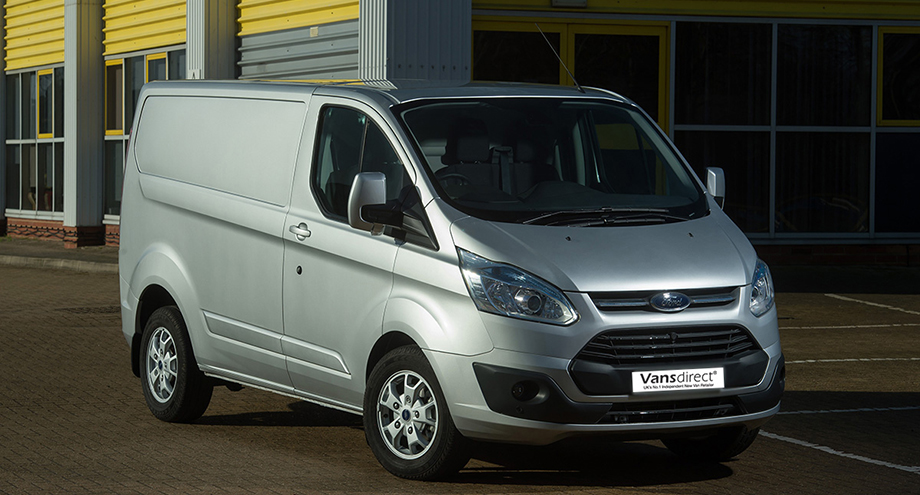 ---
New van registrations enjoyed an increase in demand in June, following four months of declining demand!
Statistics released by the Society of Motor Manufacturers and Traders (SMMT) have discovered an increase of over 10,000 new van registrations from May 2017 and an increase of 1.8 percent from June 2016. 37,349 new van registrations were made last month, in comparison with 36,700 from June 2016.
New van registrations
The increase in June follows a decrease of 5.3 percent in May 2017 and four successive months of declines. SMMT Chief Executive, Mike Hawes has responded to these figures, stating:
"After two years of record growth in the new van market, it's natural to see demand ease as the sector reaches a sustainable running rate. However, as these figures show, the market remains at a high level and we expect similar patterns of demand to continue throughout the year."
Large vans were the only category last month to show a decline in registrations in comparison with June 2016, with a decrease of 5.4 percent in new van registrations. Despite this decrease, large vans remained the biggest seller, having sold 22,843 units last month. In terms of increase, the smallest increase in new registrations last month was shown by small vans, an increase of 2.3 percent in comparison with June 2016. Pick-up vans continued their momentum of the last few months with another impressive increase of 14.2 percent, while the largest increase on last year's figures was experienced by medium vans, a staggering increase of 29.9 percent in new van registrations last month in comparison with June 2016.
LCV registrations on this year to date have fallen 3.7 percent overall, however demand for new vans remains at a high level.
June's best-selling new vans
The top 10 best-seller chart has shown some changes, however the top-selling van remains the same, with the Ford Transit Custom selling over 2,000 more units last month than any other new van. Second and third best-selling new vans swapped places, with the Mercedes Sprinter replacing the Ford Transit in second place. Perhaps more surprisingly swapping places in the table were the fourth and eighth best-selling vans of May 2016, with the Vauxhall Vivaro surging up the table to replace the Volkswagen Transporter in fourth. In fifth place in the table, the Ford Transit Connect becomes Ford's third entry into the top 5, rising an impressive five places in the table last month.
Somewhat surprisingly, the Ford Ranger exited the top 10 top-sellers chart last month, the disappointing month, out of sync with the increasing pick-up sales means that the Ranger was replaced in sixth place by the Peugeot Partner (rising one place this month). A drop of two places to seventh was experienced by the Peugeot's 'sister van' the Citroen Berlingo. Another Peugeot van remained consistent to again claim ninth place in the table, the Peugeot Boxer. Finally taking up the final spot in the top 10, outlining the strong month for medium vans is an entry from Renault, the Renault Trafic.
A somewhat disappointing month for the Volkswagen Transporter, we fully expect a resurgence up the table from the Volkswagen in July 2017.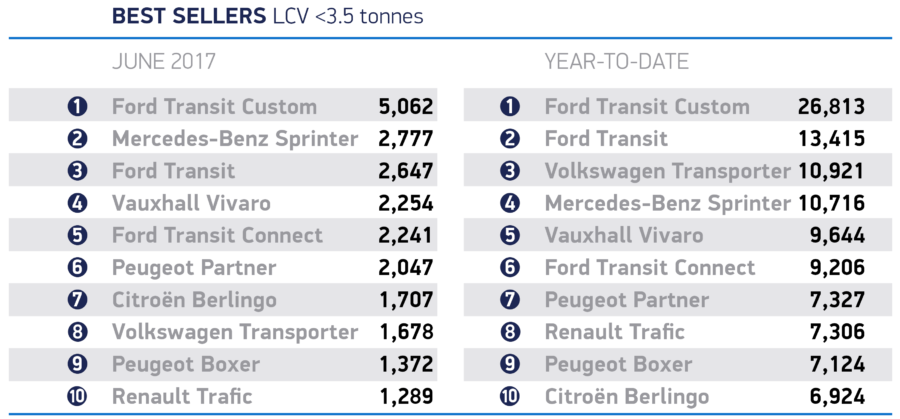 New van finance
At Vansdirect we offer an excellent range of cheap new van deals, with flexible finance options including: van leasing, contract hire and hire purchase. Call us today on 0845 021 0444 or submit your details online for a no obligation quote!