Mercedes vans reveal spec for new electric Mercedes Sprinter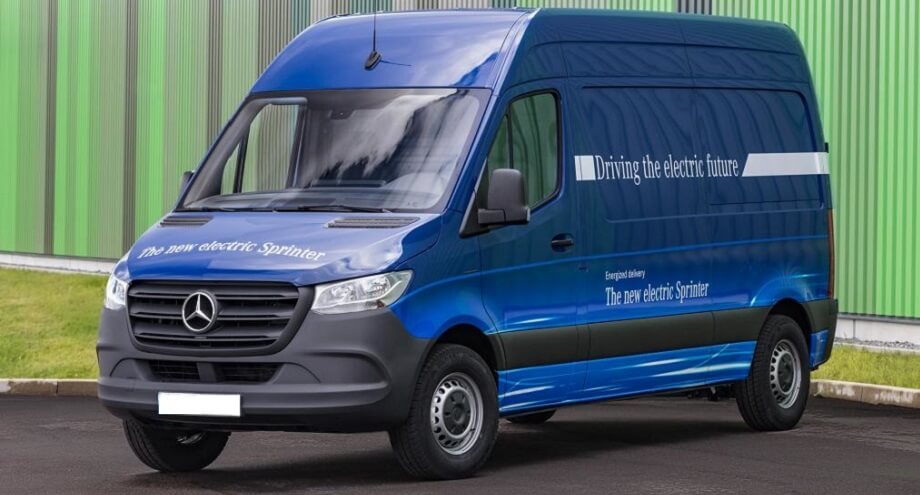 ---
Mercedes vans have confirmed the final specifications of the electric powered version of the new Mercedes Sprinter panel van. The new Mercedes eSprinter is expected to be available in certain markets before the end of 2018!
New Mercedes Sprinter electric van
Two battery options
Mercedes vans has confirmed that the new Mercedes eSprinter will be available with two battery options, which will be targeted specifically at different types of customer. Both models will be powered through an electric motor developed from the electric Mercedes Vito van (eVito), which Mercedes vans revealed at the back end of 2016.
The 84Kw electric motor allows the new Mercedes Sprinter electric van to achieve a top speed nearing 80mph and deliver 300Nm of torque. The smaller 41kWh battery pack boasts a range of 72 miles on a full charge, whereas the larger 55kWh option extends this range up to 95 miles on a single charge. Both battery packs can be recharged to 80 percent in just 45 minutes using a fast charger (ideal if you want to charge the van during a lunch break), alternatively they can be charged at a normal rate in 6-8 hour depending on the ambient temperature.
Payload
The new Mercedes eSprinter will come with a maximum payload of 1,040kg, however this drops to 900kg for the model fitted with the larger and heavier 55kWh battery pack. The new van will be front-wheel drive, is plated at 3.5-tonnes and is based on the high roof version of the new Mercedes Sprinter. It is the second van in the Mercedes vans range to have undergone electrification, fitting in with the brand's pledge to offer electric versions of all of its new vans by the year 2020.
Future belongs to electric drive systems
Head of Mercedes vans, Volker Mornhinweg had his say on the importance of an electric future, commenting: "Electrification of the commercial fleet follows our conviction that the future belongs to electric drive systems, especially in inner-city traffic. We have already shown with the eVito that we are serious about the implementation. Now we are going a step further with the eSprinter. Our electric drive systems are also competitive in larger vehicle segments, especially regarding the total cost of ownership which is important for our commercial customers"
New Mercedes vans on finance
We'll have to wait a while to see the new Mercedes eSprinter, however you can get your hands on a new Mercedes van from Vansdirect in no time at all, whilst we also offer cheap van finance options including van leasing and contract hire. Looking for a new Mercedes vanOr maybe there's another new van you have your heart set on? Either way, get your new vans direct from Vansdirect, call us on 0800 169 69 95 or enquire online and we'll get back to you asap, we also offer cars!