Medium vans - a big year ahead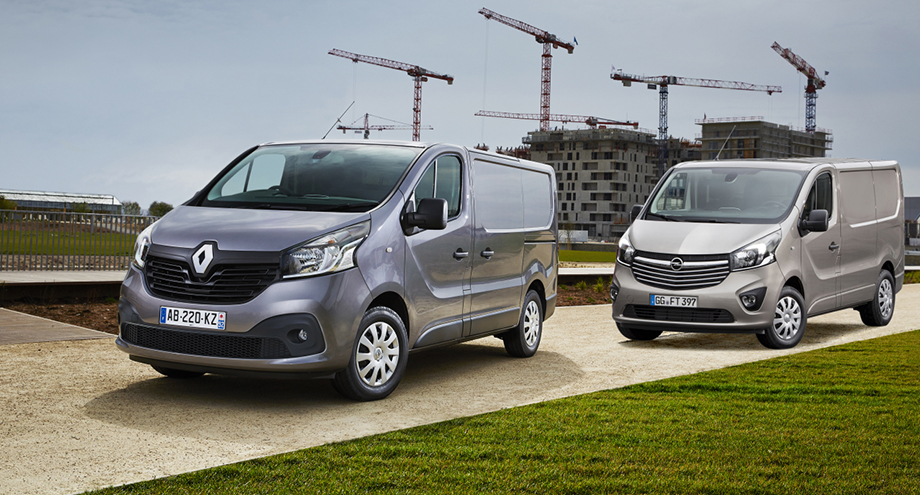 ---
The competitive medium vans segment of the van market is probably the most ferociously contested. According to data published by the Society of Motor Manufacturers and Traders (SMMT), the 2.5 - 3.5-tonne segment, which covers both medium vans and large vans, enjoyed enhanced demand of 4.8 percent in 2016 - with 232,948 new vans registered.
These figures include an increase of 17 percent year on year in December, with over 20,000 new vans registered in what is the biggest segment of the van market. The growth of the sector was the driving force behind the overall van market's 1 percent increase, as compact and small vans suffered.
Best-selling medium vans
Britain's best-selling van is the Ford Transit Custom - and by some distance - as Ford sold almost 50,000 Customs in the UK last year. Its 'big brother', the Ford Transit was a distant second with just under 30,000 registrations.
The top 10 best-selling vans chart was littered with medium vans in 2016. Both the Vauxhall Vivaro and Volkswagen Transporter sold over 20,000 units while the Renault Trafic finished in 7th place after shifting over 15,000 vans.
A new petrol-electric plug-in hybrid version of the Transit Custom is due for commercial production in 2019 as Ford moves to shake up the sector. Twenty of the new hybrid vans will be trialled in London, with the backing of a £4.7million grant from the Advanced Propulsion Centre - a Government funded organisation.
Air pollution is a growing concern in Britain's capital city. Sadiq Khan, mayor of London, said: "The freight sector's transition to ultra-low emission vehicles is central to cleaning up London's toxic air."
Also due imminently is an automatic Transit Custom, with a six-speed gearbox. Orders are open with deliveries expected to commence sometime in Q1.
Other manufacturers have moved to keep pace with the all-conquering Transit Custom. Peugeot, Citroen and Toyota have launched new versions of their Expert, Dispatch and Proace vans. All feature significant improvements on the previous models, both in terms of appearance and practicality. The most interesting of which is a 'Compact' model (called 'XS' for the Dispatch) which will bridge the gap between small and medium vans.
Other new vans include the Fiat Talento and Nissan NV300, both of which are based on the Renault Trafic. They'll join the Vauxhall Vivaro to make it FOUR identical vans with different badges. Trim specs and engines will differ from each manufacturer, but the body and dimensions are all pretty much the same.
Three medium vans to look out for in 2017
Ford Transit Custom
The Ford Transit Custom has been around for close to five years now, and its domination of the van market shows no sign of stopping. When it was launched, the Custom redefined the sector - raising the benchmark for medium vans.
Well-decorated with many 'Van of the Year' awards - not forgetting its five-star Euro NCAP rating - the Custom was also updated last year, to bring it line with Euro 6 requirements. It now offers three cleaner, more efficient engines with a top-end fuel economy of 49.6mpg and a maximum torque figure of 405Nm.
The Ford Transit Custom is available with free February delivery from only £179pm
Peugeot Expert
The previous version of the Peugeot Expert didn't exactly set the medium vans segment alight. That said, it was still a decent van with some distinguishing features like a low overall height of 1.9-metres which allowed it to access restricted areas like underground car parks.
The new Expert has retained the low height and improved the van in a load of areas. Load volume, load lengths and payloads are all increased - with all models capable of moving a tonne. Some models can carry up to 1400kg which is unheard of in medium vans. There are new, innovative features like hands-free door opening and a 'head-up' display. But what is most impressive is the new appearance - the Expert is now a truly good-looking van.
Renault Trafic
As a van that now has three identical clones, the Renault Trafic must be doing something right. Good handling and refinement as well as decent levels of standard equipment and some innovative features like its 'blind spot mirror' and a load-through flap in the bulkhead make it a solid van for pretty much anyone.
Medium vans on finance
Get your medium vans from Vansdirect - we offer a year's breakdown cover and road tax as well as free UK delivery! Prices start from as little as £175pm - give us a call NOW on 0845 021 0444 and see the savings for yourself! Out-of-hours? Enquire online and we'll get back to you!