Gas Safety Week 2018 - Six top tips for keeping safe and warm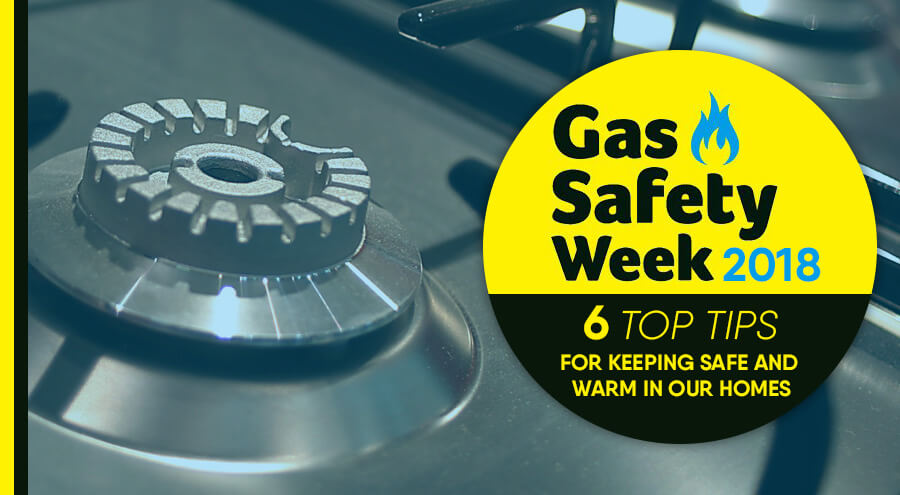 ---
Here at Vansdirect we're getting behind Gas Safety Week 2018, running from 17-23 September, the event is aimed at raising awareness of the dangers of gas appliances that have been poorly maintained. Vansdirect reveals six top tips for keeping safe and warm in our homes in line with Gas Safety Week 2018!
Gas Safety Week 2018
According to research by the Gas Safe Register, a third of UK adults (33 percent) are not aware of the signs of an unsafe gas appliance, this week they are aiming to raise awareness regarding the dangers of unsafe gas appliances, with industry support.
Unsafe gas appliances
Gas Safe Register investigated what warning signs people could identify from an unsafe gas appliance.
33 percent recognised a lazy yellow flame
32 percent recognised that the pilot light kept going out
29 percent recognised that there were black marks or stains on or around the gas appliances
12 percent recognised increased condensation inside windows
What steps are people taking to ensure their appliances are safe?
17 percent of adults admitted that they take no steps at all to ensure that the gas appliances in their homes are safe
47 percent stated that they have their gas appliances checked annually by a Gas Safe registered engineer
38 percent have an audible carbon monoxide alarm
29 percent know to check that their gas engineer is on the Gas Safe Register
Eighth annual Gas Safety Week
The most recent available statistics revealed by awareness campaign group Project SHOUT state that poisoning by carbon monoxide, which is colourless and odourless is responsible for around 50 deaths in the UK each year, whilst in excess of 500 cases of carbon monoxide (CO) poisoning involving under 18s were reported last year. Gas Safe Register have warned against checking or working on gas appliances yourself or using an illegal gas fitter, they also revealed a staggering statistic that only 20 percent of people check an engineer's ID card on arrival at their home.
Gas Safe Register have marked the eighth annual Gas Safety Week by creating a video demonstrating how carbon monoxide can be missed from hoe safety checks that people do to keep themselves and their families safe. Check out the video below.
[embed]https://www.youtube.com/watch?time_continue=1&v=Xt-kQ0wxJGU[/embed]
The silent killer
Chief Executive of Gas Safe Register, Jonathan Samuel talked of the dangers of carbon monoxide:
"Carbon monoxide poisoning is known as the silent killer because you can't see it, taste it or smell it. Our research shows that lots of people aren't aware of the symptoms of carbon monoxide poisoning or the potential warning signs that your gas appliance isn't working safely. This Gas Safety Week we're helping people find out more about how to keep their home's gas safe and reminding everyone to not cut corners when it comes to getting their gas appliances checked on an annual basis."
The registration body recommend that people get their gas appliance checked on an annual basis to ensure they are working efficiently and safely.
Six top tips for keeping safe and warm in our homes
Here are the top tips for staying safe and warm in our homes:
1. Only use a Gas Safe registered engineer to fit, fix and service your appliances
You can find and check a Gas engineer at GasSafeRegister.co.uk
2. Check both sides of the engineer's Gas Safe Register ID card
Ensure that the engineer is qualified to complete the work that needs doing, this can be found on the back of the card.
3. Have all your gas appliances regularly service and safety checked every year
If the house you are in is rented, then request a copy of the landlord's current Gas Safety Record.
4. Know the six signs of carbon monoxide poisoning
These are: Headaches, dizziness, breathlessness, nausea, collapse and loss of consciousness. Gas appliances that are unsafe can put you at risk of carbon monoxide poisoning, gas leaks, fires and explosions!
5. Check gas appliances for warning signs that they may not be working properly
These may be lazy yellow flames as opposed to crisp blue ones, stains or black marks on or around the appliance and too much condensation in the room.
6. Fit a carbon monoxide alarm which is audible
This alarm quite simply will warn you if there is carbon monoxide in your home.
Stay safe this Gas Safety Week and beyond!
New vans on finance
Vansdirect keeps you up to date with all of the latest industry news, we also have a huge range of brand new vans in stock and cheap van finance options available including van leasing, contract hire and hire purchase. Interested? Simply fill in a contact form or call us on 0800 169 69 95 to find out more, we also offer cars!