Mercedes vans - Dogs are a van man's best friend!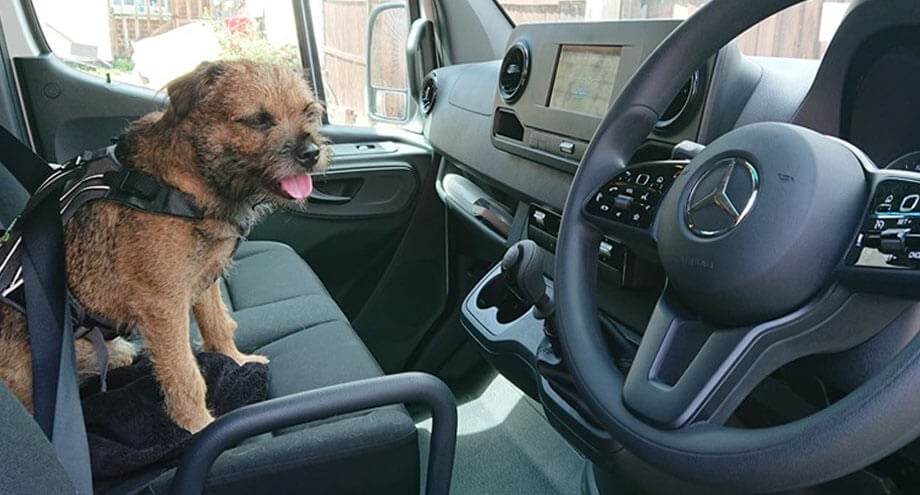 ---
The road can be a lonely place for van drivers, with some stuck for up to 13 hours in traffic and congestion, however it appears many have a solution for battling the long hours, with 200,000 drivers having their dog with them on any given day, according to a recent study by Mercedes vans.
Mercedes vans study
When you consider that the average van driver can be stuck in congestion for up to 13 hours a day, a friendship with a so called man's best friend can really make a difference to morale during these periods. The research also revealed that van drivers spend on average over 17 hours by themselves on a daily basis, with as many as 35% of van drivers admitting to spending at least 20 hours alone.
With an increasing number of van fleet operators focusing on the mental health and well-being of their van drivers, it appears a great way to help with this is to have their furry companion on board. The results of the survey proved that this could well be the case:
52% of van drivers that took their dogs to work with them admitted that it made them feel happier
45% of van drivers felt more relaxed when having their dog on board
53% believed that bringing their dog along for the ride was helpful when it came to drawing up new business
A nation of dog lovers
The UK population really does love their dogs, 65% percent of van drivers own at least one dog and 36% of those owning more than one dog. A particularly heartwarming statistic was revealed by Mercedes vans as part of the study, that 38% of the dogs that accompany their owners on the road came from rescues centres across the UK.
Much needed company
Managing Director of Mercedes vans UK, Steve Bridge had his say on the brand's findings, commenting:
"It's great that our canine friends can join the nation's hard-working van operators in the vehicles, providing much needed company along the way. However, it's also important to remember that dogs need to be suitably restrained according to the Highway Code, so a seat belt harness would be a good investment to ensure both the driver and the dog are safe and secure. I wish I could take Gilbert, my Westie, to work with me!"
Mercedes vans on finance
Mercedes-Benz vans are renowned for their quality and reliability and so are Vansdirect! We have a huge range of brand new vans in stock and cheap van finance options for everyone's requirements including van leasing, contract hire and hire purchase. Looking for a new van? Simply fill in a contact form or call us on 0800 169 69 95 to get the ball rolling today, we also offer cars!