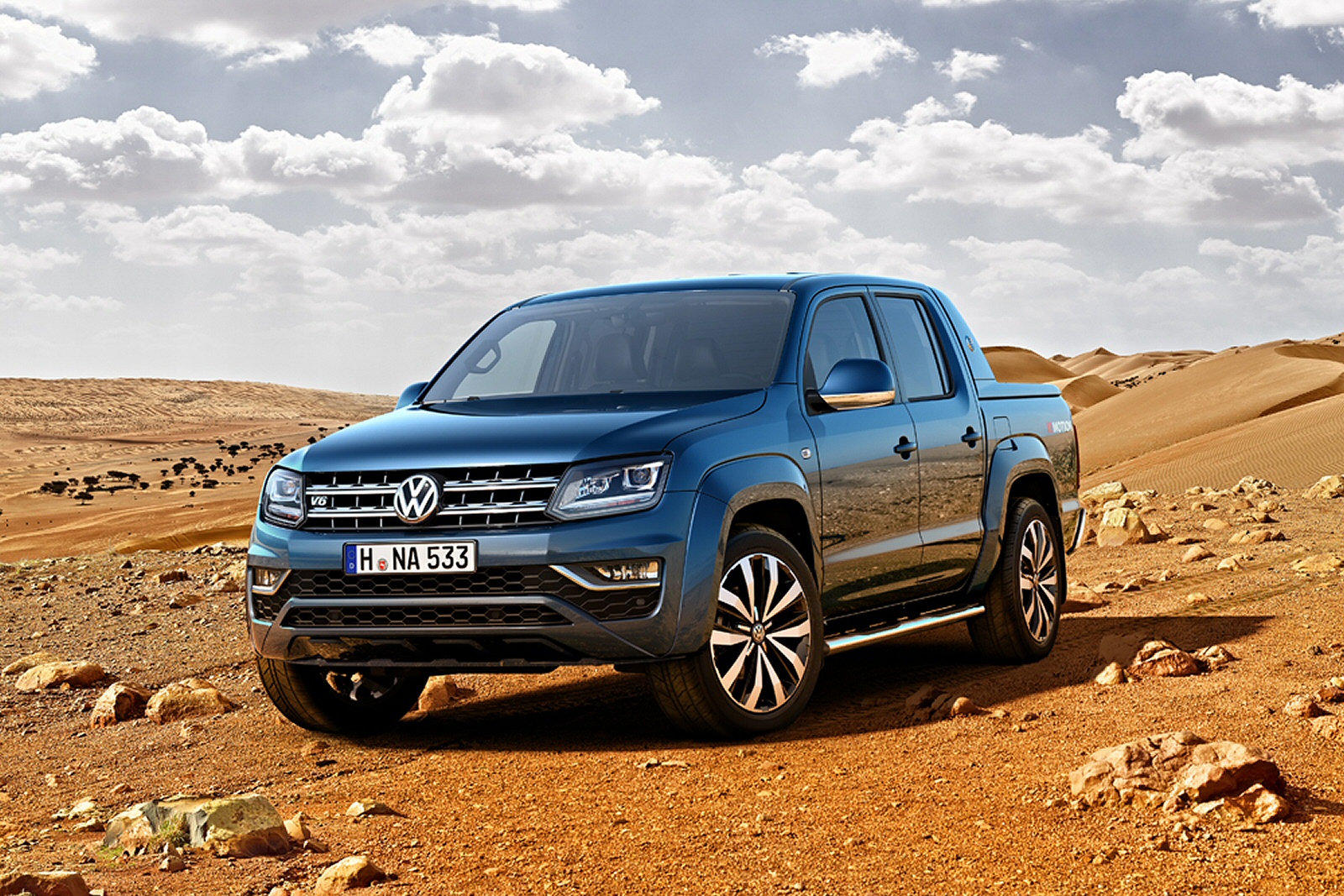 Volkswagen Amarok Van Review and Specs
Pick-ups are undeniably practical but have a reputation for being rough and ready with crude driving dynamics. The Volkswagen Amarok set out to change all that and the latest version's cause is aided by the addition of a freshly developed six cylinder engine range.
Ten Second Review of the Volkswagen Amarok pickup
Oriental models have for too long held sway in the UK pick-up truck market, a state of affairs that Volkswagen vans set out to change when they launched this Volkswagen Amarok model in 2011. Big, economical and very capable, Volkswagen's off-road load-lugger was designed to give the Japanese contingent a few sleepless nights but originally boasted a 2.0-litre diesel line-up in a class where rivals had 2.5 or 3.0-litre units. Hence the development of an all-new six cylinder 3.0-litre TDI unit for this latest version claiming an effective mixture of power and efficiency. The result should be a very complete pick-up indeed.
Background
Pick-up sales may have taken off in Europe over the last decade or so, but the vehicles themselves have come almost exclusively from the Far East, Japan dominating the market with the Mitsubishi L200, Nissan Navara and Toyota Hilux, leaving Ford vans a few scraps to hoover up with their Thai-built Ford Ranger model.
So what kind of pick-up might a European brand design? How would it be different? In this Volkswagen Amarok back in 2011, we got our answer in a vehicle that's sold steadily since but has been ultimaely limted in its aspirations by the fitment of a 2.0-litre diesel engine that's smaller in size than the class norm. That's important as pick-ups need torque - and plenty of it. Hence Volkswagen's development of the new 3.0-litre V6 TDI unit for the improved Volkswagen Amarok model we're going to look at here.
Like its predecessor, this is claimed to be the most car-like vehicle of this kind ever made. Potentially then, the perfect solution for SUV buyers who want the greater practicality of pick-up motoring.
Driving Experience
A tough ladder-framed chassis and a solid, leaf-sprung rear axle necessary to carry heavy loads offer the inevitably utilitarian feel. Within the confines of this approach though, the Wolfsburg engineers have actually done a very good job in making this Volkswagen Amarok as car-like as it reasonably could be.
The introduction of 3.0-litre V6 TDI power means that there's nothing wrong with the performance now on offer, this unit available in three guises offering either 163, 204 or 224PS. The pokiest unit develops 550Nm of torque at just 1,500rpm, that's 130Nm more than the previous model could manage. There's the choice of three different drive-system variations.
You get a traditional rear-wheel drive set-up at the foot of the range, while those wanting 4WD can go for a part-time 4MOTION version with rear-wheel drive and an engageable front axle in combination with a manual gearbox. Or a permanent all-wheel drive system and a Torsen differential mated with an 8-speed automatic gearbox. On the road, this improved Amarok should feel sharper to drive courtesy of a new Servotronic steering system. Plus new 17-inch brake discs on the front axle and 16-inch discs at the rear ensure that this pickup always comes to a stop quickly and safely.
Design and Build
As before, with a length of 5.25 metres and a width of 2.23 metres, this Amarok is a substantial thing. To reflect the changes made beneath the bonnet, Volkswagen's stylists have tried to give this improved version a more athletic-looking front end.
As before, the chunky shape appears solidly planted to the ground with cleanly sculpted bonnet curves and a large Volkswagen emblem and grille, with clear horizontal lines linking them together across the front of the vehicle. Inside, there's a completely re-styled dashboard. Together with new ergonomic seats, these features aim to lend the vehicle a more sophisticated appearance. As before, there's neat switchgear, clearly defined instruments, a lovely three-spoke reach and rake-adjustable steering wheel and soft-touch plastics lifted straight from Volkswagen passenger cars.
It's rather like being in a Volkswagen Golf on stilts and it'll be rather surreal if you come to this vehicle straight from an older pick-up rival. It's practical too, with lots of storage, including large bins in all the doors which can hold a 1.5-litre bottle in front and a 1.0-litre bottle in the rear. There's also a lidded bin, a lockable glovebox, a compartment for your sunglasses, two cupholders between the front seats and under-front-seat drawers on most models.
In the rear, the extra width of the vehicle makes it easier to accommodate three adults if need be - though two will obviously be more comfortable. All will get proper three-point seatbelts and most trim levels include rear cupholders for their use. If the rear bench isn't in use and you need more storage room, you can tip the backrest forward to free up extra loadspace.
Market and Model
The range is based around the Volkswagen Amarok Doublecab bodystyle that almost all UK buyers want.
With VAT (which business users can claim back on all versions with a payload of over 1,000kgs - which means all but the priciest Permanent 4WD model), you'll pay from around £26,000 for the entry-level 163PS VW Amarok. Many British customers though, will want to pay the premium Volkswagen vans asks to graduate to the 204PS derivative. For that variant, you won't be paying much more than you would be for more powerful versions of obvious rivals that as well as the Ford Ranger, the Toyota Hilux and the Mitsubishi L200, also include the powerful 190PS Nissan Navara NP300.
Equipment levels of course, depend upon the trim designation you have in mind, but whatever variant you choose, you'll find that all Amaroks come with most of the basics. That means things like alloy wheels, Climatic air conditioning, daytime running lights, all-round power windows, power heated mirrors, a 12v power socket, a CD stereo and a Thatcham Category 1 alarm and immobiliser. Plusher variants add things like cruise control, a trip computer and front foglamps. Going upwards on sharp inclines, there's a Hill Holder Clutch to stop you drifting backwards. Going down the other side, there's Hill Descent Control to keep the car at a steady speed.
And of course there are plenty of accessories. These include a lockable toolbox designed to fit across the loadspace, a choice of tonneau covers or a complete matching hardtop to enclose the entire load area.
Practicalities and Costs
Drop down the sturdy tailgate and the headline news is the 2.52m3 load volume. That might encourage you to use the hefty payload allowance - between 1064 and 1119kgs for Selectable 4MOTION models. These have a high rear axle load limit of 1,860kgs.
With the Permanent 4MOTION variant, the payload drops to just 750kgs.The Gross Vehicle Weight is 3170kg, though that falls to 2820kg if you opt for the top-spec model with permanent all-wheel drive. Get your cargo into the loadbay and that extra cargo volume really pay dividends. You can for example, carry a Euro pallet sideways, not something possible in many rival pick-ups. That's thanks to dimensions that give you a 1555mm loadspace length and a 1620mm loadspace width that narrows to 1222 between the wheelarches. And there's 508mm of load area height.
As for efficiency, well this improved Amarok meets improved class standards in this regard, even the top 224PS 3.0 V6 TDI variant managing 37mpg on the combined cycle and 199g/km of CO2. Thanks to the 80-litre tank, that means a theoretical range of over 600 miles.
Summary of the Volkswagen Amarok pickup
Pick-up users aren't necessarily expecting their vehicles to be advanced, car-like and fuel efficient. But most would be very pleased if they were. These are people who should get themselves behind the wheel of this improved 3.0-litre V6 TDI Volkswagen Amarok. You do have nagging worries in the plush, car-like cabin as to whether this vehicle really is going to prove as tough and durable as its Asian rivals in the long term.
But these are concerns your Volkswagen Van Centre will be quick to play down, pointing to this vehicle's development in the Patagonian wilderness and its use on the testing Paris-Dakar rally. This aside, the only issues are those common to all pick-ups, essentially based around a utilitarian on-tarmac feel. And this is less of an issue with an VW Amarok than with any other rival model.
Limited UK numbers mean that this Volkswagen Amarok isn't going to threaten its Oriental rivals' market dominance too much, but in terms of product excellence, it certainly should give them plenty to think about. At last, we Europeans have given the Far East something it can learn from.