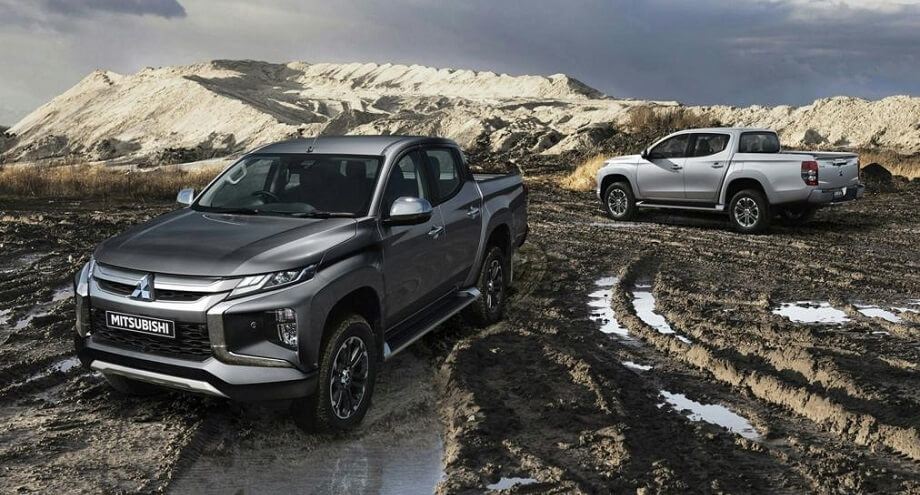 Mitsubishi L200 Van Review and Specs
The Mitsubishi L200 pickup has evolved in its latest Series 6 guise. Our team of new van and pickup truck experts at Vansdirect take a closer look!
Overview
The Series 6 version of the Mitsubishi L200 pickup features far-reaching changes. As a result, Mitsubishi vans claim to have brought us the most advanced version of this model yet. You can see why so many buyers in this segment choose it.
Background
If you're buying a pickup in the UK, then it's highly likely that you'll be looking at the new Mitsubishi L200.
This model has, after all, historically out-sold all its rivals. Its market leadership has much to do with the fact that this Japanese brand got its act together faster than other contenders in this sector, being the first back in the Nineties to recognise that pick-up ownership could be extended beyond farmers and jobbing builders into the SUV lifestyle segment.
As a result, the original Mistubishi L200 model was allowed to take almost half the British market in this sector before its rivals caught up.
These days, this vehicle is far more sophisticated - as it has to be in order to hold its own against a raft of tough rivals.
This redesigned Series6 version features a fresh look inside and out, plus extra equipment features but the thinking's gone deeper than you might usually expect with a facelift.
Indeed, the Japanese maker claims to have made over 4,200 changes to his vehicle, drawing on over four decades of experience in this segment.
What is the new Mitsubishi L200 pickup like to drive?
The engine is a freshly developed 2.2-litre 150bhp diesel unit and the optional 6-speed auto gearbox is also new. Plus there are new drive modes for the four-wheel-drive drivetrain; gravel, snow, sand and rock settings have been added, each one varying how power is needed to optimise performance.
As ever, all L200 models are fitted with either 'Super-Select' 4WD (which delivers optimum traction and handling characteristics for any given surface); or 'Easy-Select 4WD' (which simplifies switching between drive modes for different road surfaces).
There's only so much you can do to make a pick-up enjoyable to drive but Mitsubishi vans have made more effort in this regard as part of this update, conscious that any L200 is likely to spend the majority of its time on tarmac. There's re-developed suspension, plus there are shock absorbing body mounts, which absorb vibrations and aim to provide a quieter, more comfortable cabin.
Those damping updates are welcome but since there's still the same combination of solid chassis and live rear axle, things can still get a bit bouncy from time to time unless you're careful.
Getting from rest to 62mph occupies around 10.5s and as before, the L200 can be driven in either 2WD or 4WD on tarmac or off road. This vehicle can also tow up to 3.5 tonnes. And for a pickup truck, there's a reasonably tight turning circle too.
New Design
The visual changes made to this improved L200 model aren't difficult to spot. The key update is a bolder, more aggressive front end that features a fresh version of Mitsubishi's 'Dynamic Shield' grille. Plus there's a higher bonnet line and beefier-looking lamps now located higher up.
Newly sculpted body curves with contrasting sharp lines, extended wheel flares and bright accents add a bit more street side presence too. And Mitsubishi continues to claim that this vehicle's 'athleticism' is expressed through sharp, muscular surfaces and a taut 'belt line'.
Take a seat at the wheel and as before, you'll find a driver-centric dashboard that centres attention on the road and includes much of the kind of important equipment you'd expect to see in a premium car.
There weren't too many changes made as part of the update package changes, but Mitsubishi has tried to give the cabin a higher quality feel with new surrounding frame trim for the switch panels and air outlets. Plus you get softer-touch materials and classy stitching on the floor console, armrests and parking brake. Most UK buyers will continue to want the Double Cab body style with its rear seat.
Market
Mitsubishi L200 pricing sits in the £22,000 to £38,000 bracket, which as expected, makes it competitive in its segment.
Mitsubishi wants to point out that because nothing's been changed dimensionally over the previous model, popular load bay accessories you might have had in mind (a load bay cover for instance) will all still fit. You might also want to specify the 'Multi Around Monitor', which generates a bird's eye view image of the area around the vehicle when parking.
There's plenty of safety tech. This new pickup can be equipped with four key safety features. there's 'Forward Collision Mitigation', which can detect vehicles and pedestrians ahead. Then there's 'Blind Spot Warning', which helps avoid sideswiping another vehicle when changing lanes by detecting vehicles behind or at the rear quarter and alerting the driver with an audible alert and flashing light in their door mirror.
Next up is 'Rear Cross Traffic Alert' which, in the same way, helps avoid collisions when reversing. And we like the 'Ultrasonic Misacceleration Mitigation System' feature too. This reduces accidents resulting from improper use of the accelerator when moving off or reversing in car parks and other confined spaces.
Practicalities & Costs
The practical stats haven't changed here. At the business end, you're faced with a cargo bed 475mm deep and 1,470mm in both length and width. In this area, you'd be able to take a payload of up to 1,040kg.
Combine the cargo area capacity with this model's braked towing capability of up to 3,500kg and you'll be able to lug up to 4,490kg.
In other words, if you want to load up the back with enough beach pebbles to cover your driveway at the same time as you're towing your boat home, then no problem.
Most buyers will want to fit a cargo bed liner but even if you do without that, you get useful vertical grooves in the bed floor that more easily allow you to partition your loads and prevent small items from moving around in transit.
There are six load lashing points for tying things down and, as you'd expect, there's enough width between the wheel arches to be able to slide in a euro pallet.
Running costs are much as before; think a CO2 reading of around 196g/km and a combined cycle fuel return of 37.7mpg. The brand reckons this means that your L200 will be able to travel up to 685 miles on a single tank, which gives it one of the longest range figures in its class.
Summary of the Mitsubishi L200 pickup
There's no doubt that the changes made to this L200 have freshed its showroom proposition but essentially, we're being offered much the same package that was available before. And since the pick-up that was available before was a best seller, that's not necessarily a bad thing.
You can see why so many pick-up buyers choose this one, whether their need is to transport quadbikes and surfboards or hardcore and shovels.
As before, it's tough, good looking and offers a wide range of choice but now, it's that bit easier to live with too. All of which, more than ever, makes this Mitsubishi a vehicle that customers in this segment can't ignore.
Mitsubishi L200 pickups for sale
Interested in the iconic Mitsubishi L200 pickup truck? Hurry on over to Vansdirect where we have a number of Mitsubishi L200 pickups for sale with cheap van finance options including van leasing, contract hire and hire purchase.
Simply fill in a contact form or call us on 0800 169 69 95 to get the ball rolling today!